Beim Stichwort Endzeitfilm denken die meisten Menschen meist an Werke wie MAD MAX, DIE KLAPPERSCHLANGE oder TURBO KID.
Weniger bekannt, weniger actionlastig und am anderen Ende des Spektrums  stehen INTO THE FOREST, THE SURVIVALIST, CARRIERS oder THE ROAD und dort sortiert sich nun auch IT COMES AT NIGHT ein.
Konkret geht es um eine kleine Familie, die ohnehin schon tief in den Wäldern wohnt, sich aber noch mehr abschottet, als eine Krankheit die Welt wie wir sie kennen nahezu auslöscht.
Aber in einer Welt, die aus den Fugen geraten ist, helfen ungewöhnliche Koalitionen beim Überleben und als ein Einbrecher in das Haus der drei eindringt, müssen sie überlegen, wie sie mit der Situation umgehen.


Obwohl die wenigsten Menschen Einbrecher zum Mitbewohner machen, nimmt man Autor/Regisseur Trey Edward Shults (KRISHA) diesen Schritt ab.
Wer auf der Suche nach einem Film ist, in dem sich die Figuren rational verhalten, hier ist er.
Man wird kaum Passagen finden, in denen man das Handeln der Charaktere von Grund auf in Frage stellen müsste, aber IT COMES AT NIGHT ist eben auch kein gewöhnlicher Teenie-Slasher und anders als vielleicht Titel und Trailer andeuten, auch kein Gruselstreifen.
Trotzdem finden sich einige Schreck-Momente (auch hier fühlt man sich an CARRIERS erinnert) und realistisch erscheinende Gewalt wieder. Beides ist aber der Story und nicht dem Selbstzweck dienlich und rückhaltend platziert.
Über diesen Elementen thront aber ein stetes Gefühl der Paranoia.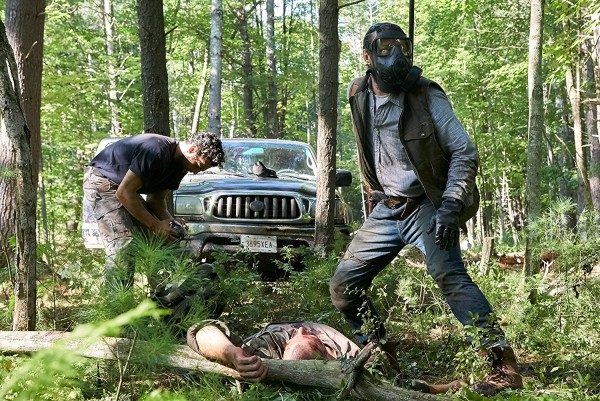 Nicht nur, weil es Augenblicke gibt, in denen die Protagonisten fürchten, dass etwas in den Wäldern sein oder einer der anderen infiziert sein könnte, es sind vielmehr die unterschwelligen Momente, die offenen Fragen im zwischenmenschlichen Bereich und eine überragende Kameraarbeit.
Wer sich fragt, wie die Kamera zur Paranoia führen kann, sollte sich ansehen, was Kameramann Drew Daniels hier leistet. In Zeiten, in denen man Kameraleuten Komplimente aussprechen muss, wenn sie es schaffen nicht wie ein Ast im Wind zu wackeln, überzeugt Daniels durch wunderschöne Aufnahmen und Fahrten, eingebettet in eine nicht minder bemerkenswerte Ausleuchtung (ein dunkler Wald ist in diesem Film wirklich dunkel).
Und Unruhe ist hier höchstens innerlich zu spüren.
Der ganze Film beinhaltet nur 10 Schauspieler, von denen sich 5 den größten Teil der Arbeit teilen.
Auch wenn das Acting generell keine Probleme hat, soll hier Joel Edgerton erwähnt werden, der nicht nur den Familienvater und Anführer spielt, dem mitunter unangenehme Entscheidungen zukommen, sondern schon in THE GIFT einen ungewöhnlichen Film drehte, bei dem er zahlreiche Funktionen übernahm. Dieses Mal ist er neben Darsteller auch Produzent.


Trotz einer Reihe von Vorzügen, IT COMES AT NIGHT hat auch seine Schwächen. Zum einen bleiben Fragen offen. Das beginnt damit, dass nie genauer darauf eingegangen wird, um welche Krankheit es sich handelt, was mit der restlichen Welt geschah usw. Auch gegen Ende bleibt einiges neblig, wobei gerade eine Art Schleuse, bestehend aus zwei Türen immer wieder eine Rolle spielt.
Das mag noch zum Plan der Filmemacher gehören, aber auch ein anderer Punkt lässt sich nicht verschweigen: wenngleich gut inszeniert, ahnt man doch schon beizeiten, in welche Richtung sich die Story entwickeln wird.
Fazit:
IT COMES AT NIGHT ist neben den eingangs erwähnten Filmen auch Freunden von THE WITCH zu empfehlen. Zwar ohne übernatürliche Elemente, ansonsten aber nahezu allen Vor- und Nachteilen.
Facebook Comments