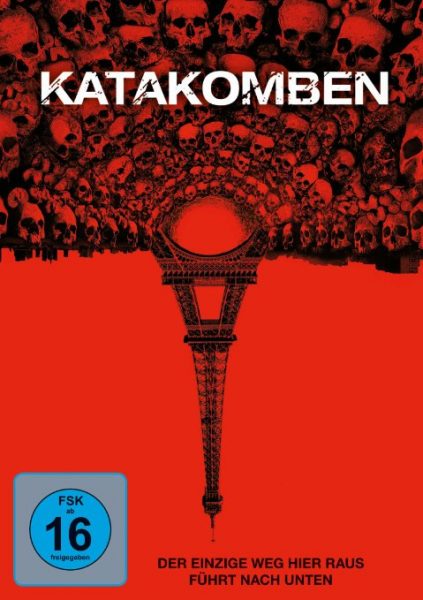 Wenn einer weiß wie Found Footage geht, dann John Eric Dowdle. Der hat wohl mehr Filme dieses Subgenres gedreht als jeder andere (Marcel Walz' drei RAW-Filme nicht mitgerechnet) und gehört ohnehin zu den unterbewerteten Horror-Regisseuren.
Allerdings ist THE POUGHKEEPSIE TAPES nie offiziell erschienen, QUARANTÄNE ansehnlich aber letztlich auch völlig überflüssig und KATAKOMBEN erscheint zu einem Zeitpunkt, da die große Found Footage Wiese schon recht abgegrast scheint. Es stellt sich also die Frage was Dowdle aus dem Pariser Untergrund rausholen kann.
Story:
Scarlett ist jung, sieht gut aus, spricht diverse Sprachen und ist erfolgreiche Archäologin. Doch sie leidet auch an dem Selbstmord ihres Vaters, der ihr ein Notizbuch hinterließ, das sie nach Paris führt. Hier will sie mit ihrem Kameramann, einem Übersetzer und einem Team einheimischer Kenner der Unterwelt in die Katakomben hinabsteigen und einen echten Schatz suchen.
Was sie dort unten findet übersteigt ihre Erwartungen, im Positiven, wie auch im Negativen.
Man kann darüber streiten, ob der typische Archäologe aussieht wie Scarlett, aber man kann wohl auch das Argument bringen, dass durchschnittliche Altertumsforscher nicht wie Harrison Ford aussehen.
Indiana Jones lässt in jedem Fall grüßen, nicht nur wegen des Notizbuchs, das wir in ähnlicher Form aus INDIANA JONES UND DER LETZTE KREUZZUG kennen. Auch in KATAKOMBEN werden bekannte Mythen aufgegriffen und in eine fantastische Geschichte eingebaut. Das ist z.B. der Stein der Weisen (auch von Harry Potter bekannt) und Dantes Alighieris INFERNO.
Diese Mischung aus Archäologie und nacktem Horror bildet dann auch das Alleinstellungsmerkmal des Films. Hier werden aramäische Schriften entziffert, dort konfrontiert die Unterwelt die Protagonisten mit ihren Erinnerungen und inneren Dämonen.
Während der deutsche Filmtitel keineswegs verkehrt ist, steckt in dem Originalnamen AS ABOVE, SO BELOW noch mehr verborgen. Der Begriff wird nicht mit okkult-esoterischen Lehren in Verbindung gebracht, sondern erzählt auch schon einen wesentlichen Teil der Handlung, der auch auf dem Cover angedeutet wird.
ACHTUNG SPOILER: Das was Scarlett und die anderen weit, weit unter der Erde vorfinden, ist nicht nur der Eingang zur Hölle, sondern tatsächlich ein spiegelbildliches Höhlensystem.
In INFERNO dringen Dante und Vergil immer weiter durch die Kreise der Hölle vor und ähnlich erleben wir es in KATAKOMBEN. Man kann es aber auch weniger glamourös ausdrücken und sagen, dass wie in einer Kirmes-Geisterbahn in jedem Raum ein neuer Schrecken wartet, aber das zusammenhängende Konzept fehlt. Ja, die persönlichen Erlebnisse und Erinnerungen spielen eine Rolle, wie wir das auch aus EVENT HORIZON kennen, aber die Reihenfolge scheint beliebig und dass mehrere hundert Meter tief in einem Tunnel, der nur durch winzige Gänge erreichbar ist, ein brennendes Auto steht, zeigt, dass die Macher des Films sich jede Freiheit nehmen.
Dass eine Gruppe mit Kameras in einer labyrinthartigen Umgebung feststeckt, ist von BLAIR WITCH PROJECT über THE TUNNEL bis zu GRAVE ENCOUNTERS klassischer Bestandteil von Found Footage.
Da aber tatsächlich in den Pariser Katakomben gedreht wurde, was von vorn herein Authentizität vermittelt und die mythologischen Anspielungen gut mit der klaustrophobische Enge harmonieren, habe ich kein Problem damit.
Was mich stört sind die üblichen Modern-Horror-Elemente mit ihren Soundeffekten und Scarejumps, die mehr als einmal aus dem Nichts schießen und uns offenbar immer dann hingeworfen werden, wenn die Geschichte eiert.
Wie oben, so unten…sagen wir es so, für jede gute Idee enthält der Film auch eine schlechte.
Ähnlich wie neulich bei ERLÖSE UNS VON DEM BÖSEN bin ich der Meinung, dass der Regisseur sein Potential nicht voll ausschöpft. Unter den Höhlen-Filmen liegt man damit zwar immer noch vor BENEATH und DIE HÖHLE, aber ein ganzes Stück hinter THE DESCENT.
Facebook Comments