Spricht man über THE LAST DAYS, drängen sich drei Vergleiche auf. Da wäre zunächst ENDE, einfach deswegen, weil es auch ein spanischer Film ist, der auch vor kurzem Erschien und sich auch mit dem Ende der Welt wie wir sie kennen beschäftigt (wenn auch auf andere Weise). Der zweite Vergleich ist DIE STADT DER BLINDEN, der vom Stil und Stimmung ähnelt und den Zusammenbruch der Zivilisation ebenfalls ohne Zombies und Mutanten geschehen lässt. Der dritte Vergleich liegt am deutlichsten auf der Hand und wäre CARRIERS. Parallelen drängen sich nicht nur wegen der Endzeitthematik auf, sondern vor allem, weil die Regisseure in beiden Filmen David und Àlex Pastor heißen.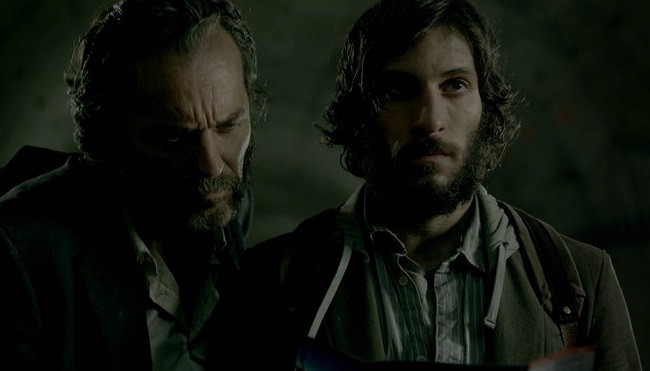 Zunächst waren es nur einzelne Menschen, die das Haus nicht mehr verlassen konnten, doch nun lebt Programmierer Marc schon seit Monaten mit all seinen Kollegen in einem Bürogebäude. Jeder der ins Freie tritt bricht innerhalb kürzester Zeit zusammen und stirbt.
Marc wünscht sich, wieder mit seiner Freundin zusammen zu sein, doch die sitzt am anderen Ende Barcelonas ebenso fest.
Der einzige Weg führt durch Keller, Abwasserrohre und U-Bahn-Tunnel, doch die sind voller Gefahren und Marc muss sich mit seinem ungeliebten Vorgesetzten zusammentun, um nach Hause zu kommen.
Wie schon in CARRIERS gehen die Regisseure differenziert an die Sache heran und setzen nur selten auf Horror- oder Endzeitklischees, sondern zeichnen ein denkbares Bild.
Was der Film indes schuldig bleibt, ist eine Erklärung für die Ursache der Katastrophe. Damit halten sich die meisten ähnlich gelagerten Filme zurück; dass es in THE LAST DAYS mehr auffällt, liegt an seiner Glaubwürdigkeit.
So ergeben sich Interpretationsmöglichkeiten: ob die Pastors mit dieser extremen Form der Agoraphobie, also der Angst vor freien Plätzen, eine Botschaft vermitteln, wissen wir nicht, denkbar wäre es aber.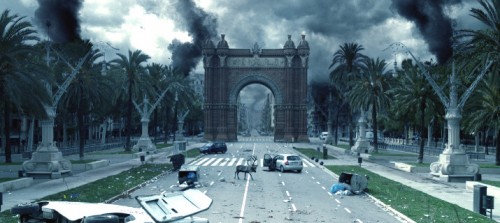 In dieser Vision einer möglichen Zukunft regiert kein absolutes Chaos, stellenweise findet sogar eine Form von Zusammenleben statt, die das Überleben der jeweiligen Hausnutzer sichert. Das liegt schon in der Natur der Sache, dass sich keine marodierenden Horden bilden können, die nicht schon vorher im gleichen Gebäude gewesen wäre.
Es entstehen also Mikrokosmen, die sich alle unterscheiden, aber eben auch mit ähnlichen Sorgen und Problemen (wie etwa Hunger) zu kämpfen haben.
Die Schauplätze sind natürlich vor allem in den Häusern angesiedelt, aber wir sehen durch die Fenster Aufnahmen eines zerstörten Barcelonas, das zuletzt allmählich von der Natur zurückerobert wird.
Da man dem Filmteam nicht erlaubte die echte Stadt in Schutt und Asche zu legen, entstanden diese und andere Effekte am Computer, was in diesem Fall aber als gelungen bezeichnet werden kann.
Wie bei den meisten spanischen Produktionen, die es zu uns schaffen, ist auch Elementares wie Schauspielkunst, Kameraführung, Licht etc. mal wieder absolut professionell.
Achtung leichte Spoiler: Dass für die Menschheit dennoch Hoffnung besteht, zeigt das Ende von THE LAST DAYS.
Spätestens dann, sollte jeder begriffen haben, dass der Film weit weniger Horrorfilm als Endzeitdrama ist…aber ein Gutes!
Facebook Comments