LAST WILL AND TESTAMENT OF ROSALIND LEIGH ist einer der Filme, die ich bereits seit einiger Zeit sehen wollte. Nicht weil mich ein Trailer beeindruckt oder bekannte Darsteller angezogen hätten, sondern weil die Soska-Twins den Streifen in unserem Interview einem Atemzug mit PONTYPOOL, MARTYRS, AUDITION, I SAW THE DEVIL und EXCISION nannten. Eine großartige Runde, in der nicht jeder aufgenommen wird und man konnte gespannt sein, ob LAST WILL AND TESTAMENT OF ROSALIND LEIGH wirklich dazugehört.
Als Leons Mutter Selbstmord begeht, erbt er ihr Haus. Der Antiquitätenhändler hat sich in den vorangegangen Jahren längst von seinem Elternhaus entfernt und das nicht nur geografisch. Das Verhältnis von Mutter und Sohn war angespannt und Leon muss sich durch die zahlreichen Erinnerungsstücke wühlen, um zu sehen, was seine Mutter vor ihrem Tod beschäftigte. Dabei findet er heraus, dass seine Mutter einer Sekte angehörte, die Engel verehrte und ihre religiöse Obsession weckt auch in ihm schlechte Erinnerungen. In dem dunklen, alten Haus muss sich Leon im wörtlichen und übertragenen Sinne seinen Dämonen stellen.
Dem Film lässt sich problemlos attestieren, dass er ein ungewöhnliches Machwerk ist, gleichwohl wird er Meinungen hervorrufen, die von "Schund" über "Durchschnitt" bis hin zu "Grandios" reichen.
Ungewöhnlich macht ihn schon die Tatsache, dass Leon (fast) der einzige sichtbare Schauspieler ist. Die Stimme der toten Mutter hören wir nur aus dem Off (übrigens gesprochen von Vanessa Redgrave (MORD IM ORIENT EXPRESS)), andere am Telefon und verirrt sich tatsächlich ein anderer Schauspieler ins Bild, ist er nach kurzer Zeit auch wieder verschwunden.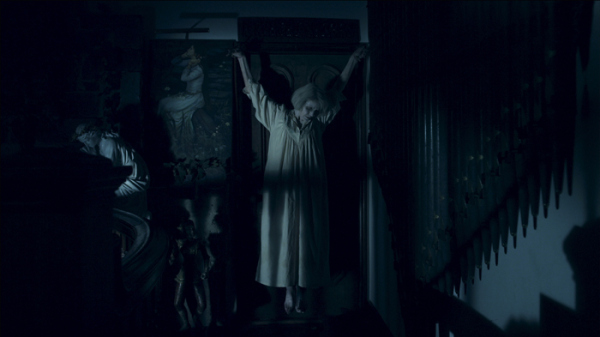 Der Grund warum Menschen den Film nicht mögen werden, ist damit auch schon geklärt. Mit einer Ein-Mann-Show darf man keinen Bodycount im zweistelligen Bereich erwarten.
Diejenigen, die den Film lauwarm einstufen, werden die Schock- und Gruselmomente nicht zwingend genug finden und tatsächlich haben wir es hier nicht CONJURING oder INSIDIOUS zu tun.
Wer wie die Soskas oder auch Clive Barker von einem tollen Filmerlebnis spricht, tut dies vermutlich vor allem wegen einer äußerst dichten Atmosphäre oder weil die Aufarbeitung des Mutter-Sohn-Verhältnisses weit über das hinausgeht, was man von einem platten Gruselschinken erwarten würde.
Der Stil die Geschichte erinnert etwas an den Stephen King – Roman LOVE, in dem eine Frau die Hinterlassenschaften ihres toten Mannes aufarbeitet und ebenfalls fantastisches erlebt. Wer das Buch las und mochte, ist mit Rosalind Leigh jedenfalls gut bedient. Ein anderer Verwandter in punkto Stimmung ist Ti Wests THE INNKEEPERS.
Drehbuch und Regie kommen von einem Debütanten, der aber in seinem Leben bereits den einen oder anderen Horrorfilm gesehen haben dürfte: Rodrigo Gudiño ist Gründer des Rue Morgue Magazins und dementsprechend in der Szene kein Fremder.
Fazit: Für mich gehört LAST WILL AND TESTAMENT OF ROSALIND LEIGH nicht in die Reihe der oben aufgezählten Filme, aber nur weil er nicht großartig ist, muss er noch lange nicht schlecht sein.
http://www.youtube.com/watch?v=e9AZs9xdAKw
Facebook Comments