Dass die Japaner als sehr fleißig gelten, ist ja kein Geheimnis, Takashi Miike ist dafür der beste Beweis. Der Kult-Regisseur hat in über 90 Werken Regie geführt. Da scheint LESSON OF THE EVIL also nur eine weitere Kerbe im Lebenslauf Miikes, gar nicht gewöhnlich ist aber, dass der Meister selbst auch das Drehbuch verfasst hat und zwar auf Basis eines Romans von Yûsuke Kishi.
Herr Hasumi ist ein junger, sympathischer Lehrer, den Schüler und Kollegen gleichermaßen mögen.
Die Schüler schätzen den Englischunterricht des Harvard-Absolventen, manche sogar mehr als das.
Was Herr Hasumi nicht mag, ist Schummeln oder Mobben von anderen oder gar Kollegen die seine Schülerinnen sexuell belästigen. Hier kommt die dunkle Seite des smarten Lehrers zum Vorschein und seine Regeln sind eigenwillig.
Auch als Zuschauer muss man Hasumi einfach mögen, er ist keiner der Langweiler, die man aus der eigenen Schulzeit noch vor Augen hat und sieht dazu noch gut aus. Was der Mann nebenbei so treibt erinnert schon eher an das, was wir Oberstudienrat Petermann-Wuttke zugetraut hätten, denn Hasumi ist ein Soziapath, der auf fiese und auch blutige Weise seine Vorstellung von Gerechtigkeit herstellt.
Das mindert unsere Sympathien für ihn anfangs nur unmerklich, ist er doch das für die Lehrerschaft, was Dexter Morgan für die Polizei ist und seine unorthodoxen Methoden scheinen trotz ihres grenzüberschreitenden Charakters einer guten Sache zu dienen.
Die Zuneigung verspielt sich er sich aber spätestens ACHTUNG SPOILER, wenn er zu einem Amoklauf ausholt, der fast die komplette zweite Hälfte einnimmt (wir sprechen hier über einen 2-Stunden-Film) und den Bodycount rapide anschwellen lässt.
Nach einer vergleichsweise harmlosen ersten Hälfte, die sich viel Zeit nimmt die verschiedensten Probleme und Problemchen im Kosmos Schule darzustellen, verwundert der auf eine eigenartige surreale Sequenz folgende Gewaltausbruch etwas.
Besonders originell sind die Kills nicht, den Hasumi, der mit seinem Jagdgewehr durch die Flure zieht, erfährt wenig Gegenwehr, richtet seinerseits aber gewaltigen Schaden an und angesichts der vielen toten Minderjährigen, die scheinbar nebenbei ihr Leben verlieren, hätte man auch durchaus einige zensurbedingte Schnitte erwarten können.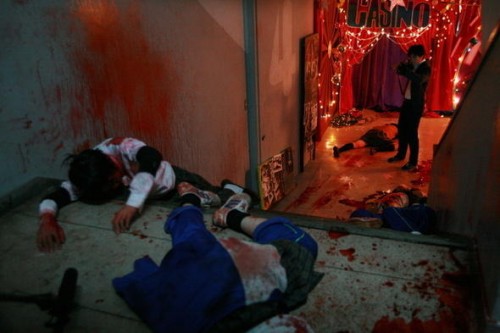 Andererseits verfügt der Film über genügend Irrsinn (ein sprechendes Gewehr?) und Ansätze von Humor, um die blutigen Kadaver nicht zu ernst zu nehmen.
LESSON OF THE EVIL ist nicht Takashi Miikes bester Film, trotzdem darf man sich wundern, wie er es bei seinem Arbeitspensum schafft, immer wieder hochwertige Streifen abzuliefern.
Facebook Comments