Green Graves liebt Horrorfilme und möchte gerne als Maskenbildner in Hollywood arbeiten. Seine ersten Gehversuche zeigen Talent und zu Halloween soll er seine Werke in einem Event präsentieren, doch Green lebt in einem Wohnwagen in einer Kleinstadt und sein gewalttätiger Stiefvater und die biedere Gesellschaft drohen den Traum des Teenagers zerplatzen zu lassen.
Achtung, LIGHTNING BUG ist kein Horrorfilm und selbst mit dem Begriff Thriller tue ich mir schwer. Der Grund, warum der Film trotzdem bei uns gelandet ist, ist simpel. Nicht nur ist die Hauptfigur ein Horror-Nerd, der das Grusel-Programm der örtlichen Videothek auswendig kennt, sondern beruht zudem auf den Kindheitserinnerungen von Robert Hall, der nicht bloß hier, sondern später auch bei den LAID TO REST – Filmen Regie führte und in Dutzenden Produktionen als Effektemacher (z.B WER, QUARANTÄNE, THE CRAZIES) aktiv war.
Auch wenn wir es hier mit einem Drama zu tun haben, kommen brutale Augenblicke nicht zu kurz, vor allem bietet der Film aber Einblick in das Leben eines jungen Menschen, der Horror liebt und dafür belächelt wird, was vielen Fans vor dem Bildschirm bekannt vorkommen dürfte.
Interessante, teils skurrile Charaktere des amerikanischen Südens tun ihr Übriges, um LIGHTNING BUG zu einem kurzweiligen Coming-Of-Age-Film zu machen, der leider lange Jahre nicht die ihm zustehende Aufmerksamkeit erhielt.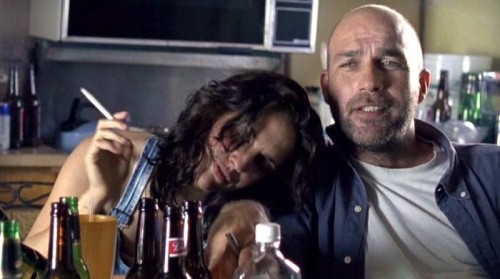 Bereits 2004 abgedreht, traute man sich erst jetzt den Film in Deutschland zu veröffentlichen. Für diese späte Entdeckung Hut ab vor Mad Dimension, es wäre allerdings schön gewesen, auch noch ein paar Euro in eine vernünftige Synchronisation zu stecken, die klar der Schwachpunkt von LIGHTNING BUG ist. Wer mit dem Southern-Slang des Originaltons keine Probleme hat, sollte also dringend umschalten.
Wie viel Autobiographie von Robert Hall in LIGHTNING BUG steckt, ist nicht gewiss, dass der Film eine Herzensangelegenheit war, ist ihm aber anzumerken und wie das Leben so spielt geht es in einzelnen Szenen eher lustig zu, in manchen ernst und gewalttätig oder gar romantisch.
Dieser Mix hätte leicht ins Auge gehen können, funktioniert insgesamt aber gut.
Dazu tragen selbstverständlich glaubhafte Schauspieler bei, von denen vor allem Ashley Laurence als bekanntes Gesicht aus den HELLRAISER-Filmen auffällt.
Fazit: Wenn ihr mal KEINEN Horrorfilm sehen wollt, aber ganz ohne Horror nicht könnt, ist LIGHTNING BUG ein echter Geheimtipp.
PS: Achtet mal auf die Szene, in der Green in der Videothek ist. Dort steht ein Film namens LAID TO REST: CHROMESKULL im Regal, der erst einige Jahre später von Robert Hall verwirklicht wurde.
Facebook Comments