Eli Roth, James Wan, Lucky McKee, Alexandre Aja oder Ti West gehören zu den vergleichsweise jungen Regisseuren, die sich mit ihrem Schaffen auf Horrorfilme spezialisiert haben und damit im letzten Jahrzehnt die Wachablösung für Veteranen wie Wes Craven oder John Carpenter bilden. Auch Robert Bartleh Cummings, besser bekannt als Rob Zombie, muss man noch zu den jungen Wilden zählen, auch wenn der Mann bereits auf die 50 zusteuert. In filmischer Hinsicht war Zombie sicher ein Spätzünder, man darf aber nicht vergessen, dass er vor seinem Debüt HAUS DER 1000 LEICHEN 2003 schon eine lange und erfolgreiche Musikkarriere aufgebaut hatte, wo es in textlicher Hinsicht auch nicht gerade zimperlich zuging.
Heute gehört Rob Zombie zu den schillerndsten Figuren im Genre und auch wenn seine bisherigen Werke durchaus widersprüchlich aufgenommen wurden, horchen Fans auf, wenn er einen neuen Film veröffentlicht. Das war mit LORDS OF SALEM nicht anders, über den schon viel berichtet wurde, bevor auch nur das erste Bild zu sehen war. Nun ist er ganz offiziell erschienen und wieder wird Zombie nicht nur Jubelstürme auslösen.
Heidi ist Moderatorin in einer lokalen Rock-Radiostation in Salem. Als ihr eine Aufnahme der Band Lords of Salem zugeschickt wird, spielt sie es auf ihrem Sender und löst damit bei den Frauen der Stadt eine seltsame tranceartige Reaktion aus. Auch Heidi selbst, deren Psyche durch früheren Drogenmissbrauch ohnehin angeschlagen ist, wird bald von schrecklichen Alpträumen und Visionen geplagt, in denen die Hexen aus der dunklen Vergangenheit der Stadt eine Rolle spielen.
Ganz gleich wie man zu Zombies Schaffen steht, der Mann hat einen unverkennbaren Stil und alleine das hebt ihn von der breiten Masse ab. Wie in allen früheren Werken kommt auch LORDS OF SALEM mit einer White Trash-/70er- Optik daher und die meisten Protagonisten sehen aus, als würden sie in Robs Band spielen. Letzteres macht diesmal natürlich ohnehin Sinn, da man nicht davon ausgehen mag, dass Rock DJs mit gebügeltem Hemd zur Arbeit gehen.
Inhaltlich greift der Film einige Gefahren auf, die von harter Rockmusik ausgehen sollen.
Ob von aktuellem Black Metal, rabiaten Texten oder rückwärts abgespielten Platten mit sinistren Botschaften. Letzteres scheint im Downloadzeit zu Recht absurd, erinnert aber daran, dass in den 80ern tatsächlich Metal-Bands vor Gericht standen, weil ihre LPs angeblich mit unterschwelligen Botschaften versehen waren.
Einmal mehr spielt die Herzdame des Masterminds, Sheri Moon Zombie, eine tragende Rolle und übernimmt die Figur der dreadlock-tragenden Heidi. Namhafte Schauspieler (vergangener Tage) finden sich aber über den kompletten Film verteilt: Scream Queen Dee Wallace (CUJO), Ken Foree (DAWN OF THE DEAD) oder Patricia Quinn (ROCKY HORROR PICTURE SHOW) sind einige von ihnen und gehörten teilweise auch zu früheren Casts des Regisseurs.
Der schafft es jeden einzelnen wie einen echten Charakterdarsteller aussehen zu lassen, was wohl auch daran liegt, dass milchbärtige Collegebuben komplett fehlen. Ein junges Publikum auf der Suche nach simplen Identifikationsfiguren wird der Film also nicht ansprechen, auch weil die Erzählweise fernab der üblichen Klischees stattfindet. LORDS OF SALEM lässt Platz für eigene Gedanken und vertieft noch den Pfad, den Zombie mit früheren Filmen anschlug.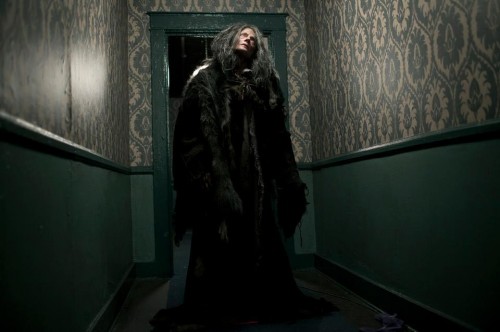 Wer mit dem weißen Pferd aus HALLOWEEN 2 nichts anfangen konnte, wird wohl auch in LORDS OF SALEM Momente erleben, die zu wenig geordnet erscheinen oder schlichtweg verwirren.
Der Einsatz von Licht, Kamerafahrten und Musik lassen den Schluss zu, dass der Regisseur manchen Stanley Kubrik-Streifen gesehen hat, strahlen aber mindestens eine dunkle Ästhetik aus.
Natürlich bleibt LORDS OF SALEM ein Horrorfilm, ist blutig, ist düster, ist gruslig, aber ist eben auch anders. So oder so darf man den Film als Rob Zombies reifstes Werk bezeichnen, aber genau daran werden sich die Geister scheiden.
Facebook Comments