Denkt man an aktuelle Horror-Autoren, nennen die meisten Menschen zuerst Stephen King oder  Clive Barker. Dean Koontz steht hingegen oft in der zweiten Reihe, was einerseits verwundert, weil der Mann auch schon seit vielen Jahren unterwegs ist und 450 Millionen Bücher verkauft hat, andererseits wurden nur relativ wenige seiner Romane verfilmt. Obwohl Koontz' Stil weit weniger sperrig und ausufernd ist, als der von Kollege King, sich also für die Leinwand anbietet, scheint es als habe der Autor Angst vor zu stark veränderten Adaptionen.
Ob ihm ODD THOMAS (das Buch heißt in Deutsch  DIE ANBETUNG) gefällt, ist uns nicht bekannt, man kann dem Film aber attestieren, dass es sich dabei um eine typische Geschichte aus dem Hause Koontz handelt.
Odd Thomas ist hauptberuflich Koch, doch der junge Mann verfügt über eine Reihe von ungewöhnlichen Gaben und kann nicht nur die Geister von Toten sehen und mit ihnen sprechen, sondern auch eigenartige Schattenwesen, sogenannte Bodachs, die Katastrophen ankündigen.
Als Unmengen dieser Wesen in der kleinen Stadt auftauchen, ist Odd klar, dass schreckliches bevorsteht und er setzt alles daran, um etwas dagegen zu tun.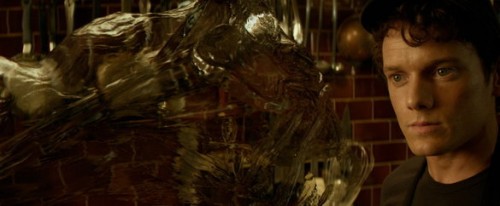 Als Schreiber bewegt sich Koontz oft in der Schnittmenge aus Thriller, Horror, Mystery und Science Fiction und auch dieser Film ist eine bunte Mischung, der Elemente von Action, Horror, Komödie und Lovestory unterbringt, was wohl auch an der Handschrift von Drehbuchautor und Regisseur Stephen Sommers liegen dürfte, der das Remake von DIE MUMIE und VAN HELSING drehte.
Ja, Sommers ist ein Mann fürs Grusel-Popcornkino, einer der es gewohnt ist, den dicken Geldbeutel einstecken zu haben und sich mit den 27 Millionen Dollar, die ODD THOMAS kostete, schon einschränken muss. Sparmaßnahmen fallen allerdings nicht auf, im Gegenteil: wer auf härteren Horror steht, mag sich an farbenfrohen, schnellen Bildern und Computereffekten eher stören.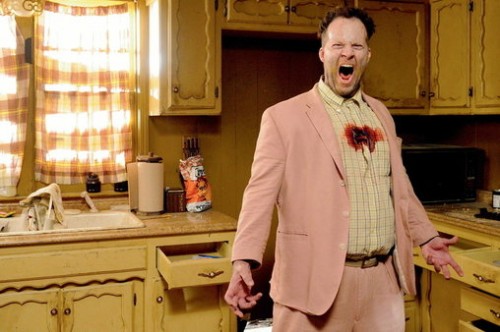 Harten Stoff sollte man aber von vorn herein nicht erwarten, sondern gut gelauntes Entertainment, das trotz moderner Elemente auch viel 80s-Charme versprüht und wäre der Film vor 25 Jahren gedreht worden, hätte man sich gut Michael J. Fox in der Rolle des Odd Thomas vorstellen können, nicht nur optisch. Stattdessen gehört dieser Part Anton Yelchin (FRIGHT NIGHT, ONLY LOVERS LEFT ALIVE), der eine sympathische Hauptfigur erzeugt.
Unterstützt wird Yelchin von Addison Timlin (STAND UP GUYS) und Willem Dafoe (ANTICHRIST), der ohnehin nur sehr selten in schwachen Filmen mitspielt. Warum Patton Oswalt (KING OF QUEENS, TWO AND A HALF MAN) hingegen auf dem Cover angepriesen wird, dann aber nur 30 Sekunden im Bild ist, dürften nur zwielichtige Marketing-Strategen beantworten können.
Nun ist auch der Film selbst nicht perfekt. Wer sich die Zeit nimmt, wird beim genaueren Hinsehen feststellen, dass an der Story nicht alles ganz schlüssig ist, auf den ersten Blick ist das Tempo aber hoch genug, um Details ignorieren zu können und die Geschichte wirkt immer noch ungezwungener, als das bei anderen teuren Produktionen der Fall ist.
Fazit: Wenn leichte Unterhaltung, dann bitte so.
Facebook Comments