Die Brüder Alex und David Pastor schufen mit CARRIERS und THE LAST DAYS zwei Filme, die sich der Endzeitthematik annahmen, zeitweise aber auch an der Grenze zum Horrorfilm nagten. Obwohl sich die Pastors bei OUT OF THE DARK darauf beschränkten, das Drehbuch zu verfassen, wird diese Grenze nun eindeutig geknackt.
Story:
Sarah, ihr Mann Paul und Tochter Hannah ziehen von London nach Kolumbien, wo Sarah die Leitung einer Fabrik übernehmen soll. Was die junge Familie nicht weiß: in der Vergangenheit kamen durch die europäischen Einwanderer zahlreiche Kinder ums Leben. Und die Geister haben es nun auf Hannah abgesehen.
Mit Julia Stiles (DAS OMEN – Remake, DEXTER) und Scott Speedman (THE STRANGERS) hat man nicht nur zwei Darsteller mit Gruselerfahrung, sondern auch zwei Namen, die vielleicht nicht der A-Liste zuzuordnen sind, aber über einen gewissen Bekanntheitsgrad verfügen. Selbst den größten Mimen muss man aber genügend Platz einräumen, um ihre Größe auch zur Entfaltung zu bringen. Die oben genannten Filme der Pastors konnten das, OUT OF THE DARK will einfach nur ein wenig gruseln.
Dagegen ist nichts zu sagen, allerdings ist das Originellste am Film der Schauplatz Kolumbien. Zwar ist zu erkennen, dass hier ein sozialkritischer Unterton einfließen soll und im Making-Of wird man nicht müde zu betonen, dass die USA ja lateinamerikanische Länder ausbeutete, aber der große Aha-Effekt bleibt aus.
Der Horroranteil ist vor allem klassischer Haunted House – Terror, bei dem übellaunige Geisterkinder und Geheimgänge eine Rolle spielen und mancher Jumpscare gefordert wird.
Die Schockmomente sind jedoch nicht allzu platt und glücklicherweise vermeidet man es sie nur aus lauter Musik und falschen Alarmen bestehen zu lassen.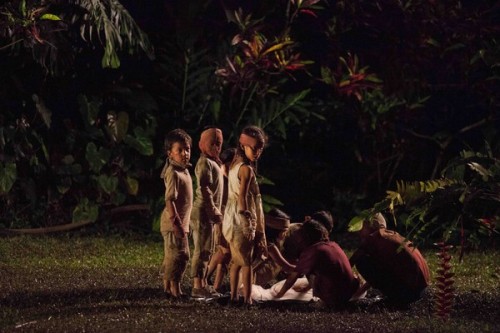 Nein, OUT OF THE DARK ist nicht unprofessionell und die fremde Kultur, das dunkle Haus und reichlich Regen lassen eine gewisse Atmosphäre auskommen, was aber nicht darüber hinwegtäuschen kann, dass die Geschichte dünn ist.
Wenn sich Julia Stiles beispielsweise alleine in einen finsteren Schacht abseilt, wartet man förmlich darauf, dass das Seil reißt und ratet mal was geschieht.
Szenen wie diese finden sich zuhauf und sind vor allem für ältere Horrorfilmseher (Ü25) in der Regel keine Überraschung. Da die Schauspieler zwar nett vor sich her spielen, aber keinen gemeinsamen Mehrwert erzeugen, ist OUT OF THE DARK guter Schnitt, mehr nicht.
Facebook Comments