Bryan Bertino gehört nicht gerade zu den fleißigsten Filmemachern, sein letzter und einziger Film war aber der bekannte und hochwertige THE STRANGERS (2008), der mit Liv Tyler prominent besetzt war. Solch illustre Namen finden sich in PLAY –TÖDLICHES SPIEL nicht, Home Invasion – Anteile sind aber geblieben…und das im Found Footage – Gewand.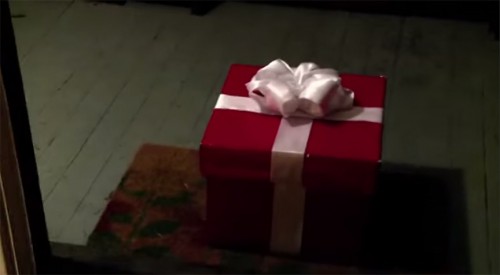 Inhalt:
Eine Familie, eine alleinstehende Frau und ein Mann, der noch bei seiner Mutter wohnt, erhalten ein Geschenk. In hübscher Box verpackt, bekommt jeder von ihnen eine Kamera, mit der sie fortan fleißig filmen sollen. Da die drei Parteien, die einander nicht kennen, glauben an einem Wettbewerb teilzunehmen, tun sie wie ihnen geheißen, doch schnell entwickeln sich die Dinge in eine dunkle Richtung und die Beteiligten merken, dass ihnen kaum eine Wahl bleibt.
PLAY umschifft zwei Elemente, die mich in vielen Found Footage – Filmen nerven. Zum einen die Frage warum überhaupt noch einer filmt, obwohl die Lage aus dem Ruder läuft und man besseres zu tun hätte. In diesem Fall haben die Protagonisten schlichtweg keine andere Wahl, denn wer aufhört zu filmen, stirbt.
Der andere Punkt sind multiple Kameras. Wenn man sich als Filmemacher für Found Footage entscheidet, macht es keinen Sinn, aus etlichen (oft nicht nachvollziehbaren) Winkeln mit 20 Kameras zu filmen. PLAY bleibt hingegen bei einer Kamera und damit einer Perspektive…natürlich werden aber drei parallele Handlungsstränge erzählt, so dass letztlich doch mehr als ein Gerät zum Einsatz kommt.
Dass diese Handlungsstränge in Zusammenhang stehen, kann man zwar erahnen, das Wie bleibt aber bis zum Finale offen. Leider ist die Aufklärung dann nicht so gut, dass sich die Geheimniskrämerei bis dahin gelohnt hätte.
SPOILER: Wir erleben hier zwar eine ähnliche Aufklärung der Hintergründe wie in THE STRANGERS oder auch ILS/THEM, aber zum einen gibt es diese Filme bereits, zum anderen schockte in diesen Streifen gerade die Willkür der Tat, die weniger auf ausgefeiltem Plan als vielmehr schierer Mordlust beruhte. Hinter den Bösewichten in PLAY steht hingegen ein hoher logistischer Aufwand, der darauf basiert, dass jeder Schritt der Opfer aufs Exakteste planbar ist. SPOILERENDE
Nichtsdestotrotz hat PLAY – TÖDLICHES SPIEL spannende Momente. Das Gefühl in den eigenen vier Wänden beobachtet und tyrannisiert zu werden, ist einfach für jeden nachvollziehbar, man hätte aber bequem auf einen der drei "Gewinner" verzichten können, denn zwei Handlungen unterscheiden sich nicht nennenswert. Auf in Endlosschleife ablaufende Ansagen und Tonband-Befehle, die ihnen zugespielt werden, hätte man hingegen sogar verzichten müssen…das nervt.
Fazit: Bis aufs Ende nicht übel, daher am besten 10 min früher abschalten und das Finale offen lassen. Denk dir selbst was aus, es wird eben soviel Sinn machen, wie das was Bryan Bertino sich ausgedacht hat.
Facebook Comments