Wenn ihr euch PROXY anseht, ist die Chance groß, dass ihr mit einem Horrorfilm rechnet und mit den falschen Erwartungen an den Film herangeht. Wie das kommt? Da wäre zunächst der knallrote Kleber der FSK. Dann wären da die Schauspieler: Joe Swanberg gehört zum Umfeld von Adam Wingard und spielte schon in YOU'RE NEXT, CABIN FEVER 2 und V/H/S. Auch Kristina Klebe kennt man auch vor allem für ihre Horrorfilme (HALLOWEEN, CHILLERAMA).
Selbst die ersten Filmminuten deuten nicht an, in welche Richtung sich PROXY entwickelt.
Im Gegenteil: die Szene, in der die hochschwangere Esther von einem unbekannten niedergeschlagen wird, der ihr dann förmlich das Baby aus dem Leib prügelt, geht an die Nieren und ist derbe Kost.
Danach nimmt sich der Film aber die Zeit Esther und ihre Situation genauer vorzustellen.
Hier lernen wir eine einsame, zerrissene Frau kennen, die in einer lesbischen Beziehung ist, obwohl sie sich nicht für lesbisch hält und deren einziger Freund ein Goldfisch ist.
Unterstützung sucht Esther nach den traumatischen Ereignissen in einer Selbsthilfegruppe, wo sie Melanie kennenlernt. Die gibt vor Mann und Kind verloren zu haben, doch als Esther durch Zufall die Wahrheit über Melanie herausfindet, nimmt das Schicksal seinen Lauf.
Nein, PROXY ist trotz einzelner Gewalteruptionen kein Horrorfilm, nicht einmal ein Thriller, sondern am ehesten ein Drama.
Wen das nicht abschreckt, sollte mit möglichst wenig Vorwissen an den Film herangehen und sich überraschen lassen. Möglichkeiten finden sich zu genüge, allerdings fast nie um ihrer selbst willen, sondern stets in Story und Charakterentwicklung verpackt.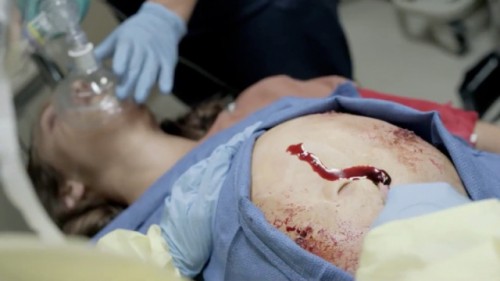 Wer doch etwas mehr wissen möchte, sei vor kleineren Spoilern gewarnt.
Schauspielerisch ist PROXY völlig auf der Höhe.
Die Darstellung der unsicheren Esther erinnert etwas an MAY oder CARRIE. Kristina Klebe spielt hingegen glaubhaft ein hartes "Mannsweib". Die Figur der Melanie pendelt überzeugend zwischen liebender Mutter und nach Aufmerksamkeit lechzender Irrer.
Unter den vielen Frauenfiguren sticht Joe Swanberg als Melanies Mann Patrick schon heraus und auch er muss im Laufe der Handlung einiges einstecken, was uns an seinem Geisteszustand zweifeln lässt.
Statt die Hauptfiguren allesamt früh im Film zu etablieren, wie es meist der Fall ist, erlauben sich die Drehbuchautoren nicht nur die wichtigen Charaktere deutlich zeitversetzt einzuführen, sondern auch unerwartet zu entfernen, wie man es beispielsweise auch von THE PLACE BEYOND THE PINES kennt.
Glaubhafte Figuren – die finden sich hier trotz einzelner Fragezeichen – brauchen Platz; trotzdem finden sich in beinahe zwei Stunden Spielzeit ein paar Hänger und manche Szenen hätten der Schere zum Opfer fallen dürfen.
Gerade in der zweiten Hälfte wird Spannung zu sehr den Charakteren untergeordnet.
Dafür gelingt dem Film die Puzzle-Teile, die er uns hinwirft auch wieder vernünftig zusammenzusetzen und eine ordentliche Geschichte zu erzählen,
Fazit: Aus psychologischer Sicht bietet PROXY das nackte Grauen, wer es lieber visueller mag, wird zwar einzelne brutale oder verstörende Szenen vorfinden, den Film aber nicht zwingend zu schätzen wissen.
Facebook Comments