Das riecht nach Ärger.
Ein Film wie PYEWACKET wird zwangsläufig Fast Food – Cineasten auf den Plan rufen, die mit einem "langweilig" ihr Ein-Wort-Review herausschreien. Wer daher Werke wie THE WITCH, BABADOOK und IT FOLLOWS nicht mochte, sollte sich nicht die Mühe machen weiterzulesen, PYEWACKET wird euch nicht gefallen.
Zwar finden sich nur Fragmente der genannten Filme wieder, wie ein schwieriges Mutter-Kind-Verhältnis (BABADOOK), ein Umzug in die Wälder (THE WITCH) oder eine wenig greifbare Bedrohung (IT FOLLOWS) trotzdem ist von allem was da und vor allem das ruhige Erzähltempo sowie das Ausbleiben aktueller Klischees sollte abschrecken.


Inhalt:
Nach dem Tod ihres Vaters, verarbeiten Leah und ihre Mutter die Trauer unterschiedlich und entfremden sich dadurch immer mehr. Als die Mutter einen Umzug aufs Land anordnet, eskaliert der Streit und Leah, die sich schon länger mit dem Okkulten beschäftigt, lässt sich zu einer schwarzmagischen Beschwörung hinreißen, wodurch ein Wesen herbeigerufen wird, das die Mutter töten soll. Leah bereut das Ritual bald, kann aber nicht mehr verhindern, dass sich angsteinflößende Dinge ereignen.
Das klingt inhaltlich gar nicht so viel anders wie viele andere Filme und hier wäre viel Platz für Teen-Banalitäten und Jumpscares gewesen, aber Adam McDonald (Regie und Buch) setzt lieber auf Glaubwürdigkeit und Charaktere. Man kann erahnen, dass Leah und ihre Freunde nicht zu den coolen Kids der Schule zählen, sondern mit Metal-Aufnähern und dem Interesse für das Obskure eher anecken, das wird aber nicht weiter thematisiert und im Grunde sind sie eben doch normale Teenies. Aber eben weil Leah so dargestellt wird, ist ihre Entwicklung nachvollziehbar und selbst ihr Ritual, das eigentlich voller Klischees (magische Sprüche, Blutopfer, mit einem Stein gegen einen Baum schlagen, etc.) besteht, verkommt nicht zur Albernheit.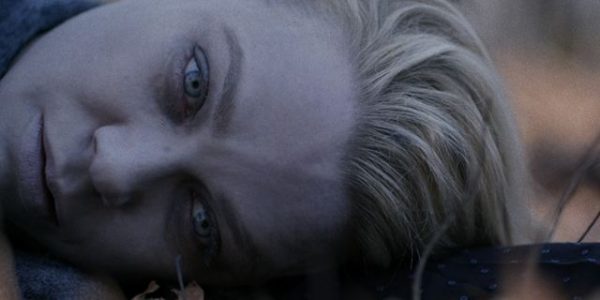 In gewisser Weise setzt McDonald damit fort, was er vor einigen Jahren mit BACKCOUNTRY begann. Auch der hätte leicht ins durchschnittliche Backwood-Milieu rutschen können, kam aber erstaunlich erwachsen daher.
Wie eingangs angedeutet, ist PYEWACKET eine actionarme Angelegenheit, die auch nur punktuell größere Effekte und Kunstblut einsetzt, dafür aber voller Drama und Atmosphäre steckt. Vor allem Nicole Muñoz, die Leah spielt, trägt maßgeblich zum Gelingen bei und schafft auch ohne viele Worte (und obwohl sie schon über 20 ist), die Rolle der Teenagerin zu füllen.
Prominenter, zumindest bei Fans von THE WALKING DEAD, ist aber ihre Mutter besetzt. Laurie Holden verkörperte in den ersten Staffeln der Zombie-Serie Andrea, eine recht kontrovers aufgenommene Figur und während ihre Rolle in PYEWACKET ganz anderer Natur ist, wirkt sie erneut wie ein Opfer der Umstände und ihr Charakter wird sicher nicht ausschließlich Fans gewinnen.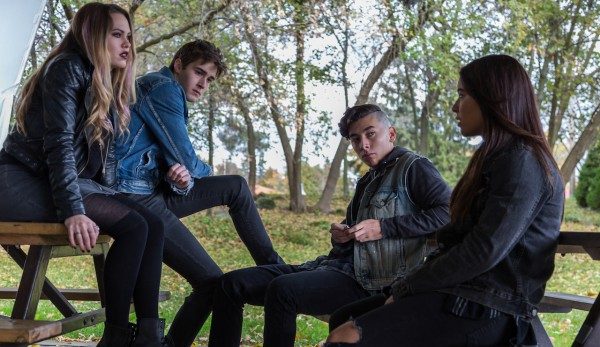 Aufgrund der Metal-/Gothic-Charaktere der Jugendlichen, kann man den Film wohl auch in die Schublade stecken, in der sich Werke wie DEATHGASM, METALHEAD und THE DEVIL'S CANDY aufhalten, schade nur, dass der passende Soundtrack hier etwas vernachlässigt wurde. Vernachlässigt wird zum Ende hin die ein oder andere Entwicklung in Leahs Freundeskreis, was aber auf recht hohem Niveau gejammert ist.
Fazit: Ernstzunehmender Slow-Burn-Grusler.
Facebook Comments