Das Horror- und Thrillergenre wird seit Jahrzehnten ausgiebigst beackert, kaum eine Idee wurde nicht zweit- oder drittverwertet und doch existieren brachliegende Ansätze, von denen man kaum für möglich gehalten hätte, dass es sie gibt.
Im Falle von REGRESSION ist es das Thema Ritueller Satanischer Missbrauch. Sicher gab es in den 70ern viele Filme um Kulte und Okkultes (DAS OMEN, ROSEMARY'S BABY etc.) und hier und da hat auch der Teufel selbst seinen Auftritt, einen Bezug zur Realität suchte man jedoch vergebens.
REGRESSION behauptet hingegen nicht nur (wie so mancher Horrorfilm) von wahren Begebenheiten inspiriert worden zu sein, man glaubt es ihm auch.

Inhalt: Minnesota, 1990. Die 17jährige Farmerstochter Angela zeigt ihren Vater wegen sexuellen Missbrauchs an. Eine schwerwiegende Anschuldigung, die der scheinbar gottesfürchtige Mann jedoch nicht widerlegen kann, weil er sich schlichtweg nicht erinnern kann.
Ermittler Bruce Kenner geht der Sache nach und stellt fest, dass auf der heruntergekommenen Farm, auf der Angela mit dem Vater und der Großmutter lebte, einiges im Argen liegt und offenbar weitere Menschen in den Missbrauch involviert waren, darunter auch ein Polizist.
Kenner wird mit unfassbaren Verbrechen konfrontiert, doch wer ist alles daran beteiligt?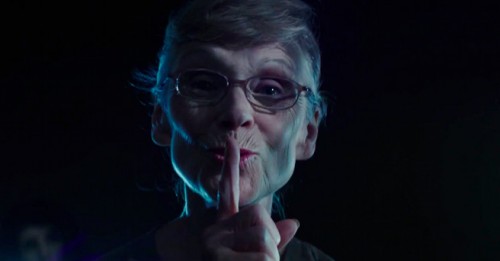 Regisseur Alejandro Amenábar war nicht nur für den cleveren Gruselfilm THE OTHERS verantwortlich, sondern fasste mit TESIS-FASZINATION DES GRAUENS bereits vor 20 Jahren das heikle Thema Snuff-Filme an, was wie ritueller Missbrauch einen morbiden Mythos darstellt. Klar ist aber, dass seit Jahrzehnten Menschen weltweit von systematischer Folterung, Vergewaltigung und (Menschen-)Opferung berichten, andererseits aber kaum Polizeierfolge vorzuweisen sind.
Genau in diesen Strudel wird Bruce Kenner, unterstützt von einem Psychiater, hineingezogen. In trostlosen, nasskalten Bildern erzählt REGRESSION die Suche nach der Wahrheit. Warum verließ Angelas Bruder die Farm? Starb ihre Mutter wirklich bei einem Autounfall oder wußte sie zu viel?
Es dauert nicht lange, bis Kenner, der aufgrund seiner übergenauen Arbeitsweise auch bei den Kollegen einen schweren Stand hat, zu zweifeln beginnt, von Alpträumen geplagt wird und schließlich paranoide Gedanken spinnt.
Uns Zuschauer lässt der Film ebenfalls im Unklaren und punktet mit der Paranoia, die in ähnlicher Form in URLAUB IN DER HÖLLE, einem weiteren 70er-Film um einen Ritualmord, dargestellt wurde. Der wurde allerdings zunehmends handfest, was bei REGRESSION nicht der Fall ist.
Zwischen Psychothriller und psychologischem Thriller angesiedelt, ist hier weder mit viel Action noch aufgebauschten Schocks zu rechnen.
Dass der Film funktioniert, liegt neben handwerklicher Präzision maßgeblich auch an einem starken Ethan Hawke, der mit SINISTER und THE PURGE in den letzten Jahren schon einige Male seinen Sinn für dunkle Stoffe zeigte, hier aber deutlich ernster spielt. Seiner Figur ist die Last, die der Fall auf sie auswirkt, im Laufe der Handlung deutlich anzumerken.
Angela wird von Emma Watson dargestellt. Die aus den HARRY POTTER-Filmen bekannte Engländerin verkörpert zwar eine Schlüsselfigur, verbringt aber vergleichsweise wenig Zeit vor der Kamera und bleibt insgesamt unauffällig.
Der Filmtitel spielt übrigens auf die umstrittene Regressionstherapie an, bei der Unterbewußtes zu Tage gefördert werden soll. Umstritten deswegen, weil sie nicht immer die Realität abbildet, sondern oft nur das, was der Behandelnde hören will.
Und so stellt Amenábars Film nicht nur die Existenz von Satanskulten, sondern auch psychologische Ansätze in Frage. Kein Wunder, dass der Zuschauer einem ebenfalls zum Einsatz kommenden Lügendetektor schon gar nicht mehr glauben möchte.
Nahezu den kompletten Film lässt uns der Regisseur im Unklaren, sät mit jedem Fakt zwei neue Zweifel, begeht aber am Ende den Fehler zu klar Stellung zu beziehen. Historisch ist das akurater (einen ähnlichen Fall gab es in Jordan, Minnesota tatsächlich), ein offenes Ende wäre im Kontext des restlichen Films aber angemessener.
Das sorgt aus ganz subjektiver Sicht zwar für einen Punkteabzug, kann aber nichts daran ändern, dass REGRESSION einen ganz starken Auftritt hinlegt.
Facebook Comments