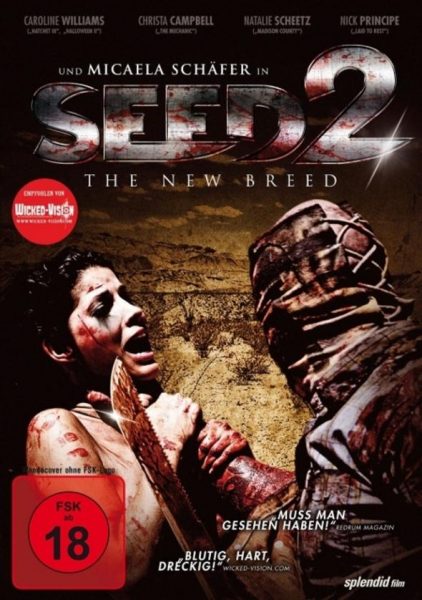 Mit SEED 2 – THE NEW BREED kehrt Maskenträger Max Seed, den Uwe Boll schon 2007 zuschlagen ließ, auf den Bildschirm zurück. Boll selbst hält sich inzwischen etwas im Hintergrund, überlässt den Regiestuhl Marcel Walz, bleibt aber noch als Produzent erhalten.
Inhaltlich ist kaum etwas geblieben, außer eben Mr. Seed, der den dunklen, dreckigen Bildern aus Teil 1 entkam und stattdessen im gleißenden Sonnenlicht Nevadas/Arizonas sein Unwesen treibt.
Dorthin zieht es einige junge Damen, die soeben einen Junggesellinnenabschied in Las Vegas überstanden und nun mit dem Wohnmobil Richtung Grand Canyon unterwegs sind.
Unterwegs geht natürlich alles schief, man zickt sich an, ein seltsamer Anhalter kommt aus dem Nichts, das Auto bleibt liegen und die noch seltsamere Polizisten, die gerade zu Fuss durch die Wüste tingelt ist auch nicht, was sie vorgibt zu sein.
Schnell müssen unsere Heldinnen einsehen, dass sie bis zum Hals in Problemen stecken und schon beginnt das große Sterben.
Falls sich durch die Inhaltsangabe jemand an THE HILLS HAVE EYES erinnert fühlt: SEED 2 – THE NEW BREED spielt in der gleichen Gegend und ein Wohnmobil ist auch im Bild zu sehen, in punkto Qualität kann man die beiden Werke aber nicht miteinander vergleichen.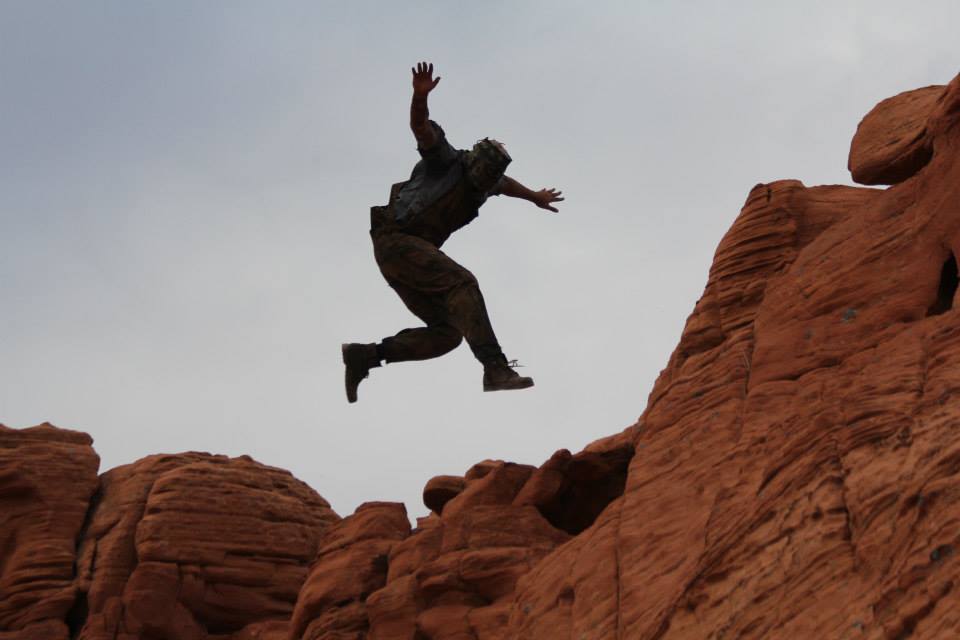 Es ist selten ein gutes Zeichen, wenn man kurz nach dem Dreh mit Beteiligten spricht und sich diese augenrollend abwenden, anders kann man als Zuschauer aber auch nicht reagieren, wenn man sich das fertige Produkt ansieht. So sehr Walz auch versucht sein Publikum durch Rückblenden zu verwirren, bleibt doch schwer zu übersehen, dass nichts zueinander passt.
Da wäre die lieblos zusammengewürfelten Truppe an Damen, der amerikanischen Polizistin mit deutschem Akzent, die offenbar nicht weiß, wie man sich im Dienst anzieht oder all den Figuren, die in diesem gottverlassenen Landstrich mal eben erscheinen um dann möglichst theatralisch zu sterben.
Eines dieser Wesen ist Micaela Schäfer, die auf dem Cover angepriesen wird, als wäre sie die Hauptdarstellerin, aber im Grunde nach etwa 2 Minuten Nacktheit (wie originell) ins Gras beißen darf. Tatsächlich fügt sich das Silikonmodell gut ein. Sie ist nicht die schlechteste Schauspielerin in der Runde und offenbar war Erfahrung mit plastischer Chirurgie ein wesentliches, wenn nicht sogar das einzige, Castingkriterium für verschiedene Rollen.
Für das Sterben war indes Ryan Nicholson verantwortlich. Der ist bekanntermaßen Profi für Make-Up und Effekte, wird auch schon mal für größere Produktionen gebucht, sorgt hier aber auch nicht für die Impulse, die den Film retten könnten. Die Masken und das Gemetzel gehen in Ordnung und sorgen immerhin dafür, dass der Film ungeschnitten mit dem leichten Siegel der SPIO ausgestattet wurde, es ist aber nicht so, als gäbe es den Wow-Moment.
1,2 Millionen $ soll SEED 2 laut imdb gekostet haben, ein stattliches Budget für deutsche Mitwirkende, gleichzeitig aber auch der Beleg dafür, dass Geld kein fehlendes Talent ersetzen kann.
Immerhin konnte man ein paar Namen einkaufen, die sich zu Walz' Stammbesetzung Annika Strauss (die sich übrigens passabel aus der Affäre zieht) gesellen. Nick Principe (LAID TO REST) darf den Killer spielen und Christa Campbell (2001 MANIACS, DRIVE ANGRY) und Caroline Williams (HATCHET 3, TCM 2) zeichnen sich vor allem dadurch aus, dass sie schon einmal in einem Horrorfilm zu sehen waren. Mit der Mimik klappt es nach den Botox-Eingriffen nicht mehr so recht.
Nun ist es nicht so als erwarte irgendwer eine Charakterstudie in der Sean Penn und Meryl Streep einen 90minütigen Dialog halten, aber ein Mindestmaß an Story und Schauspiel wäre nett gewesen, denn während Alexandre Ajas / Wes Cravens THE HILLS HAVE EYES Mitgefühl mit den Protagonisten erzeugten, werden hier nur selbstgefällige Gewalttaten (Vergewaltigung mit Pistolenlauf, Strangulieren mit dem eigenen Gedärm, etc.) im Wüstensand aneinandergereiht, die durch weitgehend sinnfreies Palaver und Zeitsprünge verbunden sind.
Facebook Comments