Gratulation!
Eine Idee über einen Hai-Wirbelsturm zum Film zu machen, abgehalfterte Darstellerkarrieren zu reanimieren, einen Kult zu entfachen, zum Pseudonym für Trash zu werden und selbst mit Teil 6 noch Menschen ins Kino zu locken, verdient bei allem freiwilligem und unfreiwilligem Gelächter über SHARKNADO Respekt.
Moment mal, Kino? Ja, in diversen Kinopolis-Läden wurde gegen 8€ Mindestverzehr auch der letzte (?) Teil der Reihe gezeigt.
Die Klimaanlage spart man sich an diesem Abend, dafür sitze ich neben einem Lachsack, der ein schrilles Damen-Kichern an den Tag legt…und das auch dann, wenn es wirklich NICHTS zu lachen gibt. Irgendwie passt das alles zu einem Film wie diesem.
SHARKNADO 6 – THE LAST ONE, ist im Original mit dem überraschend cleveren Titel/Wortspiel/Doppeldeutigkeit THE LAST SHARKNADO: IT'S ABOUT TIME ausgestattet und zeigt damit stellvertretend, dass die Verantwortlichen klüger sind als sie tun. Natürlich begegnen wir schlechten Schauspielern, miesem CGI und hohlen Gags (die mein Nachbar trotzdem mit einem herzhaften Lachen quittiert), aber auch manchem Detail.
Angefangen bei den bekannten unzähligen Promigastauftritten, von denen man leicht die Hälfte übersehen kann und ebensovielen Referenzen zur amerikanischen Geschichte, die man als Nicht-Amerikaner womöglich auch nicht alle zuordnen kann.
Apropos Geschichte: wurde in Teil 5 die Welt bereist, wird in SHARKNADO 6 die Zeit bereist. Angefangen bei einem Trip im Dinosaurierzeitalter arbeitet man sich über Mittelalter, Unabhängigkeitskrieg und wilden Westen zurück in die Gegenwart und darüber hinaus.
Dabei tut man gar nicht originell, sondern bedient sich recht unverblümt bei ZURÜCK IN DIE ZUKUNFT und ähnlichen Werken.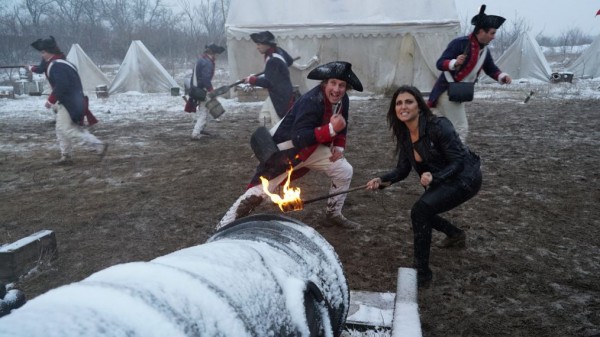 Sinn und Logik sucht man hingegen einmal mehr vergebens und ist ja auch Teil des Konzepts. Der Film macht die Regeln, versucht manchmal krude Erklärungen zu liefern (was es nur noch schlimmer macht), pfeift aber meist darauf, weswegen man sich als Zuschauer nie fragen sollte, warum gewisse Figuren in Epochen oder Orten auftauchen, in denen sie der eigenen Logik nach gar nicht sein könnten.
Da man aber eben jeden Einfall entweder aus der SHARKNADO-Reihe selbst oder von anderen Streifen kennt, stellt sich rasch eine gewisse Langeweile ein und zudem wirken die Haie meist nur noch wie eine Nebensache. Vielleicht ist es wirklich an der Zeit, die Reihe zu Grabe zu tragen und für viele geschieht dies sechs Filme zu spät. Nicht für meinen Nachbarn, der selbst pathosgeladene Lücken mit viel Gekicher kaschiert.
Fazit: da sich jeder der Filme eine Minimalbewertung erkämpft hat, bleibt es auch diesmal bei einem lausigen Pünktchen, allerdings mit dem Hinweis, dass der Film nicht handwerklich gewohnt mies, sondern tatsächlich der schwächste der Reihe ist…auch wenn mein Sitznachbar das womöglich anders sieht,
Facebook Comments