Während die Soska Twins demnächst den Horrorfilm SEE NO EVIL 2 veröffentlichen und letztes Jahr in den USA ein Drama namens HEAR NO EVIL erschien, wartet Filmemacher Roze derzeit bei uns mit SPEAK NO EVIL auf. Klingt nach Trilogie, inhaltlich stehen die Filme aber in keinerlei Zusammenhang und selbst das was uns Roze hier präsentiert, ist nicht ganz einfach in eine Schublade zu legen.
Während sich Mutter Anna mit ihrem Freund vergnügt, verschwindet ihre Tochter Joey. Was in der Gemeinde zunächst als Fehler der Mutter abgetan wird, relativiert sich schnell, als auch sämtliche anderen Kinder der Mobile Home – Community abhandenkommen.
Die Freude ist groß als einige Zeit später alle Kids wieder auftauchen, doch sie haben sich verändert und werden nach und nach zur Gefahr für alle anderen. Während sich die Erwachsenen notfalls mit Gewalt gegen ihre eigenen Kinder zur Wehr setzen, will Anna Joey auch weiterhin schützen.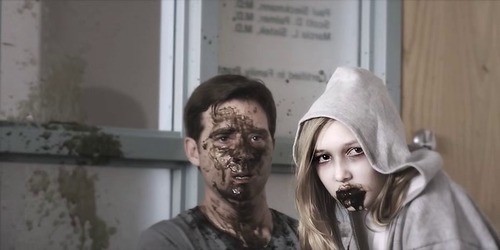 Was zunächst klingt wie eine Rattenfänger von Hameln – Geschichte, geht später in eine Exorzisten-/Besessenen-Ecke und enthält auch Zombie-Beiwerk. Abwechslungsreich ist SPEAK NO EVIL also geworden, aber wie das so ist: was für den einen Abwechslung bedeutet, ist dem anderen zu wirr.
In punkto Handlung muss man vor Gehirnknoten aber nicht fürchten, denn die ist immer überschaubar. Dafür bereitet eine unnötig wacklige Kamera Probleme, die gerade in schnelleren Szenen zusätzlich dadurch irritiert, dass man keinen festen Perspektiven folgt und Darsteller X, der gerade noch links stand, sich plötzlich rechts wiederfindet.
SPEAK NO EVIL ist für 150.000$ entstanden und das ist zwar kein No-Budget, aber noch immer Low-Budget. Das kann man positiv oder negativ auslegen oder aber komplett außer Acht lassen, aber es erklärt warum nicht jeder Schauspieler Spitzenklasse ist oder die Blutflecken unecht aussehen.
Was der Film hingegen schafft, ist die Wüstenlandschaft und die kleine Gemeinde stimmungsvoll in Szene zu setzen.
Die Horroranteile erinnern aufgrund der aggressiven Kinder natürlich an THE CHILDREN oder COME OUT AND PLAY, aber das liegt in der Natur der Sache und SPEAK NO EVIL hat auch durch seine rohe Darstellung durchaus seine Daseinsberechtigung.
Wirklich überflüssig ist hingegen weitere Kinder als Zeichen ihrer Besessenheit über ihren Betten schweben zu lassen. Das hat DER EXORZIST vor über 40 Jahren gemacht und seitdem nahezu jeder Teufelsaustreiber-Schinken und das muss nun aufhören. Vor allem passt es nicht in einen Indie-Film, von dem man innovative Wege statt Massenabfertigung erwartet (oder zumindest erhofft).
Man kann sich SPEAK NO EVIL ansehen und die 71 min Länge tun niemanden weh, einen bleibenden Eindruck hinterlässt er aber nicht. Mit Anna gibt es zwar eine Hauptfigur, eine Art Heldin, das aber nur nominell. Zu wenig fiebern wir mit den Figuren und da die Story auch wenig bietet um sich dauerhaft festzusetzen, geht der Film schnell wieder vergessen.
Facebook Comments