Wir können uns wohl darauf einigen, dass Dario Argentos SUSPIRIA aus dem Jahr 1977 ein Genreklassiker ist.
Wir können uns vermutlich auch darauf einigen, dass ein Remake nur dann Sinn macht, wenn man die Geschichte entweder in die Moderne projiziert oder genügend ändert, um eine eigene Geschichte zu erzählen.
Regisseur Luca Guadagnino ist  großer Fan des Originals und hat sich für den zweiten Weg entschieden, Ähnlichkeiten gibt es natürlich dennoch.
Im Herbst 1977 kommt die Amerikanerin Susan nach Berlin, um sich einer Tanzakademie anzuschließen. Obwohl sie keine professionelle Ausbildung genoss, überzeugt sie die Leiterin Madame Blanc und soll die Hauptrolle im aktuellen Stück übernehmen.
Doch die Akademie bringt nicht nur jungen Frauen den Tanz näher, sondern ist auch ein Hexenzirkel und jeder der diesem Geheimnis zu nahe kommt, muss mit schmerzhaften Konsequenzen rechnen.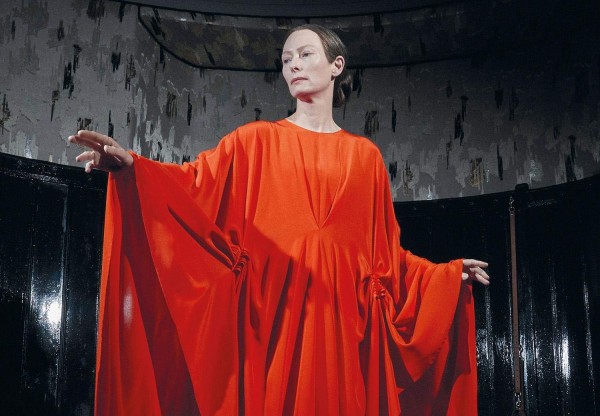 Dass die Geschichte von Freiburg nach Berlin verlegt wurde, ist zunächst ebenso ein schier nebensächliches Detail, wie dass statt klassischem Ballett nun Ausdruckstanz auf dem Programm steht.
Wenn sich Details aber häufen – und SUSPIRIA ist voll davon – darf man getrost unterstellen, dass die Macher einen Plan verfolgten.
So tragen sich die Ereignisse im "Deutschen Herbst" zu. RAF-Bomben explodieren, die Landshut wird entführt und die Berliner Mauer steht direkt vor der Tür der Akademie.
Und SUSPIRIA gräbt tiefer in der deutschen Geschichte.  Das 3. Reich wird immer wieder thematisiert. So entstammt das Stück "Volk", das das Ensemble aufführen will aus dieser Ära und es wird erwähnt, dass die Schule in dieser Zeit einen schweren Stand hatte (was übrigens tatsächlich für den realen Ausdruckstanz gilt).
Als Widersacher der Hexen wird uns der Psychologe Dr. Kemperer vorgestellt, der durch eine ehemalige Tanzschülerin informiert, nun Nachforschungen über die Akademie anstellt, aber ebenfalls Opfer des zweiten Weltkriegs wurde, in dessen Wirren er seine Frau verlor.


Dr. Kemperer ist eine der wenigen männlichen Figuren im Film und während er gemäß Credits von einem Lutz Ebersdorf gespielt wird, hat sich inzwischen herumgesprochen, dass unter einer guten Maske Tilda Swinton (WE NEED TO TALK ABOUT KEVIN) steckt.
Die hat gleich drei Rollen, wobei sie naturgemäß vor allem ohne Makeup als Madame Blanc überzeugt. Vermutlich hat von ihr niemand etwas anderes als schauspielerische Dominanz erwartet, weniger selbstverständlich ist die Leistung von Dakota Johnson, die viele aus der peinlichen 50 SHADES OF GREY – Reihe kennen, aber sich hier als glaubwürdige Schauspielerin zeigt und gerüchteweise zwei Jahre lang Tanzunterricht für ihre Rolle nahm.
In optischer Sicht ist SUSPIRIA 2018 weit entfernt von SUSPIRIA 1977, schafft es aber tatsächlich mehr wie ein Kind seiner Zeit auszusehen, als das Original.
Anders als moderne Giallo-Vertreter wie z.B. AMER versucht Guadagninos Film nicht die üblichen Trademarks übertrieben zu fokussieren und man muss schon genau hinsehen, um beispielsweise bekannte Elemente wie schwarze Handschuhe zu entdecken. Obwohl der Regisseur selbst von einer Hommage an Argentos Film spricht, ist er wegen seiner Eigenständigkeit jedoch mehr als das. In dieser Version finden sich keine lustigen Zwinker-Zwinker-Verweise, keine Eastereggs und statt einer bunten Farbpalette die graue Tristesse, die man von Berlin im Herbst erwarten darf.
Wo Dario Argentos Vorlage oft künstlich wirkte (man denke an das übertrieben rote Blut), wirkt diese Variante nur künstlerisch.


So künstlerisch, dass der Verfasser dieser Zeilen auch nach dem zweiten Durchlauf nicht behaupten mag, alle Bilder oder jede Szene und jedes Detail komplett verstanden zu haben. Dennoch funktioniert das Werk als großes Ganzes prächtig und saugt einen mit einer dichten Atmosphäre in sich hinein.
Wer nur da ist, um einen gewöhnlichen Horrorfilm zu sehen, wird daher womöglich enttäuscht sein. Wobei es diverse brachiale Szenen zu bewundern gibt, die auch durch eine großartige Kameraarbeit unterstützt, als Kunst UND Horror funktionieren.
Bezeichnend ist hierbei der Augenblick zu nennen, in dem Susan zum ersten Mal vortanzt, während eine abtrünnige Mitschülerin in einem anderen Teil des Gebäudes in einem Spiegelsaal (und spiegelbildlich) einem grotesken Abbild des gleichen Tanzes ausgesetzt ist, der ihr jeden Knochen im Leib bricht.
Dieser SUSPIRIA hat eine Laufzeit von zweieinhalb Stunden, deutlich mehr als sein Vorbild, aber auch wenn man ihn als sperrig bezeichnen darf, er neben morbiden Traumsequenzen auch Szenen enthält, die auf den ersten Blick länger wirken als nötig und es sicher gute Gründe gibt, das nicht zu mögen, ist alles an seinem Platz.
SUSPIRIA ist trist, feminin, politisch, brutal und sexy…und es gibt eine Menge zu entdecken.
Facebook Comments