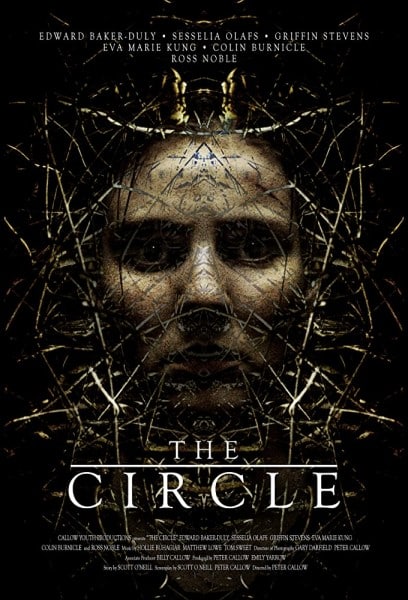 THE CIRCLE ist der erste Spielfilm von Regisseur Peter Callow. Vorher hat er sich vor allem an Dokumentationen und Kurzfilmen versucht. Das Debüt in Langzeit begleitet eine Gruppe Studierender, die zusammen mit ihrem Professor eine Exkursion zu den schottischen Isle of Rum machen. Und natürlich werden sie dort nicht nur Ausgrabungen vornehmen, sondern bald auch um ihr Leben kämpfen. Hierzu versucht Callow verschiedene Mythologien und historische Geschehnisse zusammen zu bringen. Ob das funktioniert, erfahrt ihr in dem Review.
Inhalt von THE CIRCLE
Vier Studierende und ein Professor machen sich auf die Reise auf die Isle of Rum in Schottland, um dort Ausgrabungen vorzunehmen. Neben Konflikten innerhalb der Gruppe, kommt es auch bald zu unheimlichen Geschehnissen auf der verlassenen Insel. Schnell entbrennt ein Kampf um Leben und Tod, bei dem das archäologische Wissen der Studierenden ein wichtiges Hilfsmittel ist.
Resümee zu THE CIRCLE
Die erste Szene von THE CIRCLE wirkt wie eine Hommage an BLAIR WITCH PROJECT. Wackelkamera im Nachtmodus, ein verängstigter Mann im Zelt und unheimliche Geräusche im Wald. Die Parallelen sind eindeutig. Zum Glück ist nur die erste Szene in diesem Stil gehalten. Denn ist man ehrlich, ist die Zeit des Found Footage zu Ende und die wenigsten Filme aus dem Genre konnten überzeugen. Aber bereits in diesen wenigen Minuten zeigt THE CIRCLE worum es gehen wird: Übernatürliche Phänomene in einem abgelegenen und einsamen Wald auf einer Insel.
Die weitere Handlung von THE CIRCLE hat man schon in diversen Variationen gesehen: Eine Gruppe Menschen landet in einer abgelegenen Gegend und wird dort angegriffen. Diese Art von Handlung ist oft erfolgreich und kann sehr unterhaltsam sein, sofern gut ausgeführt. Leider verirrt sich THE CIRLCE gerade am Ende scheinbar selbst im Wald und lässt viele Fragen offen.
Den Film mit der Geschichte des Handlungsortes zu verbinden ist eine gute Idee. Es ist interessant die angebliche Geschichte der Steinformationen zu erfahren und die Gruppe zu beobachten, wie sie immer weitere Funde machen. Allerdings werden zu viele verschiedene historische Momente zusammengebracht. Kelten, Wikinger, Römer und Nazis. Zu letzteren merkt ein Charakter selbst an, dass die niemals in diese Gegend gekommen sind. Leider wird nie aufgeklärt, was es damit auf sich hat.
Das übernatürliche Element in THE CIRCLE wird durch zwei Figuren repräsentiert. Ein Monster, das angeblich aus der nordischen Mythologie stammt, und eine mysteriöse Frau in schwarz mit Laterne. Eine kurze Recherche zeigt, dass es das Monster in der nordischen Mythologie gar nicht gibt. THE CIRCLE erklärt weder wie das angebliche Wikinger-Monster auf die Insel gekommen ist, noch was die Frau dort zu suchen hat.
Die größte offene Frage kommt aber am Schluss. Der Plottwist stellt alles Geschehene in Frage und macht nicht wirklich deutlich, was genau nun passiert ist. Ist von dem Gezeigten nichts passiert oder gab es einen Sprung in eine Parallelwelt? Die Frage beantwortet THE CIRCLE leider nicht und damit wirkt das Ende, als habe man keinen besseren Einfall gehabt, um die Handlung zu beenden und alles zu einem stimmigen Abschluss zu bringen.
THE CIRCLE kommt mit relativ wenigen Charakteren aus. Leider sind die allesamt ziemlich platt konstruiert. Sie wirken alle ein wenig wie nach Schablonen erstellt und sind die meiste Zeit eher nervig als sympathisch. Demnach leidet man nicht sonderlich mit ihnen mit, wenn sie auf der Insel von dem Monster gejagt und umgebracht werden. Bei manchen freut man sich vielleicht insgeheim auch, dass sie endlich nicht mehr nerven können.
Die Kameraführung mag an THE CIRCLE das Beste sein. Die schöne Natur wird gut eingefangen und auch die Fluchtszenen sind solide umgesetzt – sofern man bedenkt, dass ein eher kleines Budget zur Verfügung stand.
Das Monster ist am Computer entstanden und genau das sieht man ihm in jeder Szene schmerzlich an. Es wäre vielleicht besser gewesen sich irgendeine andere Bedrohung auszudenken oder es einfach deutlich weniger zu zeigen. Wie es ist, wirkt es leider eher lächerlich als bedrohlich.
Die schauspielerischen Leistungen sind mittelmäßig. An einigen Stellen kauft man den Charakteren ihre Rolle nicht ab. Die häufig überflüssig wirkenden Dialoge tun ihr übriges dazu.
THE CIRCLE ist ein Film, der eine interessante Grundidee hatte, sich aber in zu vielen offenen Fragen verliert. Wen man einen Film sucht, um das Gehirn auszuschalten und sich an schlechtem CGI nicht stört, mag THE CIRCLE annehmbar sein, ansonsten sucht besser einen anderen Film.
THE CIRCLE ist gerade auf Prime Video zu sehen
Facebook Comments