In Filmen wie dem lustigen SERIAL MOM oder dem weniger lustigen FOUND tarnen sich Serienmörder als ganz normale Familienmitglieder, die nebenbei Menschen töten.
THE CLOVEHITCH KILLER beschreitet ähnliche Pfade. Erzählt wird die Geschichte von Teenager Tyler, der Beweise findet, dass sein Vater ein Mörder sein könnte.
Eigentlich ist Vater Don aber ein vorbildliches Mitglied der Gesellschaft.
Er leitet eine Pfadfindergruppe in einer Kleinstadt in Kentucky, ist ein guter Ehemann und Vater und besucht sonntags die Kirche.
In der Stadt ereigneten sich vor 10 Jahren eine Reihe von Verbrechen, in denen Frauen entführt, gefoltert und schließlich umgebracht wurden. Der Mörder wurde jedoch nie gefasst.
Ein markantes Wiedererkennungsmerkmal des Täters war der sogenannte "Clove Hitch Knoten", der auch unter Pfadfindern beliebt ist.
Als Tyler zudem auf ein verstörendes BDSM-Bild stößt, das nicht zu seinem frommen Vater passen will, zählt er 1 und 1 zusammen und hegt einen schrecklichen Verdacht. Zusammen mit der gleichaltrigen Kassi, die sich schon länger mit den Morden beschäftigt, versucht er das Geheimnis zu ergründen.
Wer einen typischen Serienmörder-Thriller erwartet, wird von THE CLOVEHITCH KILLER womöglich bitter enttäuscht. Thriller-Anteile sind zwar enthalten, mehr als alles andere sprechen wir aber von einem Drama.
Mit einer ruhigen Erzählweise weiht uns Regisseur Duncan Skiles ins das Familien- und Kleinstadtleben ein und baut eine kühle Atmosphäre auf, die an SUPER DARK TIMES erinnert, wenn auch ohne das 90er-Feeling.


Allerdings baut der Film eben nicht auf grimmige Morde, sondern die Frage, wie man wohl reagieren würde, wenn ein Familienangehöriger ein Mörder wäre.
Ob Don denn der berüchtigte Killer ist, bleibt lange offen und während der Verdacht nie gänzlich schwindet, ergeben sich im Laufe der Story neue Wendungen.
Leider ist keiner dieser Twists so zwingend inszeniert, wie man es sich wünschen würde, was womöglich mit dem relativ unerfahrenen Regisseur zusammenhängt. Vielleicht hatte aber auch Drehbuchautor Christopher Ford, der mit COP CAR oder CLOWN schon ansehnliche Beiträge schrieb, diesmal seinen schwachen Tag.
Wobei "schwach" im Auge des Betrachters liegen dürfte, denn während Suspense und Spannung etwas kurz kommen (SPOILER) und die Ausreden des potentiellen Täters nie überzeugen (SPOILERENDE), taucht die Geschichte akkurater in die Welt eines Serienmörders ein, als das viele bekanntere cineastische Artgenossen tun.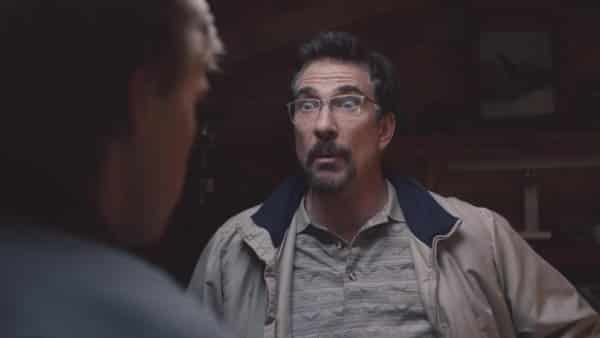 Schauspielerisch geht THE CLOVEHITCH KILLER klar. Zwar muss man zwei Mal hinsehen, um Dylan McDermott (AMERICAN HORROR STORY) zu identifizieren, aber das ist kein Nachteil. Auch Madisen Beaty und Charlie Plummer, die die beiden Teenies spielen, machen ihre Sache gut.
Fazit: An THE CLOVEHITCH KILLER werden sich sicher einige Geister scheiden. Wer auf Figuren und langsam köchelnde Story steht, sollte einen Blick riskieren, wer alles "langweilig" findet und eine differenzierte Auseinandersetzung mit einem Film nicht mag, soll lieber auf SAW 43 warten.
Facebook Comments