Wenn Xavier Gens, der Macher von FRONTIER(S), einen neuen Film veröffentlicht, ist natürlich jeder  gespannt, auch weil es um Gens zuletzt recht still geworden war und sein letzter Spielfilm (der ebenfalls sehenswerte THE DIVIDE) von 2011 stammt.
Wird der gebürtige Franzose noch mal ordentlich über die Stränge schlagen?
Story:
Als bei einem Exorzismus in Rumänien eine Nonne ums Leben kommt, werden die daran beteiligten Geistlichen verhaftet. Das erregt die Aufmerksamkeit der jungen Journalistin Nicole, die von den USA nach Osteuropa reist, um mehr über die Ereignisse zu erfahren.
Vor Ort muss sie nicht nur sehen, dass alter Aberglaube noch immer eine große Rolle spielt, sondern auch, dass daran viel Wahrheit ist.
THE CRUCIFIXION ist einer dieser Filme, die vorgeben auf Tatsachen zu beruhen und siehe da, tatsächlich wurde 2005 im Tanacu Kloster eine Nonne bei einem Exorzismus getötet, der Priester und vier weitere Nonnen, die ihm bei der (vermeintlichen) Teufelsaustreibung assistierten, wegen Mordes verurteilt.
Das klingt interessant, das klingt spektakulär, das erinnert an die ersten 5 Minuten des Films, dann gehen Realität und THE CRUCIFIXION aber auch schon getrennte Wege.
Nein, der Film ist keine Aufarbeitung der damaligen Ereignisse, sondern angelt bei den armen Seelen, die ohne zu denken jeden Film kaufen, auf dem der Satz "Von Tatsachen inspiriert" steht.
Das gleiche Publikum feiert sicher auch 2018 noch jeden überlauten vorgetäuschten Scarejump und von denen gibt es in THE CRUCIFIXION reichlich.
Nicole wird immer wieder von Erscheinungen und Visionen geplagt, die teilweise durchaus effektiv platziert sind, gleichzeitig aber auch austauschbar erscheinen.
Schwarze Augen, verdrehte Gliedmaße, schwebende Frauen, Weihwasser. Nicht nur zu Beginn geht es um Exorzismen, sie sind Kernstück des Films.
Damit kennen sich auch die Autoren Chad und Carey W. Hayes aus, die davor das Drehbuch des Kinoerfolgs CONJURING verfassten. Nicht ganz überraschend wendet sich THE CRUCIFIXION an ein ähnliches Publikum.
Die Frage ist, welche Rolle Xavier Gens dabei spielt. Nun, der Mann muss seine Rechnungen zahlen und genau so wirkt der Film. Nicht wie eine Herzensangelegenheit, geschweige denn wie Kunst, sondern wie eine Auftragsarbeit, die den Mainstream bedienen soll. Eine eigene Handschrift ist dabei kaum zu spüren und falls jemand die Härte sucht, die ihn einst zum Teil der New French Extremity machte, sucht woanders!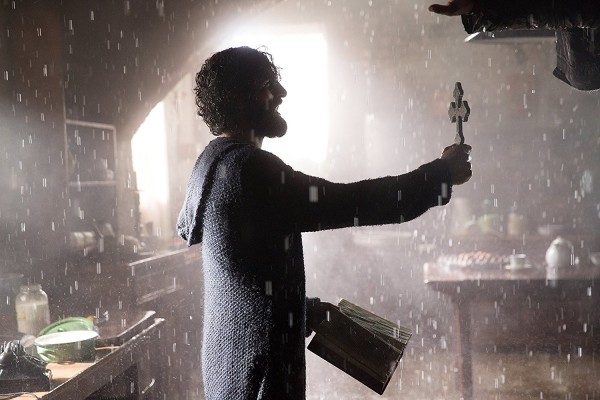 Star des Films ist in jedem Fall Rumänien und die Handlung spielt nicht nur dort, es wurde auch tatsächlich dort gedreht, was für viele stimmige Aufnahmen sorgt.
Hier und da wähnt man sich zwar in den Kulissen einer Wildwest-Stadt und Nicoles Hotellobby sieht aus wie ein Saloon, die meisten Orte sehen aber authentisch aus.
Wirft man alle Vergleiche über Bord, bleibt immerhin noch ein handwerklich solider Grusler, der weder FRONTIER(S) noch CONJURING das Wasser reichen kann, aber durchschnittlich ist…nicht mehr, nicht weniger.
5
Facebook Comments