Bei THE CURED handelt es sich um den ersten Spielfilm von Regisseur und Drehbuchautor David Freyne. Freyne hatte bisher nur an Kurzfilmen gearbeitet, wie beispielsweise THE THIRD WAVE, der als Vorlage für THE CURED diente.

Beworben wird THE CURED, der am 25. Mai auf DVD und BluRay veröffentlicht wird, vor allem damit, dass der Film eine vollkommen neue Perspektive in das Zombie-Genre bringen würde. Das ist so nicht ganz richtig, denn die Serie IN THE FLESH (2013) von BBC hatte bereits einen ähnlichen Ansatzpunkt.
Inhalt von THE CURED
Irland wurde von einer Krankheit heimgesucht, die bei den Menschen eine Art Psychose auslöst und sie zu brutalen Mördern werden lässt, die auch nicht vor Kannibalismus zurückschrecken – Zombies also. Durch emsige Forschung konnte jedoch ein Heilmittel gefunden werden, das beinahe alle der Erkrankten wieder zu friedfertigen Personen werden lässt: die Geheilten.
Die Frage ist nun, wie mit diesen Menschen weiter umgegangen wird, die während ihrer Erkrankung schreckliche Taten begangen haben. Während die "Resozialisierung" beginnt, regen sich Proteste in der Bevölkerung gegen eben diese.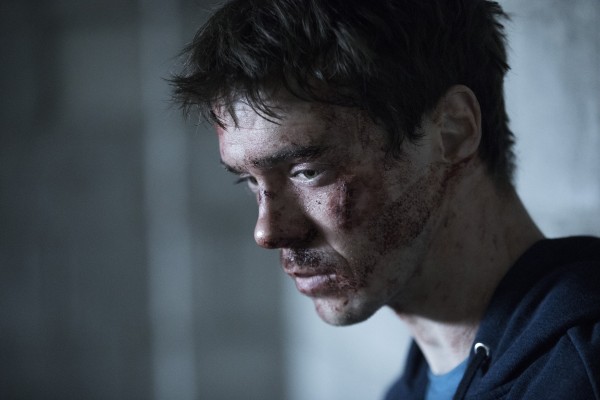 Resümee von THE CURED
Auch wenn der Ansatz von THE CURED nicht vollkommen neu ist, bringt er doch ein wenig Schwung in das Zombie-Genre. Anstatt zu zeigen, was während der "Zombie-Apokalypse" passiert, behandelt der Film das Danach. Wie soll mit Menschen umgegangen werden, die gemordet haben? Diese Problematik zieht sich durch den gesamten Film und ist Katalysator für die Handlung. THE CURED ist demnach kein Zombie-Gemetzel, sondern soll zum Nachdenken anregen. Immerhin kann man die Geheilten mehr oder weniger durch jede Minderheit ersetzen, so dass die generelle Frage nach dem Umgang mit Minderheiten aufgeworfen wird.

Auch wenn THE CURED keine großen Zombieschlachten zeigt, wird es doch das ein oder andere Mal blutig und brutal. Immer wieder werden Flashbacks des Protagonisten Senan (Sam Keeley) gezeigt, der mit seinen Taten nicht gut zurecht kommt. Der Fokus des Films liegt jedoch eindeutig auf der Handlung, nicht auf Gewalt.
Mit Ellen Page (JUNO, HARD CANDY) konnte eine bekannte und hervorragende Schauspielerin für den Film gewonnen werden. Sie spielt ihren Part souverän und überzeugend. Aber auch die restliche Besetzung ist gut gewählt worden. Viele der Schauspieler*innen sind besonders in UK bekannt und haben dort bereits etliche Rollen gespielt.
Am technischen Aspekt von THE CURED gibt es nichts auszusetzen. Regisseur Freyne scheint durch seine Kurzfilme das Handwerk solide erlernt zu haben und weiß dies auch auf Spielfilmlänge einzusetzen. Wo Spezialeffekte eingesetzt sind, wirken sie überzeugend und nie überladen.
Auch wenn THE CURED nicht das ist, als was er beworben wird – die größte Neuheit im Zombie-Genre seit Anbeginn der Zeit – ist es doch ein sehr unterhaltsamer Film geworden. Es wird ein Blickwinkel gezeigt, der noch nicht vollkommen ausgelutscht ist und eine gute Abwechslung zu den sonstigen Zombie-Streifen bietet. Vor allem ist es ein Film, der zum Nachdenken anregen soll und auch kann, ohne dabei abgedreht oder sehr moralisch zu sein.
Facebook Comments