Als die junge Wissenschaftlerin Olive von einem Forschungsschiff aus auf Tauchgang geht, kostet sie ihr Einsatz fast das Leben. Als sie wieder zu sich kommt, weiß sie zunächst nicht, was in den Tiefen des Ozeans geschah, findet aber eine Art Ei in ihrem zerstörten Anzug, das sie mit nach Hause schmuggelt. Aus dem Gebilde schlüpft bald ein Wesen, zu dem Olive eine besondere Beziehung pflegt, das aber für alle anderen eine Gefahr darstellt.
THE DARK BELOW ist ein gutes Beispiel für: Wenn die Ambitionen größer sind als das Budget.
Es ist absolut nachvollziehbar, dass jeder Regisseur schicke Luftaufnahmen eines auf dem Ozean umherfahrenden Schiffs zeigen möchte, es wäre aber ein leichtes gewesen die Szene aus Kostengründen zu streichen, statt billige Computereffekte einzusetzen, für die man sogar vom SyFy Channel ausgelacht wird. Durch diese (und ein paar andere Sequenzen) nimmt sich der Film von vorn herein jeden Anspruch darauf ernstgenommen zu werden.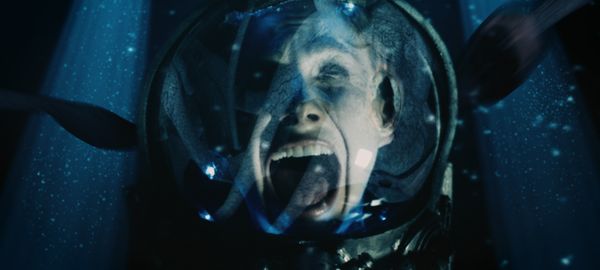 Und das ist schade, denn auch wenn THE DARK BELOW auch weiterhin anzumerken ist, dass hier mit dünnem Geldbeutel gearbeitet wurde (Darsteller wurden etwa für mehrere kleine Figuren eingesetzt),  ist das krakenartige Wesen, das Olive im Keller hält, gar nicht uninteressant.


Schön, das Bild ist zu blass und auch die knappe Laufzeit mit 83 Minuten wirken immer noch lang, aber über weite Strecken schafft es der Film eine gewisse Stimmung aufzubauen.
Wichtiger, das Band zwischen Olive und dem Monster hat Potential. In den besseren Momenten fühlt man sich an DER NACHTMAHR erinnert, auch ein günstig produzierter Film, wo sich zwischen Heldin und Monster eine Nähe entwickelt.
Das Monster in THE DARK BELOW ist allerdings nur zu Olive nett, jeder andere läuft Gefahr zur Nahrung des rasch wachsenden Monsters zu werden.
Hier wird übrigens auf CGI verzichtet und während auch bei den handgemachten Effekten nicht jeder Augenblick zum Feuerwerk wird, passen sie doch besser zum rohen Gesamteindruck des Films.


Natürlich muss man an dieser Stelle auch H.P. Lovecraft ansprechen, das verlangt schon der optische  cthullu-mäßige Eindruck des Dings aus dem Wasser.
Optische und inhaltliche Ähnlichkeiten sind durchaus gegeben, mehr als den Ausdruck "Fan-Hommage" sollte man aber nicht nutzen.
Kein Fisch, kein Fleisch, kein Krake…und von allem zu wenig.
Facebook Comments