"Interessant" ist das Attribut, das immer dann weiterhilft, wenn man keine Meinung hat oder sie nicht zum Ausdruck bringen kann und ist dementsprechend wertlos.
THE DEMOLISHER ist ein interessanter Film. Ob ihr den Film mögen werdet oder hassen werdet, steht auf einem anderen Blatt und die Chancen stehen etwa 50:50.
Inhalt:
Bruce ist eigentlich ein normaler Typ und Handwerker, doch als seine Freundin, eine Polizistin, während eines Einsatzes schwer verletzt wird und fortan querschnittsgelähmt ist, quält Bruce ein Gefühl der Verantwortung und er streift sich selbst das Riot Gear der Polizei über um Rache an allen und jedem zu nehmen, die er für verantwortlich hält. Dabei schießt er weit übers Ziel hinaus. Das muss auch eine junge Frau spüren, die komplett unschuldig ist.


Schwarzenegger sprach im ersten TERMINATOR-Film angeblich nur 17 Sätze, auf diese Summe dürfte Bruce nur dann kommen, wenn THE DEMOLISHER ebenfalls weitere Sequels nach sich zieht.
Aber im gesamten Film wird kaum gesprochen, was nicht weiter tragisch ist, denn schauspielerisch ist nicht jeder auf der Höhe.
Stattdessen lässt Regisseur/Autor Gabriel Carrer meist Bilder und Musik sprechen. Das allerdings hat derben Charme. Bedenkt man, dass THE DEMOLISHER ein budgetbedachter Indiefilm ist, ist die Optik häufig beeindruckend und hat mitunter den Charakter eines Musikvideos, wobei ob Bruce' Verkleidung vor allem The Pretender der Foo Fighters in Erinnerung gerufen wird.
Bruce, gespielt von Ry Barrett (ANTISOCIAL), wirkt in seinem Schutzanzug wie ein bodenständiger Superheld, doch uns wird schon zeitig klar, dass er in Wirklichkeit ein gefallener Normalo ist, der mit sich selbst hadert. Selbst seine Freundin scheint sich mit ihrem Schicksal leichter abzufinden, als Bruce das kann.
Auf der anderen Seite steht Marie (Jessica Vano aus BERKSHIRE COUNTY), die von Bruce durchs nächtliche Toronto gejagt wird, ohne dass sie etwas für dessen Lage kann.
Das alleine ist eine Wendung zu sich zu Beginn des Films nicht unbedingt andeutet. Hält man zu diesen Zeitpunkt noch Bruce für einen Racheengel , der es denen heimzahlt, die es auch verdienen, kippt die Stimmung für den Zuschauer in der zweiten Filmhälfte, wo Bruce nicht nur in Michael Myers – Manier im Schritttempo genauso schnell ist, wie sein rennendes Opfer, sondern auch in etwa so sympathisch erscheint.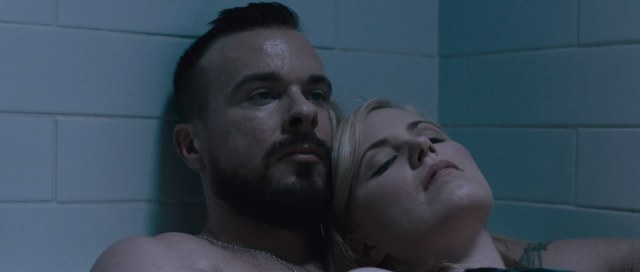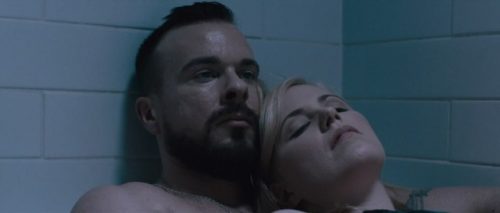 Marie macht ihrerseits aber noch dümmere Fehler als manches Slasheropfer und zeigt zwar, dass sie gute Kondition hat, aber nicht in der Lage ist sich Hilfe zu suchen.
Logik ist also nicht die Stärke des Films und man muss sollte sich nicht zu sehr an bestimmte Erwartungen klammern, allerdings zeigen sich im Laufe der Handlung, die im hinteren Teil erheblich an Härte zulegt, ohnehin einige Parallelen. Die musikalische Untermalung erinnert, wie bei vielen jüngeren Filmen auch hier an John Carpenters Werke, stilistisch meint man hier und da Nicolas Winding Refn auszumachen.
Fazit: Auf jedem Fall kann man Gabriel Carrer attestieren, dass er keinen 08/15-Streifen geschaffen hat. THE DEMOLISHER hat so einige Probleme, aber immerhin wagt er etwas und das sollte ein Indiefilm auch gefälligst tun.
Facebook Comments