Manchmal imitiert Kunst das Leben, das wiederum die Kunst imitiert….und manchmal wird die Ironie in einem Film noch von der Realität überholt.
Genau das passierte mit THE HUNT, der zum Skandalfilm wurde (oder sagen wir: gemacht wurde) nachdem es in den USA mal wieder zu einem Amoklauf kam.
So wurde das Marketing für den Film, sowie dessen Veröffentlichung in der Folge der Morde verschoben und da der amerikanische Präsident ein paar Worte auf Twitter fand, rückte der Streifen auch ohne die ursprüngliche Marketingstrategie in den Fokus.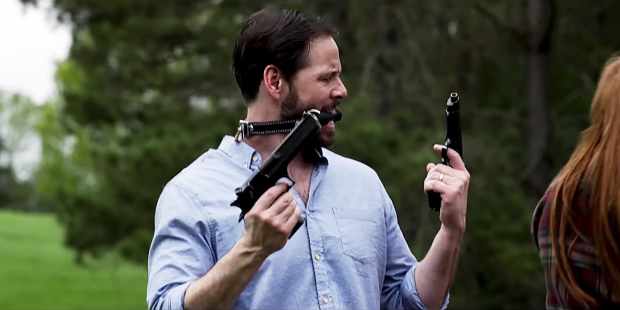 Dazu aber später mehr, denn zunächst wollen wir über den Film selbst sprechen, der für sich betrachtet teilweise bekannte Menschenjagd-Kost ist, wie man sie seit GRAF ZAROFF kennt und seitdem in SURVIVING THE GAME, THE FURIES, RUNNING MAN oder READY OR NOT dargeboten wurde.
Privilegierte Reiche treffen sich auf einem abgelegenen Terrain, um eine Gruppe von Menschen zu jagen.
Mehr als die übliche Menschenjagd
Damit alleine lockt man sicher keinen mehr hinter der Deckung hervor und der ein oder andere wird vermutlich sogar abgeschreckt sein, wenn er liest, dass die Popcornschmiede Blumhouse produziert hat.
Dafür ist THE HUNT aber eine reichlich blutige, dunkelhumorige und kluge Angelegenheit geworden, die zudem weit weniger vorhersehbar ist, als man meinen könnte.
Achtung Spoiler:
Dass z.B. Emma Roberts (AMERICAN HORROR STORY) als bekanntes Gesicht schon in den ersten Minuten aus dem Leben scheidet, verwundert und erinnert an Drew Barrymores Tod in SCREAM oder Janet Leighs Abgang in PSYCHO. Dabei bleibt es aber nicht: immer, wenn der Zuschauer glaubt, eine Art Held/Heldin auszumachen, stirbt der Charakter bald darauf. Eigentlich ein ungeschickter Zug der Autoren Nick Cuse und Damon Lindelof, denn damit wird dem Zuschauer ein ums andere Mal die Identifikationsfigur entzogen, allerdings steckt dahinter Methode und THE HUNT voller Twists.
Spoilerende
Trumps Wähler sind Opfer
Einer der Gründe, warum Präsident Trump THE HUNT anging, dürfte der sein, dass im Film seine Wähler gejagt werden. Dickbäuchige, waffenverliebte, fleischfressende, großwildjagende, lügenverbreitende, ewiggestrige, fahnenschwingende Rednecks.
Die Jäger kommen wiederum auf dem politischen Gegenlager und auch die werden nicht ohne Fehler dargestellt.
In Zeiten, in denen kaum noch jemand über sich selbst lachen kann, dürfte also jeder einen Grund finden, den Film nicht zu mögen.
Tatsächlich erscheinen Jäger und Gejagte oft wie Karikaturen. Während kaum ein Film die Lager so aufeinander losgelassen hat wie THE HUNT, scheint es den Machern aber nicht um Propaganda für eine bestimmte Seite zu gehen, als vielmehr dem Aufzeigen der aktuellen Lage, wenn auch überspitzt.
Das tut der Film auch in einem anderen Zusammenhang: an verschiedenen Stellen scheinen die Figuren falsch informiert, was teilweise gezielt gesteuert wird, teils der eigenen fehlenden Recherche geschuldet ist.
So muss ein Charakter sterben, weil dieser auf perfide Weise bezichtigt wird, ein Verräter zu sein. An anderer Stelle stellt sich heraus, dass die vollkommen falsche Person zur Jagd "geladen" wurde, weil einfach eine Verwechslung vorlag.
Das klingt gefährlich nach der seit Jahren einprasselnden Fake News-Informationsflut, die jedem mit genügend (w)irrer Fantasie erlaubt, in den sozialen Medien zu behaupten, dass die Erde eine Scheibe sei oder Prominente Kinder fressen.
Aber zurück zum Film, den man nicht zwingend als Satire auf die Lage der Welt sehen muss und man muss auch keiner bestimmten Partei angehören, sondern kann das ganze als brutal-humoriges Entertainment betrachten, bei dem man nie weiß, was in zwei Minuten passiert.
Facebook Comments