Bitte haltet einen Moment inne und lasst euch diesen Titel auf der Zunge zergehen.
Egal was ihr über den Film denkt, der Name verdient einen Preis.
Allerdings weckt ein solcher Filmtitel auch Erwartungen und ich muss gestehen, dass ich mich über eine Trashorgie, in der Nazi-Horden gegen den Bigfoot kämpfen weniger verwundert hätte, als das was THE MAN WHO KILLED HITLER AND THEN THE BIGFOOT wirklich ist.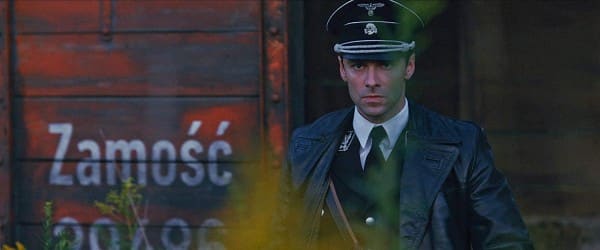 Zwar geht es im Film um genau das was der Titel verrät, es sind aber die Zwischentöne, die den Unterschied machen.
Wenn sich der junge Calvin Barr anschickt Adolf Hitler zu eliminieren, dabei eine auf kreative Weise selbstgebaute Pistole nutzt und kurz eine Armbanduhr mit Hakenkreuz-Sekundenzeiger zu sehen ist, rechnet man noch mit einem irrwitzigen Exploitationschinken, doch danach entwickelt sich die Geschichte zu einer erstaunlich ernsthaften Angelegenheit über das Leben und die Liebe dieses Calvin Barr… und natürlich den Bigfoot.
Der junge Calvin wird von Aidan Turner (DER HOBBIT) gespielt, der alte Calvin von Sam Elliott (A STAR IS BORN). Gerade Elliott ist natürlich ein Charakterkopf, dessen dicker Schnurrbart einen Film alleine tragen könnte, der seit 50 Jahren im Geschäft ist und der in seinem Leben in gegensätzlichen Filmen wie FROGS, ROAD HOUSE, THE BIG LEBOWSKI oder WIR WAREN HELDEN auftrat und das oft in Nebenrollen.
In THE MAN WHO KILLED HITLER AND THEN THE BIGFOOT muss er sich zwar seinen Part teilen, ist aber eindeutig das Aushängeschild des Films.
Fragt man sich wie eine Geschichte um einen Kriegsveteranen, einen Diktator und eine mystische Gestalt zusammenhängen, finden sich mehrere Lösungsansätze und welchen man bevorzugt, liegt wirklich im Auge des Betrachters.
So mag man den Film als eine FORREST GUMP – Variante sehen, bei der Calvins Leben durch die Jahrzehnte rekapituliert wird, allerdings finden sich hier deutlich weniger "echte" geschichtliche Referenzen.
Dafür ist THE MAN WHO KILLED HITLER AND THEN THE BIGFOOT persönlicher und offenbart mehr Konflikte in Calvins Biografie. Man würde denken, dass jemand, der Hitler tötete, als Held in die Heimat zurückkehrt, aber wie sich zeigt, konnte er damit die Nazis nicht aufhalten, weil das Böse dessen Tod überdauerte. Zudem verlor Calvin auch noch die Liebe seines Lebens, was sein Leben deutlich beeinflusste.
Den Bigfoot, der einen gefährlichen Virus in sich trägt, will er zunächst gar nicht umbringen, erklärt sich nur widerwillig bereit und tritt ihm mit großem Respekt gegenüber. Womöglich, weil er sich in dem wilden, aber alten Wesen selbst begegnet.
Übrigens entspringt Regisseur / Autor Robert D. Krzykowski dem Umfeld Lucky McKees (THE WOMAN, MAY), der hier Produzent ist. Auch Sean Bridgers, den viele als Unmenschen aus THE WOMAN kennen, spielt mit.
Diese Verbindung sagt natürlich nicht viel über die Qualität von THE MAN WHO KILLED HITLER AND THEN THE BIGFOOT aus, gibt aber einen Hinweis, dass man besser keinen Mainstreamfilm erwarten sollte, sondern einen -im besten Sinne- eigenwilligen Indiefilm.
Können wir den Film empfehlen?
Nicht als Horrorfilm oder Thriller.
THE MAN WHO KILLED HITLER AND THEN THE BIGFOOT ist längst nicht so brutal wie sein Name andeutet und trotz der verrückten Konstellation mehr (Mystery-)Drama als alles andere. Wer sich aber damit abfindet, dass er eben keinen Creature-Feature-Nazisploitation-Actionkracher hingeworfen bekommt, erlebt eine liebevoll erzählte und 1A gespielte Geschichte.
Facebook Comments