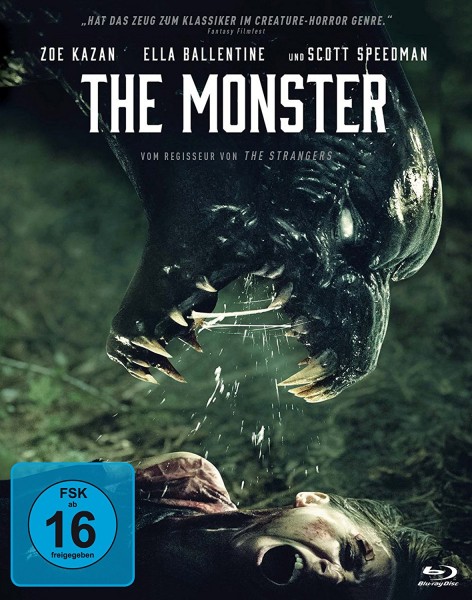 Bryan Bertino ist ein eigenartiger Fall. Für seinen Debütfilm THE STRANGERS konnte er mit Liv Tyler eine namhafte Schauspielerin verpflichten und der Film kam bei Fans und Kritikern gut an.
Das Zweitwerk PLAY ließ mehr als ein halbes Jahrzehnt auf sich warten und war für viele ein Schritt zurück.
THE MONSTER ist der dritte Film des Regisseurs und vermutlich werden auch diesmal nur wenige so etwas wie eine Handschrift Bertinos erkennen.
Kathy hat versprochen ihre Tochter Lizzy zu dem von der Familie getrennt lebenden Vater zu bringen, doch die Alkoholikerin verschläft und so brechen die beiden erst spät auf und sind noch in der Nacht (und bei Regen) unterwegs, als sie in einem abgelegenen Waldstück einen Wolf anfahren, was dazu führt, dass das Auto liegenbleibt.
Während sie auf Polizei und Abschleppwagen warten, wächst der Verdacht, dass in der Dunkelheit noch etwas anderes lauert.
Wald, Regen, Nacht, zwei wehrlose Frauen im Auto….und natürlich ein Monster.  Was klingt wie eine klassische Schauermär, die man sich am Lagerfeuer erzählt, ist grundsätzlich genau das.
Insofern erinnert THE MONSTER dann doch an THE STRANGERS und auch wenn Bertino die Geschichte als Roadmovie beginnt, haben wir es auch mit einem Kammerspiel zu tun, dessen Darstellerzahl überschaubar bleibt und als Location das Auto und die Straße drum herum wählt.
Was THE MONSTER aber besonders macht, ist das Verhältnis zwischen Mutter und Tochter, das von Anfang an betont wird. Dies ist kein normaler Familienausflug bei dem sich die Eltern vorne dumm angrinsen, während die Kids von hinten fragen, ob man denn bald da sei. Lizzy, geschätzte 12-13 Jahre alt, ist die Verantwortungsvolle, während ihre Mutter chaotisch wirkt. Alleine die Tatsache, dass hier ein Kind die Heldin ist und nicht nur Beiwerk, ist in modernen Horrorfilmen selten genug.
In Rückblenden erfahren wir von vergangenen Ereignissen, der Sucht Kathys, körperlicher Gewalt und Streit.
Mit dem schrecklichen Wesen, das durch die Wälder streift, hat das alles auf den ersten Blick nichts zu tun…oder doch? Zumindest bietet es Platz für Interpretationen. So liegt es nahe, nicht nur das echsenartige Wesen, sondern eben auch Kathys Sucht als Monster zu betrachten.
Anders als beim BABADOOK, wo das sinnbildliche Monster unzertrennlich mit der Geschichte verknüpft war, gibt uns THE MONSTER mehr Freiheit. Soll heißen, die dramatischen Anteile können (und sollten) beachtet werden, der Streifen kann aber auch einfach als Horrorfilm gesehen werden.
In jedem Fall dauert es eine Weile, bis wir das titelgebende Monster zu Gesicht bekommen und das anfangs auch nur zaghaft. Dies ist ein dunkler Film, der harte Dauerregen tut sein Übriges, von dem Wesen ist daher nicht unnötig viel zu sehen.  Immerhin herrscht aber die Gewissheit, dass hier anständiges Maskenbildnern betrieben wurde.
Logisch ist der Film nicht immer. Warum sich etwa der herbeigerufene Automechaniker minutenlang im strömenden Regen unter das defekte Auto legt, obwohl klar ist, dass nichts zu reparieren ist, weiß nur er selbst. Der Spannung des Augenblicks nutzt das aber.
THE MONSTER ist ein "kleiner" Film im Indielook, der für mich aber gerade aufgrund seiner Dramaanteile und dem einfühlsamen Zusammenspiel der beiden Hauptfiguren funktioniert und bei genauerem Hinsehen einiges zu sagen hat.
Facebook Comments