Wenn familiäre Probleme gelöst werden sollen, empfiehlt es sich auf gar keinen Fall gemeinsam in die Abgeschiedenheit zurückzuziehen. Diese Lektion lehrte uns Kubricks/Kings SHINING, von Triers ANTICHRIST und nun auch THE PATH des vergleichsweise unerfahrenen Regisseurs Miguel Ángel Toledo.
Eine weitere Gemeinsamkeit, die die drei Filme verbindet, ist eine äußerst lebendige Bildsprache, die mehr bietet als das Offensichtliche.
Raul möchte seine angeschlagene Ehe retten und bittet Noch-Grau Ana mit Sohn Nico über Weihnachten zusammen in eine abgelegene Hütte zu fahren. Anfangs läuft alles nach Plan, doch hat Ana ein Verhältnis mit dem gutaussehenden Handwerker, der dort nach dem Rechten sieht oder bildet sich Raul das nur ein? Und was hat es mit den blutigen Träumen/Visionen auf sich, die den Familienvater plagen?
THE PATH stammt aus Spanien und während es gut sein kann, dass es auch dort miese Filme gibt, scheint es zumindest, dass alle internationalen Veröffentlichungen ein Mindestmaß an Qualität mitbringen. Dieser Film bildet keine Ausnahme und verfügt über anständige Schauspieler, eine grimmige Naturkulisse und schattige Motive.
An der Handlung werden sich hingegen die Geister scheiden. Egal wie man dazu steht, dass sich THE PATH sehr langsam entwickelt (in einer einsamen Hütte ist naturgemäß wenig los), es ist nicht jedermanns Sache die vielen Andeutungen und Metaphern zu entschlüsseln, die auf einen ordentlichen Final-Twist hinauslaufen. DASS dieser Twist kommt, ist beizeiten unübersehbar, die Frage ist nur wie er aussieht.
Ohne zu viel verraten zu wollen, die Aufklärung ist in etwa das, was man erwarten konnte, klärt einiges, lässt anderenorts Platz für Interpretationen und dürfte Fans anregen, den Film direkt ein zweites Mal zu sehen, andere verwirrt oder schlichtweg desinteressiert zurücklassen.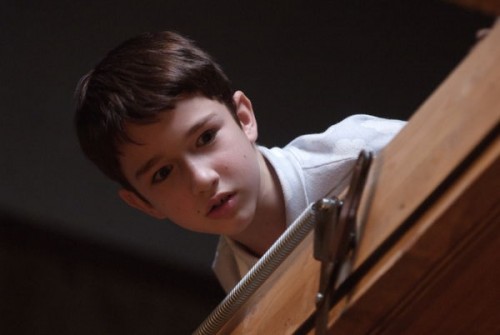 Nein, Toledos Film ist weder ANTICHRIST, noch SHINING und will auch gar keine Kopie sein, trotzdem glaubt man Versatzstücke aus jedem anderen Werk wiederzufinden, in dem schleichender Wahnsinn eine Rolle spielt.
THE PATH ist kein Horrorfilm im engeren Sinne, sondern stellt seine Charaktere und Figuren in den Vordergrund. Exzessive Gewaltszenen sind also rar, was nicht bedeuten soll, dass die Kettensäge, die die Familie in der Hütte vorfindet, unbenutzt bleibt.
Ein Meisterwerk ist der Film nicht geworden, aber ein professioneller Beitrag allemal…und dabei ist es egal, ob man ihn unter Thriller, dunkles Drama oder eben doch Horror einordnet.
Facebook Comments