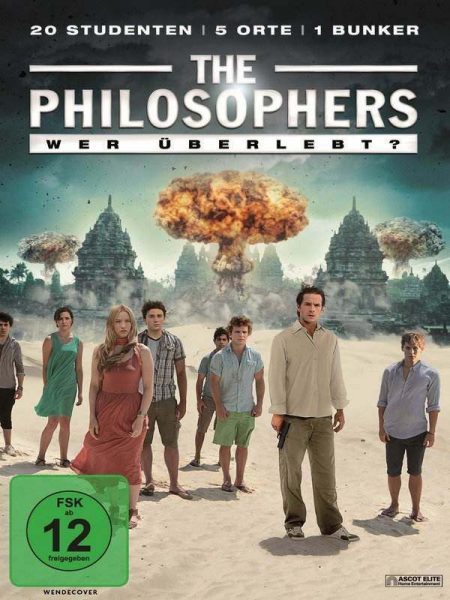 Internationale Schule Jakarta, Indonesien. Kurz vor ihrem Abschluss werden die Studenten der Philosophieklasse von ihrem Lehrer, Mr.Zimit, zu einem letzten Gedankenexperiment aufgefordert.
Ausgangsthese: die Apokalypse steht vor der Tür. Es gib einen Bunker, der zehn Leuten ein Jahr lang Schutz vor dem nuklearen Holocaust bietet. Problem: in der Klasse befinden sich 21 Personen. Nun müssen die Studenten Entscheidungen treffen, Entscheidungen, die Leben oder Tod bedeuten. Doch es gibt Anhaltspunkte, Mr.Zimit hat Zettel vorbereitet, die die Studenten ziehen müssen und auf denen ihre theoretischen Berufe stehen. Und dann ist da noch Mr.Zimit selber, der als Joker agiert, die Studenten kennen seinen Beruf nicht und müssen entscheiden, ob er mit in den Bunker soll, denn vielleicht hat oder kann er etwas, dass überlebenswichtig ist.
Wer nun denkt, dass wir ein Kammerspiel der 12-Geschworenen-Art vor uns haben, der irrt. Denn die Theorie des Klassenzimmers wird für uns zur Realität. Das Experiment startet in der Ödnis und es wird blutiger ernst. Orthopäden, Politiker, Tischler und Elektriker dürfen rein. Dichter, Hedgefonds-Manager, Speiseeishersteller, Opernsänger sind für den Fortbestand unwichtig. Die ersten Toten folgen und die Spannungen zwischen den Personen erreichen ihren Höhepunkt.
Wer ist für diese Gesellschaft zwingend notwendig, wer ist austauschbar. Diese moralische Frage stellt THE PHILOSOPHERS und der Zuschauer hat keine andere Möglichkeit, als sich ihr zu stellen. Wie bewertet man die Wichtigkeit von Menschen? Anhand ihres Berufes, ihrer Zeugungsfähigkeit? Alles wird unter die Lupe genommen.

Auch wenn man weiß, dass man den Klassenraum nie verlässt, schafft es der Film auf beeindruckende Weise uns im wahrsten Sinne des Wortes in medias res zu führen. Eine unglaubliche Spannung macht sich breit, wenn wir plötzlich den ersten Atompilz sehen. Als Genrefan kennt man natürlich den Satz "Es ist nur ein Film". Freut euch auf den Gedanken "Es ist nur eine Theorie".
Aus der Gruppe sticht Petra hervor, die von Sophie Lowe (THE CLINIC, ROAD TRAIN) gespielt wird. Die offensichtlich Hochbegabte übernimmt die Führung der Gruppe und bietet Mr.Zimit die Stirn. Ihr Freund ist ebenfalls unter den Studenten, was der Situation eine weitere Dynamik verleiht. Rhys Wakefield (THE PURGE, SANCTUM) mimt diesen hervorragend. Die undurchsichtigste Figur ist jedoch Mr.Zimit, der Lehrer, gespielt von James D'Arcy (HITCHCOCK, DER FLUCH DER BETSY BELL). Spielt er nur den Advocatus Diaboli oder führt er wirklich Böses im Schilde? Gerade das Aufeinanderprallen der Figuren Petra und Mr.Zimit birgt großes Potential.

Erwähnt werden sollten auch noch die starken Bilder, die komplett an indonesischen Schauplätzen entstanden sind. Die Strände Sumatras und gerade die Tempelanlagen von Jawa Tengah ergeben ein pittoreskes Bild, wenn sie den Vordergrund für die pure Zerstörung der Atombomben darstellen.
THE PHILOSOPHERS ist ein besonderer Film, der leider viel zu wenig Aufmerksamkeit bekommen hat.
Facebook Comments