Seit 2013 werden wir in regelmäßigen Abständen mit einem neuem THE PURGE-Teil beglückt. Die Idee, dass sämtliche Verbrechen für zwölf Stunden legal sind scheint jedes Mal aufs Neue viele Filmfans begeistern zu können. Und wenn etwas gut läuft, wird oft versucht mit dieser Sache noch mehr Geld zu machen. Also hat sich der Erschaffer von THE PURGE James DeMonaco mit Blumhouse Productions zusammengetan, die derzeit überall ihre Finger im Spiel zu haben scheinen, und eine Serie ins Leben gerufen. Und überraschenderweise geht es wieder um die ominöse Nacht, in der für zwölf Stunden alles legal ist und die merkwürdigsten Auswüchse annimmt.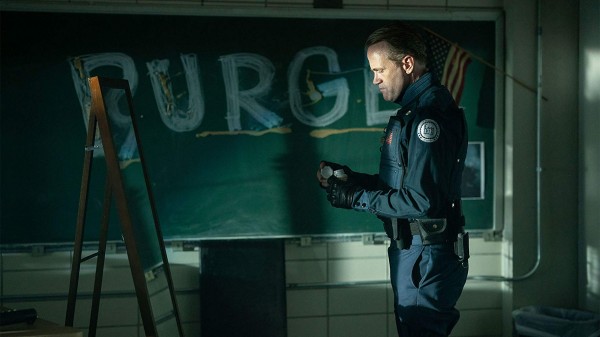 Inhalt von THE PURGE – DIE SERIE
Eine neue Purge bricht an und die Menschen in den Vereinigten Staaten bereiten sich darauf vor. In der Serie werden insgesamt sechs Personen über die gesamten zwölf Stunden begleitet.
Das Pärchen Jenna und Rick versucht auf einer Veranstaltung der New Founding Fathers of America, also der Regierungspartei, die die Purge ins Leben gerufen hat, Gelder für ihr Vorhaben zu sammeln.
Jane arbeitet abgeriegelt in einem Büro zusammen mit ihrem Team an einem Geschäftsabschluss, bis sie dann doch vor die Tür geht…
Miguel sucht seine Schwester Penelope, die Mitglied in einer Sekte ist und sich freiwillig opfern will.
Joe fährt während der Nacht durch die Stadt, hört einem fanatischen Anhänger der Purge zu und sammelt nach und nach Menschen ein, wobei unklar ist, was genau sein Plan ist.
Resümee zu THE PURGE – DIE SERIE
Nachdem es bereits vier THE PURGE-Teile gibt, die in der Qualität sehr schwanken, ist es fraglich, ob die Serie eine Daseinsberechtigung hat. Man erfährt sehr wenig Neues und im Grunde wird nur eine weitere Purge gezeigt, diesmal aus den Perspektiven von sechs unterschiedlichen Menschen. Die Charaktere sind in den ersten Episoden vollkommen zusammenhangslos und erst gegen Ende wird klar, in welcher Weise sie miteinander verbunden sind. Das hätte eine clevere Idee sein können, zieht sich aber über etwa sieben Episoden hin, was zu lang ist.
Die Charaktere selbst sind nicht sonderlich tiefgründig dargestellt. Ziemlich schnell kann man von beinahe allen die Motivation erkennen – bis auf Joe, der aber in den ersten Episoden auch kaum vorkommt. Die Geschichten hinter den einzelnen Personen sind zum Teil sehr oberflächlich, wie die der ehrgeizigen Businessfrau, oder wirken beinahe albern – hier ist das Gespann aus Jenna, Rick und Lila gemeint. Diese Oberflächlichkeit sorgt dafür, dass man nicht wirklich mit den Schicksalen der Einzelnen mitfiebert. Man schaut diesen Charakteren zu, ist aber nicht wirklich investiert und so ist es beinahe egal, wer von ihnen überlebt und wer der Purge zum Opfer fällt.
Dazu kommt, dass der Tod von einigen dann auch so unspektakulär gezeigt wird, dass man sich insgeheim fragt, ob die Person wirklich tot ist oder doch noch einmal wiederkommt. Wenn man einem Charakter über neun Episoden verfolgt, würde man einen besser inszenierten Tod erwarten.
THE PURGE war immer auch etwas Gesellschaftskritik – sehr oberflächlich, aber sie war da. Und auch die Serie ist hier keine Ausnahme. Leider ist diese Kritik so übertrieben deutlich dargestellt, dass sie anfängt nervig zu sein. Zum einen ist da der versteckt frauenfeindliche Chef, der die Purge zum Stillen ekliger Fantasien nutzt, zum anderen die Gruppe von Frauen, die andere Frauen vor genau solchen Männern retten will – und zwar mit Gewalt. Der eine wird als böse und widerwärtig gezeigt, die anderen als vielleicht etwas fragwürdig, im Grunde aber gute Personen. Und dann gibt es natürlich den Podcast von dem Typen, der sehr an Alex Jones erinnert und im übertragenen Sinn immerzu davon erzählt, dass die weißen Männer sich endlich wieder holen sollen was ihnen zusteht. Diese sehr offensichtliche Gesellschaftskritik wird den Zuschauer*innen gefühlt immer und immer wieder auf den Schädel geschlagen, bis es auch die Letzte verstanden hat. Alle sind bis dahin wahrscheinlich schon genervt und können das Ganze nicht mehr ernst nehmen.
Bietet die Welt von THE PURGE genug Material, um noch etliche Filme und Staffeln der Serie zu drehen? Ganz sicher. Aber ist das auch notwendig? Nein. Im Grunde wird in den Filmen und der Serie immer wieder dasselbe erzählt. Ab und an erfährt man noch etwas zu den Hintergründen von der Purge oder der skurrilen Regierung der Vereinigten Staaten, aber das rechtfertigt nicht unbedingt die tausendste Erzählung von einer Purgenacht.
Die Serie zu THE PURGE ist im Grunde ein Film, der in zehn Episoden aufgeteilt wurde. Das funktioniert nicht wirklich, da der Inhalt an sich in die Länge gezogen wird. Wer Fan von THE PURGE ist, mag auch an der Serie seinen Spaß haben, alle anderen verpassen nichts, wenn sie die Serie nicht schauen.
Facebook Comments