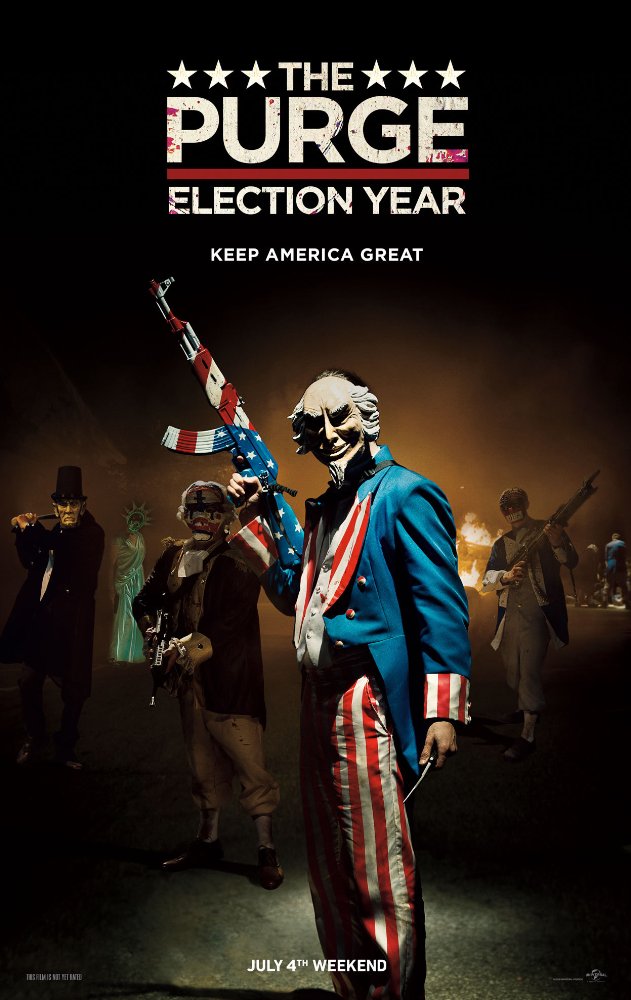 Es ist wieder soweit: die alljährliche Säuberung beginnt und wir dürfen uns für THE PURGE  – ELECTION YEAR ein drittes Mal ins Kino begeben um zweifelhafte und verzweifelte US-Bürger am gesetzfreien Sonntag bei Mord und Totschlag zu beobachten. Aber diesmal ist alles anders. Diesmal gibt es Hoffnung.
Denn Senatorin Charlie Roan (Elizabeth Mitchell)– in ihrer Jugend einzige Überlebende einer Purge-Nacht, die ihrer gesamten Familie das Leben kostete – tritt für die endgültige Abschaffung der Purge ein. Natürlich sehen das die Lobbyisten der NFFA nicht gerne und entscheiden so kurzer Hand, unter dem Deckmantel der Gleichheit für alle, auch den Mord an hochrangigen Politikern nicht mehr unter Strafe zu stellen. Diese Nachricht gefällt der Senatorin so gut, dass sie entgegen des Rats ihres Sicherheitschefs Leo Barns (Frank Grillo) beschließt, die kommende Purge in ihrem eigenen, eher unsicheren Haus zu verbringen. Symbolisch. Für die Wähler und so.
Natürlich klappt das alles nicht wie geplant und bald wird das Haus von ziemlich gut ausgerüsteten Söldnern angegriffen. Und hier beginnt der Film bereits sein Potenzial genüsslich das Klo herunter zu spülen.THE PURGE: ELECTION YEAR ist platt und plakativ. Ein Kulturwissenschaftler würde hier vielleicht die thematische Verbindung zum US-Wahlkampf ziehen und … vielleicht ist das auch gar nicht so dumm.
Regisseur DeMonaco glaubt an Idealismus und die US-Wähler der Zukunft, aber den Glauben an die Zuschauer hat er wohl verloren. Macht es doch gerade den Reiz der PURGE-Reihe aus, dass in dieser Nacht irgendwie jeder Freund und Feind zugleich sein kann, so werden hier noch die letzten Klischees ausgepackt um uns auf die Nase zu binden wer die Bösen und wer die Guten sind: Hakenkreuze und Anzugträger mit vulgärer Sprache – Böööse. Hipsterbrille und Krankenwagenfahrer – Guuut.
Von diesem hohen Ross aus sehen die Logiklöcher des Films vielleicht aus wie Ameisen, aber im Kinosaal fragt man sich nur, wen man hier eigentlich verarschen will. Dieser Flickenteppich aus jämmerlichen Erklärungen für erzählerische Schwächen versaut einem noch den coolsten Auftritt der Purger.  So wird an kritischen Stellen immer wieder ein Ass aus dem Ärmel geschüttelt, das irgendwie aus der Vergangenheit der Charaktere stammt, nach dem Motto: "Zum Glück habe ich noch dieses Dingsbums, das mir erlaubt unverwundbar zu sein".
Auch sonst wirken die Szenen wie eine aneinander Reihung von zu kleinen Ziegelsteinen mit viel zu viel Füllmasse. Der Score versucht hier noch die langweiligste Szene irgendwie spannend zu machen, schafft das aber auch nur bedingt, was man an der ein oder anderen Track-Kollision bemerkt. Die guten Kostüme und Auftritte der Purger machen zwar einiges her, allerdings macht spätestens das Safari-Setting in einem Krankenwagen, mit den Worten "[…]ungeschriebenes Purge-Gesetz: Krankenwägen werden nicht angegriffen" noch die letzte Spannung in der Idee kaputt. Selbst der kleine Auftritt von Nick Principe aka. Chrome Skull aus LAID TO REST war für Horrorfans vermurkst, aber wer könnte auch auf die Idee kommen während der Purge-Nacht eine Maske aufzusetzen…
Zusammenfassend kann man wohl sagen: das Problem von THE PURGE: ELECTION YEAR ist, dass das Setting nie wirklich bedrohlich wirkt. Die Fans der Reihe werden hier weder bedient noch werden sie überrascht. Die Figuren des Films stolpern von einer Safe-Zone in die nächste, es gibt klare Freund/Feind-Schemata und niemand, aber auch wirklich niemand stellt mal seine eigene Rolle irgendwie in Frage. Die Charakterentwicklung von Leo in THE PURGE: ANARCHY wird in die gleiche Schublade gepackt wie die restlichen Vergangenheits-Rohrkrepierer der Figuren und auch sonst scheint der Film selbst nicht zu verstehen, was eigentlich sehenswert an ihm ist. Da kann man nur darauf hoffen, dass Teil 4 besser wird.
Facebook Comments