Fünf Collegekids fahren in eine abgelegene Waldhütte….was soll da schon schief gehen?
Um es kurz zu machen: eine Menge. Und das nicht nur vor der Kamera, sondern auch dahinter.
Gleich vier Drehbuchautoren hat die – wenig komplexe –  Geschichte verschlissen, die zudem einen bekannten Hollywood-Namen  im Cast untergebracht.
Genützt hat es wenig.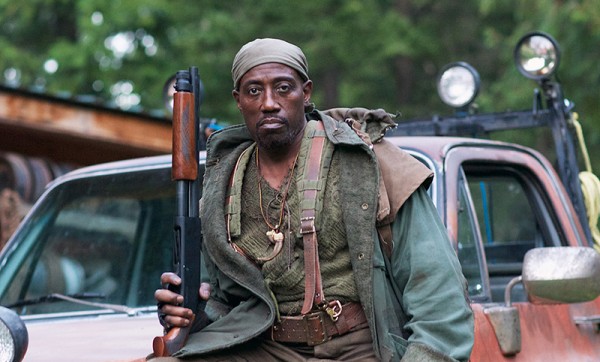 Charlie und seine Freunde wollen zum Ausspannen in die Wälder.
Mit den Surfbrettern auf dem Dach geht es in das gemütliche Ferienhaus, wo das erste Pärchen schnell zum Fummeln übergeht, während die anderen drei die Umgebung erkunden und in einer weiteren, scheinbar verlassenen Hütte ein Funkgerät entdecken. Das gehört aber zu einem  Jäger, der im falschen Moment nach Hause kommt und die Kids durch den Wald jagt.
Damit nicht genug, zeitgleich verkündet das Fernsehen, dass weltweit (!) ein Unwetter aufzieht und dieses enthält eine Überraschung, mit der nicht zu rechnen ist.
Alles was man über THE RECALL wissen muss, kann man an den beiden Surfbrettern festmachen, die die Protagonisten durchs ganze Land fahren, während der kleine Waldsee weder Wind noch Wellen bietet.
Gewalttätige Jäger in der Nachbarschaft, massive Unwetter, das kann unsere Helden nicht davor abhalten in den Whirlpool zu steigen. Erst als auch noch Außerirdische landen, macht man sich daran das Licht zu dimmen und die Heimreise anzutreten, doch da ist die Kacke bereits am Dampfen.


Man kann förmlich die Streitgespräche der Autoren hören.
Autor 1: Ich will, dass die Gefahr von Außerirdischen ausgeht.
Autor 2: Ich möchte, dass die Gefahr aus der Gruppe selbst entsteht.
Autor 3: Ich bestehe darauf, dass die Gefahr von den Behörden ausgeht.
Autor 4: Ich war mit Wesley Snipes im Knast, ich will dass er mitspielt und von ihm die Gefahr ausgeht.
Und so spielt Snipes den zwielichtigen Jäger mit ungewöhnlicher Vergangenheit, alle anderen Einfälle der Kollegen werden aber auch eingebaut und die Gefahr kommt eben aus allen Ecken.
Um aber fair zu bleiben: die Idee, dass Snipes Figur früher ein Astronaut war, der bereits Kontakt zu Außerirdischen hatte und nun als verfilzter Hillbilly im Unterholz haust, besitzt Potential.
Die Analogie zu Snipes realer einst kometenhafter Karriere, die in der Teilnahme an schwachbrüstigen B-Filmen mündete, dürfte  hingegen kaum beabsichtigt sein.


Wenn ihr EXTRATERRESTRIAL kennt, kennt ihr auch schon THE RECALL. Ersterer strotzte zwar auch vor Klischees, hatte aber durchaus Stärken. Starke Momente finden sich in THE RECALL selten. Zwar sind die Effekte keine Katastrophe und (falls das jemanden interessiert) die Schauspieler sehen gut aus und eine neue Location sorgt in der zweiten Filmhälfte für Abwechslung, aber weder einzelne Szenen noch das große Ganze überzeugen.
Erst gegen Ende (Achtung Spoiler), wenn alle Protagonisten mit neuen Stärken auf die Erde zurückkehren, ist so etwas wie Originalität zu spüren…da ist der Abspann aber schon in Reichweite.
Fazit: Dafür hätte es keine vier Autoren gebraucht, sondern höchstens einen Gorilla mit guter Rechtschreibung.
Hier gibt es den Film zu kaufen.
Facebook Comments