Wenn wir heutzutage über Tote reden, die plötzlich wieder vor der Türe stehen, ist der Begriff "Zombie" wohl das erste was uns Horrorfilm-Fans einfällt.
Dass es auch anders geht, zeigt die französische Serie THE RETURNED, die ohne Genre-Scheuklappen zur Sache geht, mit der Schublade Mystery aber vermutlich ganz gut leben kann.
Eine der ersten Szenen zeigt uns wie ein Bus mit Schulkindern in eine Schlucht stürzt. Unter den zu beklagenden Opfern ist Camille, die einige Jahre später plötzlich wieder in ihrem Elternhaus erscheint. Ihre Zwillingschwester Lena ist gealtert, doch Camille sieht immer noch so aus, wie an dem Tag als sie starb.
Sie ist nicht die einzige die in der Stadt in den Bergen wieder auftaucht und manche der Wiederkehrer sind noch viel länger tot und werden von den Bewohnern nicht einmal wiedererkannt.
Sie wollen den Menschen nichts Böses, gemeinsam haben sie aber, dass sich das Leben in ihrer Umwelt verändert.
Wie die Macher der Serie in Interviews betonen, war ihnen wichtig alles auf die solide Grundidee der Wiederkehrer aufzubauen und sich von dort gewissermaßen selbst entwickeln zu lassen. Genau das ist ihnen gelungen. Heißt konkret: über 8 Folgen erleben wir nicht nur schockierte Verwandte, die ihre Liebsten wieder in die Arme schließen, sondern auch recht alltägliche Probleme.
Da Camille nicht die einzige ihrer Art ist, erleben wir zudem verschiedene Handlungsstränge, die lange nicht zueinanderfinden.
Dazu muss man wissen, dass die Stadt in den Bergen zwar recht isoliert von der Außenwelt liegt (und eine wunderbare Kulisse bildet), aber anders als es gängige Klischees vorschreiben, kein Dörfchen mit 4 Häusern ist, so dass nicht jeder Fremde unmittelbar auffällt und anfangs nur wenige Berührungspunkte vorhanden sind.
Die Erzählweise ist dennoch als kleinstädtisch (oder mit den Worten "französische Gelassenheit") zu beschreiben. Zwar gibt es neben den Wiederauferstandenen noch andere Fragen und seltsame Vorfälle, ein einst gebrochener Staudamm sorgt für Rätsel und ein Mörder geht in der Stadt um, THE RETURNED verfällt aber nie in Hektik und Action ist eher die Ausnahme als die Regel.
Dementsprechend empfiehlt es sich auch als Zuschauer eine gewisse Ruhe an den Tag zu legen, denn kann man sich nicht auf das Tempo einzulassen, wird die Serie schnell zur Enttäuschung.
Wie entspannt THE RETURNED ist, zeigt sich auch in Kleinigkeiten. Jugendliche rauchen nun mal und wenn sich Menschen ausziehen sind sie tatsächlich nackt. Anders als in manchem US-Programm wird hier nicht politisch korrekt ignoriert oder kaschiert, aber auch nicht sinnlos draufgehalten.
Dementsprechend stehen auch Effekte nicht an erster Stelle, sind aber – wo nötig – professionell in Szene gesetzt.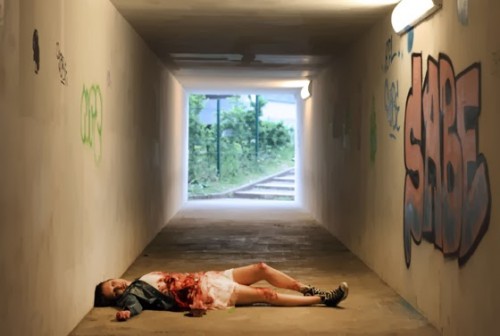 Als besondere Scherzkekse haben sich mal wieder die Freunde von der FSK bewiesen, die die ersten 6 Folgen der Serie ab 16 freigaben, die anderen beiden ab 12. Sicher hat ein 12-jähriger erhebliches Interesse Folge 7 und 8 sofort zu sehen und den Rest in 4 Jahren…zumal es zumindest für mich keinen Grund für eine unterschiedliche Einteilung gibt.
Übrigens hat die Serie einige Vor- und Nacheiferer.
Vorlage war der Film LES REVENANTS von Robin Campillo aus dem Jahr 2004.
Eine zweite Staffel ist inzwischen in Planung, was nach einem ebenso interpretationsfähigen Ende zwar denkbar ist, trotzdem hätte man auch ebenso gut nach Staffel 1 Schluss machen können, ohne unfertig zu wirken.
Auch das US-TV wurde auf die Serie aufmerksam und produzierte gleich ein Remake, das unter dem Namen RESSURECTION lief.
Ich habe 1-2 Folgen gebraucht um mit THE RETURNED warm zu werden, bin danach aber von Figuren und Handlung, die immer ein paar Interpretationsmöglichkeiten lässt, überzeugt.
Fazit: Gut, aber nichts für Hektiker.
Facebook Comments