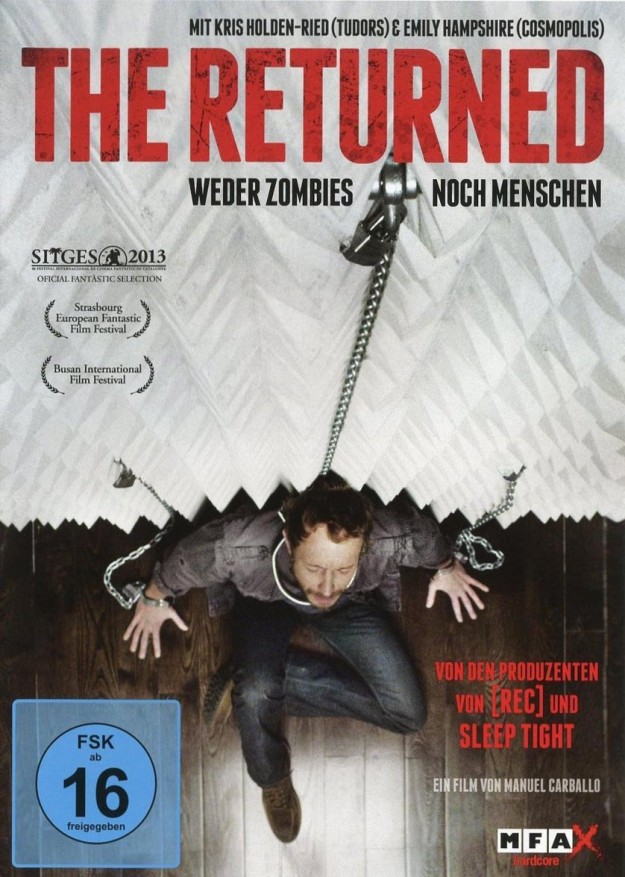 THE RETURNED ist zwar schon eine Weile auf dem Markt, wenn es euch aber so ging wie uns, habt ihr ihn bisher verpasst. Einerseits kein Wunder, denn der spanische Film (bei dem keine Verwandtschaft zur gleichnamigen französischen Serie besteht, ist genremäßig nicht klar zuzuordnen, andererseits erstaunlich, denn er ist ziemlich gut.
Story:
Wenn Menschen sterben, kehren sie als Zombies zurück, doch inzwischen existiert ein Medikament, dass zwar zulässt, dass die Toten auferstehen, das typisch aggressive Verhalten, Kannibalismus etc. aber blockiert.
Zwar begegnen viele Menschen den "Returned" mit Mißtrauen und Ablehnung, doch sie leben unter uns. So geht es auch dem infizierten Alex, der mit der Ärztin Kate zusammen ist und abgesehen von der täglichen Medikamenteneinnahme ein normales Leben führt. Doch dann kommt es zu Engpässen und wer sein Mittel nicht regelmäßig nimmt, könnte sich zur Bestie verwandeln.
Ein Zombiefilm ohne Zombies? Fast. Nur in einer Rückblende zu Beginn des Films und einer weiteren Szene sehen wir die altbekannten Untoten, wie wir sie aus unzähligen Filmen kennen. Ansonsten ist THE RETURNED ein Film, der eher Nachdenklichkeit als Ekel oder Terror erzeugt.
Die Gefahr, was ohne das Medikament passieren könnte, ist daher nur selten greifbar, schwebt aber immer über den Köpfen der Bevölkerung, der Hauptfiguren und der Zuschauer.
Das ändert nichts am Spannungsfaktor. Zwar wird mit Hochdruck an einer Lösung geforscht, doch den Zurückgekehrten läuft die Zeit davon, die Behörden suchen nach ihnen und Alex muss sich verstecken.
Kate steht ihm bei, versucht darüber hinaus über dunkle Kanäle den schrumpfenden Medikamentenvorrat aufzustocken und auch ein befreundetes Ehepaar hilft den beiden, doch sie müssen auch Rückschläge einstecken und feststellen, dass man nicht jedem trauen kann und einige Menschen bereit sind alles fürs eigene Überleben zu tun.
Das ist Thriller, das ist vor allem Drama, aber Horror ist es nur selten (weswegen wir jedem, der Lust auf einen straighten Horrorfilm hat, von THE RETURNED abraten).
Stellenweise wirkt der Film so, als wäre der Zombievirus gegen jede andere schwere Krankheit austauschbar, die nur durch Einnahme eines Mittels verhindert werden kann und natürlich hätte sich die Story in leicht abgewandelter Form auch um ein Mittel gegen Krebs, Alzheimer oder HIV erzählen lassen, aber Kate weiß: ihr Freund wird sie nicht nur vergessen, er wird nicht nur sterben, sondern er wird versuchen sie mit ins Verderben zu reißen, wenn ihre Anstrengungen scheitern.

Wie BURIED, RED LIGHTS oder MINDSCAPE ist auch THE RETURNED eine spanische Co-Produktion mit vorwiegend nordamerikanischer Besetzung (in diesem Fall kanadisch). Der Grund ist vermutlich schlichtweg die Überwindung der Sprachbarriere und Gewinnmaximierung durch Knacken des attraktiven US-Markts. Den spanischen Trademarks tut das aber keinen Abbruch. Hier steht eine unkonventionelle Geschichte im Vordergrund und handwerklich ist der Film über jeden Zweifel erhaben.
Fazit: THE RETURNED ist ein echter Geheimtipp, aber nur für diejenigen, die gerne über den Tellerrand schauen.
Facebook Comments