Wenn in Deutschland ein Exorzismus-Film erscheint, ist der Bezug zum echten Fall der Annemarie Michel nicht weit. Die junge Frau starb in den 70ern, weil eine psychische Krankheit offenbar als übernatürliche Besessenheit fehlgedeutet wurde.
Während DER EXORZIST im Jahre 1973 noch ohne viele Zweifel zu Werke ging, offenbarten Filme neueren Datums Vorbehalte gegenüber der kirchlichen Herangehensweise.
DER EXORZISMUS DER EMILY ROSE zeigte 2005 bereits einen Einblick in das Seelenleben einer vermeintlich besessenen Frau.
DER LETZTE EXORZISMUS (2010) startet sogar mit der Prämisse, dass Exorzisten Betrüger sind.
Auch in THE RITE steht Michael Kovak (Colin O'Donoghue), ein amerikanischer Theologiestudent, seinem eigenen Glauben und Exorzismen im Speziellen skeptisch gegenüber. Nur widerwillig reist der angehende Priester nach Rom um an einem Exorzismus-Seminar teilzunehmen. Vor Ort lernt er Vater Lucas Trevant (Anthony Hopkins) kennen, der seit vielen Jahren Teufelsaustreibungen durchführt.
Was Michael dort erlebt, lässt ihn an seinen Zweifeln zweifeln.
"Wie kann ich dich fürchten, wenn du nicht existierst?" – Michael
Die Frage, ob Besessenheit, wie die Kirche sie definiert, existiert oder ob es sich dabei um eine psychische Krankheit handelt, steht während der ersten Filmhälfte im Raum. Ist die schwangere 16jährige Rosaria von Dämonen besessen oder liegt ein Fall von sexuellem Missbrauch vor?
Wie Michael sind wir hin- und hergerissen und können nichts ausschließen.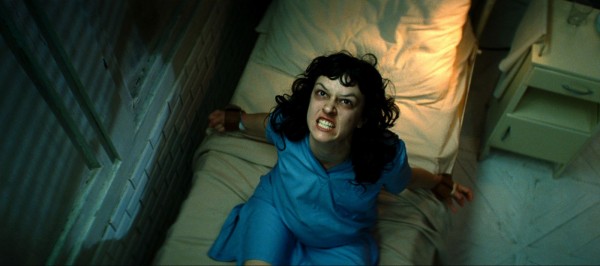 "Was haben Sie erwartet? Sich drehende Köpfe und Erbensuppe?" – Vater Trevant
Die rhetorische Frage an Michael spielt natürlich auf DER EXORZIST an, ist aber gleichzeitig ein Versprechen, dass der Film ohne Effektorgie auskommen wird und stattdessen weiterhin auf psychologischen Thrill setzt.
Leider erlebt THE RITE etwa zur Mitte der Handlung einen Bruch und das Versprechen geht ein Stück weit verloren. Statt mit subtilem Grusel zu glänzen, will man plötzlich das Popcorn-Publikum für sich gewinnen und versucht mit düsteren Alpträumen, plötzlich erlöschenden Kerzen und grollenden Grabesstimmen mit viel Hall zu glänzen.
Das ist zwar ein weniger offensives Vorgehen als bei DER EXORZIST, dennoch bezieht THE RITE klar Stellung und klärt alle sorgsam aufgebauten Fragen recht oberflächlich.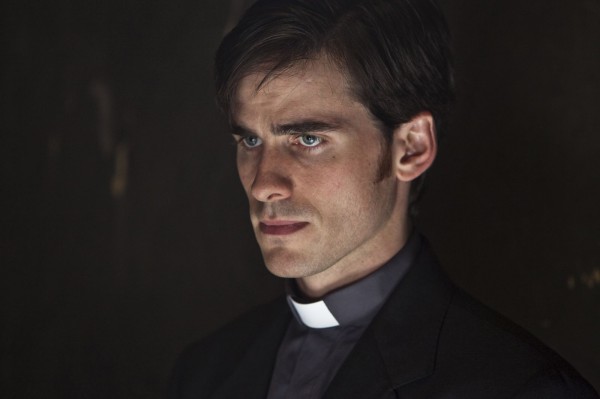 Colin O'Donoghue, den man bisher meist aus TV-Serien kennt, spielt seine Rolle als Michael Kovac ebenso ordentlich wie Rutger Hauer (HITCHER u.v.m.) und Alice Braga (PREDATORS), aber der Star ist wieder einmal Sir Anthony Hopkins (DAS SCHWEIGEN DER LÄMMER). Es ist ein Vergnügen dem Briten zuzusehen wie er seine Figur mit Leben füllt, hier und da an frühere Rollen wie den Van Helsing in BRAM STOKER'S DRACULA erinnert, aber trotzdem neue Akzente setzt.
Leider wird auch er gegen Ende ein Opfer der Spezial-FX. Der Mann ist ein grandioser Schauspieler, der durch reine Mimik unheimlicher wirkt, als wenn man ihm dämonische Striche ins Gesicht malt…was die Macher offensichtlich anders sahen.
THE RITE beruht auf dem Buch von Matt Baglio (Die Schule der Exorzisten: Eine Reportage) und daher wird im Vorspann auch erwähnt, dass der Film aus Tatsachen basiert. Im Abspann sagt man wiederum, sinngemäß, dass hier ordentlich dramatisiert wurde. Ob das jemanden stört, mag jeder für sich entscheiden, fest steht, dass eine Hälfte des Films zwar unglaublich, aber nicht unglaubwürdig wirkt, die andere aber augenscheinlich von Drehbuchautor Michael Petroni aufgepeppt wurde.
Fazit: Bei aller Kritik ist THE RITE kein übler Film, sondern wurde von Regisseur Mikael Hafsröm (1408) atmosphärisch in Szene gesetzt und Sir Hopkins ist sein Geld allemal wert.
Facebook Comments