Robert Pattinson!
Während TWILIGHT-Fans bei seinem Namen in ihre Pony-Bettwäsche weinen, kommen Fans von Horrorfilmen aus ganz anderen Gründen die Tränen.
Wer TWILIGHT für große Filmkunst hält, wird mit THE ROVER vermutlich nicht warm. Wer Pattinson ob seiner Vergangenheit als Glitzer-Vampir verabscheut, will den Film vermutlich gar nicht erst sehen.
Man sollte dabei aber nicht vergessen, dass Schauspieler im besten Falle mehr als eine Rolle in ihrem Berufsleben ausfüllen können und Zweiflern sei gesagt, dass das Acting in THE ROVER einwandfrei ist.
Der Einzelgänger Eric wollte sich in einem australischen Wüstenkaff nur ein paar Drinks genehmigen, als unbekannte Verbrecher auf der Flucht seinen wertvollsten Besitz stehlen: sein Auto.
Eric nimmt die Verfolgung auf, wird aber zunächst unsanft ausgebremst. Doch dann lernt er Rey kennen, den Bruder eines der Diebe, der nach einem Überfall vermeintlich tot zurückgelassen wurde und ihm nun helfen soll, Eric an sein Ziel zu führen.
Pattinson spielt den einfältigen Rey, die Hauptrolle des Eric füllt aber Veteran Guy Pearce (MEMENTO, L.A. CONFIDENTIAL) wieder einmal mit Bravour. Eric ist kein cooler Typ, der Oneliner raushaut, sondern ein ernster, vom harten Leben geformter Mann, dem andere nicht viel bedeuten.
Angesiedelt ist THE ROVER in einer fiktiven Welt, die wenige Jahre nach einem wirtschaftlichen Kollaps des Landes spielt. Schon ein Endzeitfilm also, aber nicht im Stile eines MAD MAX und auch nicht in der Art von THE ROAD (wo Pearce ebenfalls auftrat).
Wüste, heruntergekommene Bauten, Waffen tragende Männer und Frauen, skurrile Einsiedler…all das ließe sich wohl auch schon jetzt in vielen entlegenen Landstrichen finden.
Der Teufel steckt eher im Detail: zum Beispiel, wenn Eric in Australien mit US-Dollar Benzin bezahlen soll.
Alles wirkt also "halb-normal", ein Rest Zivilisation ist durchaus vorhanden, die Umgangsformen sind aber verroht, jeder muss sich selbst vor dem anderen schützen und Leichen pflastern Erics und Reys Weg. Das erinnert natürlich auch an klassische Western, nur eben mit Autos und automatischen Waffen.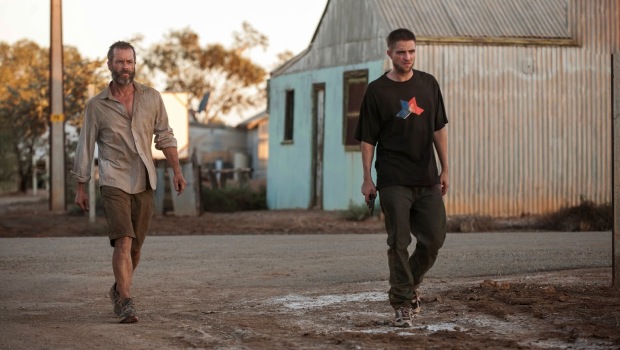 Wer Dürre und Sand mag, wird mit tollen Landschaftsaufnahmen des australischen Outbacks belohnt, wo Schönheit und Tod nah beieinander liegen.
Das gilt auch für den Film: ruhige Momente, in denen nicht mehr geschieht, als dass ein schräger Score Stimmung aufbaut, wechseln sich mit blutigen Schusswechseln ab.
Fazit: THE ROVER ist eine gesunde Mischung aus Charakteren und Action; aus Endzeitfilm, Western und Drama; aus ruhigen Augenblicken und Kopfschüssen.
Ach ja, Pattinson spielt zwar nicht so gut wie Pearce, macht aber einen wichtigen Schritt um sein zweifelhaftes Image abzulegen.
Facebook Comments