Nach einer Lebenskrise reist Surferin Nancy um die Welt und landet an einem nahezu menschenleeren Strand in Mexiko. Als es Abend wird, will die Wellenreiterin gerade die letzte Welle des Tages nehmen, als sie von einem Hai attackiert wird. Schwer verletzt kann sie sich auf einen Felsen flüchten. Doch die knapp 150m zum rettenden Strand erweisen sich als schier unüberwindbar.
Dass die wörtliche Übersetzung des Titels soviel wie "das Seichte" bedeutet, ist nicht ausschlaggebend. Niemand erwartet der simplen Story Tiefgang, sondern vor allem Spannung.
Die wird geboten. Wohl jeder Wassersportler kennt das ungute Gefühl, wenn im Meer etwas um die Beine streicht und daher ist Nancys Angst leicht nachvollziehbar.
THE SHALLOWS ist ein Kampf einer einzelnen Person, die in einer auswegslosen Sitution ums Überleben kämpft, nicht mehr, nicht weniger. Die wenigen anderen Figuren, die meist kurz auftauchen, sind kaum mehr als Statisten und bleiben oft namenlos.
Wellen, brennende Sonne, Quallen, ein toter Wal, Surfbretter, eine Boje, ein Möwe und scharfkantige Felsen sind die wenigen anderen Bestandteile, die der Film enthält, nicht eben viel um zu überleben.
Dass Nancy Medizinstudentin ist, hilft ihr, macht sie aber nicht unverwundbar.
Neben der Haithematik, die selbstverständlich an OPEN WATER und den unvermeidlichen DER WEISSE HAI erinnert, werden auch Freunde von Filmen wie FROZEN oder BURIED ihren Gefallen an THE SHALLOWS finden.
Was hier allerdings als Bonus ins Auge fällt, sind die schicken Landschafts- und Surfaufnahmen, die Lust auf den nächsten Strandurlaub machen, bevor das Auftauchen des riesigen Hais uns diesen gedanklich wieder stornieren lässt.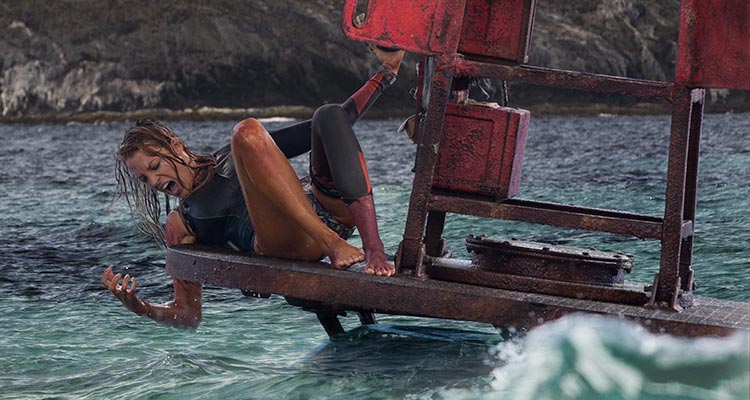 Das Tier ist mutmaßlich am Computer entstanden, was aber nicht nur technisch gut gelöst wurde, sondern auch dadurch, dass man ihn nur selten zu Gesicht bekommt. Wenn der erste Kill des Hais nahezu komplett offscreen geschieht und nur durch Schreie des Opfers dargestellt wird, ist das jedenfalls effektiver, als einem schlecht animierten Pixel-Shark bei der Arbeit zuzusehen.
Leider ändert sich der Ton des Films gegen Ende. Nicht nur wird der CGI-Einsatz in mancher Szene überdeutlich, es wird auch auf Teufel komm raus versucht, dem Zuschauer was fürs Auge zu bieten, was über unlogische Momente in einem lächerlichen Showdown gipfelt.
Weniger wäre mehr gewesen. Obwohl der Film gerade einmal eine Laufzeit  von 87 min aufweist, wirkt er 10 min zu lang und auch der finale Bombast erscheint unnötig überladen.
Fazit: Richtig gute Horrorfilme im und ums Wasser herum sind selten und daran ändert trotz guter Ansätze leider auch THE SHALLOWS nichts.
Facebook Comments