Inzwischen ist es zur Tradition geworden, dass im Oktober eine neue Staffel von THE WALKING DEAD im Pay-TV anläuft und etwa zeitgleich die vorherige Staffel auf im Free-TV und auf DVD erscheint. Das ist dieses Jahr nicht anders und ab dem 27. Oktober wird RTL 2 das vierte Zombie-Jahr zeigen, ab dem 3. November gibt es die Discs dann auch zu kaufen.
Nach dem finalen Ansturm auf das Gefängnis hat sich der Governor zurückgezogen. Für die Gruppe um Rick scheint Frieden einzukehren und die Überlebenden der Gegenseite sind ebenfalls bei ihnen untergekommen.
Doch dann verbreitet sich unter den Überlebenden ein gefährlicher Virus und der Governor, der auf Rache sinnt, scharrt neue Anhänger um sich…und natürlich sind da noch die Beisser.
Etwas zu schnell endete Staffel 3. Was zu einer epischen Schacht hätte werden können, war nicht mehr als eine kleine Schießerei, aus der der große Widersacher mit eingezogenem Schwanz davonzog. Dafür war klar, dass das Thema noch nicht abgehakt ist und in den ersten Folgen kommt dem Mann mit der Augenklappe besondere Aufmerksamkeit zu.
Hier wird THE WALKING DEAD dem Anspruch vor allem auf Charaktere zu bauen, tatsächlich mal gerecht und wenn wir dem ehemaligen Anführer über die Schulter schauen, lernen wir ihn nicht nur besser kennen, sondern verfügen natürlich auch über Wissen, dass seine neuen Freunde nicht besitzen.
Derweil geht es den Bewohnern des Gefängnisses auch ohne sein Zutun an den Kragen und nicht nur Statisten sondern selbst Figuren, die seit Jahren nicht aus THE WALKING DEAD wegzudenken sind, werden vom Virus befallen.
Schwierige Entscheidungen müssen also getroffen werden…der große Bruch kommt aber, als das Gefängnis erneut angegriffen wird und die Überlebenden in kleine Gruppen versprengt werden.
Aus dramaturgischer Sicht ist dies ebenfalls clever gelöst, denn hieraus ergeben sich neue Konstellationen (teils überaus gewöhnungsbedürftiger Art) und die Frage steht im Raum, ob man je wieder zueinander findet. Hoffnung verspricht da ein Ort namens Terminus, zu dem es verschiedene Überlebende zieht.
Wie in den Jahren zuvor hat auch Staffel 4 einige Eigenarten, ein Trend scheint sich aber fortzusetzen: nicht die Zombies sind die größte Gefahr, sondern die Mitmenschen. Das ändert nichts daran, dass die Masken und die Kills der Untoten mal wieder erste Sahne und eines der Highlights von THE WALKING DEAD sind, inzwischen sind die verwesend umhertorkelnden Leichen aber kaum mehr als lästiges Beiwerk, das die Protagonisten oft im Vorbeigehen eliminieren und sich dann wichtigerem zuwenden.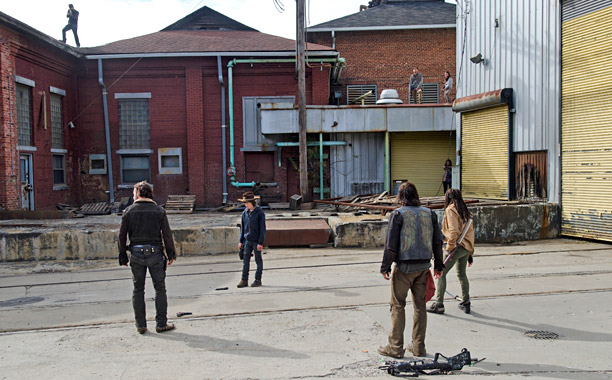 Die Erzählweise ist stellenweise immer noch holprig, nicht alle Rädchen fassen ineinander, aber das unnötig in die Länge gezogene Palaver, wie man es insbesondere aus Staffel 2 kannte, hat sich zum Glück erledigt. Tiefgang bieten auch diese 16 Episoden nur selten, aber langweilig wird es nicht und da sich in der hinteren Hälfte der Fokus auf Kleingruppen richtet, haben wir die Möglichkeit verschiedene Personen näher kennenzulernen und es bleibt Platz für Überraschungen.
Fazit: Wer die ersten drei Seasons von THE WALKING DEAD verfolgt hat, wird wenig Argumente finden nun damit aufzuhören.
Facebook Comments