Kane Hodder ist ohne Zweifel einer der bekanntesten Horror-Darsteller unserer Zeit, was umso beeindruckender ist, wenn man bedenkt, dass er in seinen wohl berüchtigtsten Filmen unter einer Maske (FREITAG, DER 13 – Teil 7-10) oder viel Makeup (HATCHET) steckte. Zahlreiche andere Filme mit ihm möchte man lieber direkt wieder vergessen (ALLIGATOR 2, HOUSE 4) und in wieder anderen tauchte er nur kurz auf (MONSTER).
Hodder besitzt aber ein markantes Äußeres, ist oft Gast auf Conventions und wer bald 40 Jahre im Business ist und weit über 100 Filme gedreht hat, prägt sich ein.
Mit TO HELL AND BACK: THE KANE HODDER STORY präsentiert Filmemacher Derek Dennis Herbert einen Einblick in Kanes Schaffen und persönliches Leben und lässt in seiner Dokumentation zahlreiche Weggefährten zu Wort kommen.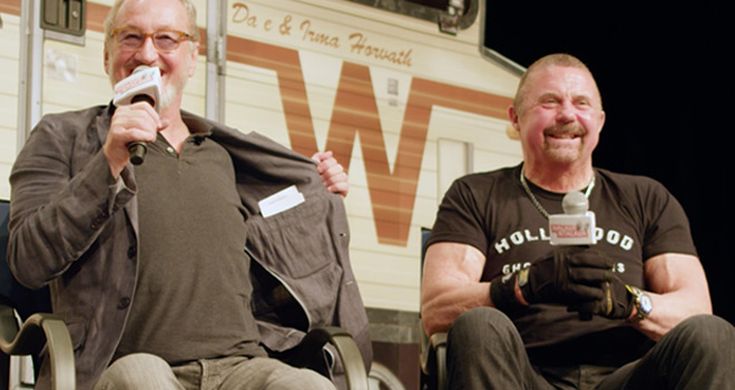 Es macht nur Sinn, dass mit Danielle Harris, Bill Moseley, Bruce Campbell oder Robert Englund Menschen Nettigkeiten über Hodder hinterlassen, die in der gleichen "Gewichtsklasse" wie er kämpfen. Was gesagt wird, klingt immer positiv, aber teilweise austauschbar und unpersönlich. Spätestens wenn zum wiederholten Male Hodders Schauspielkunst UNTER der Maske gelobt wird oder der Film ED GEIN – DER WAHRE HANNIBAL LECTER positiv erwähnt wird (der wenig Positives bietet), ist klar, dass es in TO HELL AND BACK keine kritischen Töne geben wird.
Einen besonderen Einblick gewährt der Film auch in die Personalsituation von FREDDY VS. JASON.
Kane Hodder ist eine gewisse Bitterkeit noch immer anzumerken, weil man ihm die Rolle des Jason nicht mehr anbot, die er zuvor vier Mal innehatte. Gerade hier versäumt es TO HELL AND BACK aber Hodders Nachfolger Ken Kirzinger oder die Produzenten vor die Kamera zu zerren und ihre Sicht der Dinge zu schildern.


Deutlich interessanter – zumindest für die, die nicht schon Hodders Biografie UNMASKED gelesen haben – ist Kanes Jugend, in der er gemobbt wurde und vor allem der Feuerunfall, bei dem er sich vor vielen Jahren nicht nur äußerliche, sondern auch seelische Narben zuzog und hier lernt man eine Seite des Hünen kennen, die er in seinen Filmen selten ausstrahlt.
Dennoch ist die Einseitigkeit das größte Problem des Films. Die Schattenseiten, die offenbart werden, sind primär zwischen den Zeilen zu lesen und dann wirkt Hodder aus neutraler Sicht nicht ausschließlich sympathisch, aber menschlich.
Wer aber bedingungsloser Fan ist und die Kane-Brille nicht abnehmen will, enthält mit dieser Doku nicht nur viel Lobgesang, sondern auch manche wertvolle Info.
Facebook Comments