A TOUCH OF SIN ist ein besonderer Film, denn er wird durch seine schonungslose Härte auch Genrefans anlocken ist aber alles andere als ein Thriller oder Horrorfilm.
Bei Kritikern und auf Festivals verneigt man sich vor ihm, was u.a. zu einer Auszeichnung bei den Filmfestspielen in Cannes führte, aber die breite Masse wird man damit nicht erreichen.
Das liegt schon daran, dass der Film nicht synchronisiert, sondern lediglich untertitelt wurde. Das ist gut für die Authentizität, aber wer nach einem langen Arbeitstag lediglich Berieselung wünscht, tut sich mit einem solchen Werk natürlich keinen Gefallen.
Das gilt auch für den Inhalt: hier werden vier voneinander unabhängige Geschichten aus dem modernen China erzählt, die im Grunde alle gemeinsam haben, dass man ihre Hauptfiguren zu weit treibt, was stets in einem Desaster endet, wenn auch auf ganz unterschiedliche Weise.
Ein Minenarbeiter, der mit Waffengewalt gegen Korruption vorgeht; eine Angestellte im Massagesalon, die Kunden zur Prostitution nötigen wollen; ein junger Mann, der seine Heimat verlässt um in einem Nobelhotel Glück und Geld zu finden und ein Wanderarbeiter, der entdeckt, wofür Schusswaffen taugen.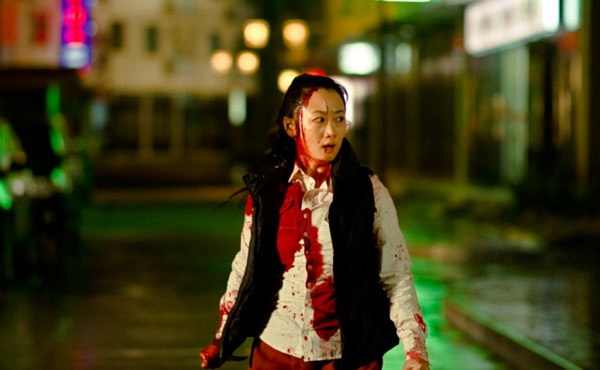 Zum überwiegenden Teil ist A TOUCH OF SIN eine Gesellschaftsstudie, in der mehr oder weniger exemplarisch einige Angehörige der Arbeiterklasse herausgepickt wurden. Ob die Fälle, wie behauptet, auf wahren Tatsachen beruhen, sei dahingestellt, allzu abwegig wäre es nicht.
Für Arthouse-Freunde, denen die Untertitel nicht reichen, ist aber ebenfalls reichlich zu entdecken.
Als Beispiel sei ein brutaler Bauer genannt, der immer wieder auf sein Pferd einprügelt und nicht versteht, dass es das Tier ist, das ihm seine Existenz sichert und damit ähnlich vorgeht wie die skrupellosen Bosse in dieser Episode, die ihre Arbeiter ausbeuten.
Da in Sachen Gewalt gut getrickst wurde, ist zu hoffen, dass auch das Pferd keinen echten Schlägen ausgesetzt war (ansonsten strecke ich Regisseur Zhangke Jia meinen Mittelfinger entgegen), bei einer Ente, die nebenbei geschlachtet wird, bin ich aber weniger hoffnungsvoll.
Drastisch dargestellt ist aber auch die Gewalt gegenüber Menschen und deswegen besonders realistisch, weil sie oft aus dem Nichts kommt und umso mehr schockiert.
Schauspielerisch ist der Film ein zweischneidiges Schwert, da ich die chinesische Mimik und Körpersprache schlichtweg nicht gut genug kenne, um sie als realistisch oder nicht einschätzen zu können. Es ist aber davon auszugehen, dass keine Frau der Welt immer wieder ihren Angreifer frontal ansehen würde, wenn sie bereits ein Dutzend Mal von ihm ins Gesicht geschlagen wurde…es sei denn, auch hinter dieser Szene soll sich eine Analogie verbergen.
Fazit: Es ist unmöglich bei halbwegs objektivem Herangehen A TOUCH OF SIN einen schlechten Film zu nennen. Nach subjektiven Kriterien werden sich hier aber, je nach Erwartungshaltung, die Geister scheiden.
Facebook Comments