Was kann es schlimmeres geben, als wenn das eigene Kind gekidnappt wird?
Würde man nicht ALLES tun, um es zurückzubringen?
Die meisten werden sofort mit "Ja" antworten, aber was, wenn das bedeutet, dass man ein schreckliches Geheimnis hütet und dieses nun offenbaren muss?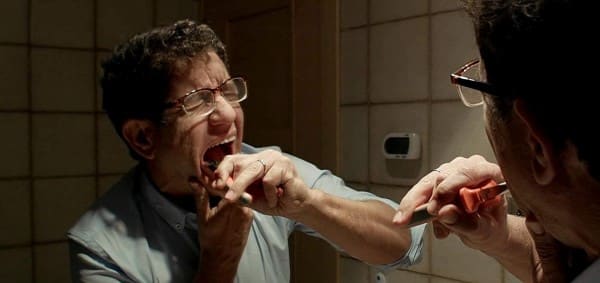 Story:
Als die Tochter von Oliver und Julia plötzlich verschwindet, rechnet die Familie mit dem Schlimmsten.
Dass sich dann der Kidnapper bei ihnen meldet und ihnen mitten in der Nacht einen Besuch ankündigt, scheint ungewöhnlich, doch ohne die Polizei zu verständigen, willigen Oliver, Julia und der ältere Bruder ein.
Die Forderung, die der Mann stellt, scheint nicht minder ungewöhnlich: Tochter Sara soll gesund zurückkehren, wenn einer der drei Familienmitglieder ein bestimmtes Geheimnis erzählt.
UNDER THE ROSE steckt voller Geheimnisse
Was dieses Geheimnis ist, verrät der Mann nicht und so legt einer nach dem anderen die Karten auf den Tisch. Das ist für die Protagonisten nicht nur peinlich, sie werden auch dann für ihr Tun bestraft, wenn es nicht das ist, was der Entführer hören will. Das sorgt für brutale und entwürdigende Augenblicke.
UNDER THE ROSE beschäftigt sich mit den Geheimnissen normaler Menschen. Ob jeder von uns so viel zu bieten hat wie die drei Familienmitglieder, sei dahingestellt, diese Freiheit muss man aber einem Thriller einfach zugestehen. Auch dass die gestandenen Taten nicht immer allzu realistisch wirken, sie befriedigen doch den Voyeur in uns Beobachtern.
Der Film ist im Wesentlichen ein Kammerspiel, das sich im Haus der Familie zuträgt. Zwar wird dem Entführer aus der Not heraus freiwillig die Türe geöffnet, Elemente eines Home Invasion – Films sind aber erkennbar. Der auf dem Filmcover gezogene Vergleich mit FUNNY GAMES ist dann aber doch zu viel des Guten. Auch wenn der Eindringling die meiste Zeit freundlich bleibt, wie das auch in Hannekes Film der Fall war, erzeugt UNDER THE ROSE nicht dessen niederschmetternde Atmosphäre.
Qualitäten sind sicher vorhanden und es ist nicht so, als bestünde die Gefahr von Langeweile. Das Werk weißt Wendungen auf, bleibt durch die Beichten spannend und springt von seelischer zu physischer Gewalt (inkl. Folter).
Die Schauspieler machen ebenfalls einen ordentlichen Job, wie man das aus spanischen Filmen meist kennt. Allen voran ist der Bösewicht positiv zu erwähnen, der mit stoischer Mimik und Abgebrühtheit zu Werke geht, die keine Zweifel erlaubt.
Die One Man Show von Josué Ramos
Allerdings ist UNDER THE ROSE ein kleiner Film und Josué Ramos, der für Regie, Buch, Schnitt, Produktion und Kamera verantwortlich war, wirkt mit der Vielzahl von Aufgaben doch überfordert. Gerade die Kameraarbeit lässt zu wünschen übrig, aber auch das Skript hat wie schon angedeutet hier und da ein paar Wackler.
Mit dem unfreiwillig komisch aussehenden Cover tut sich der Film sicher auch keinen Gefallen, dies sollte aber nicht vom Inhalt ablenken.
Fazit:
UNDER THE ROSE wird wohl auf keiner Liste der Top5-Veröffentlichungen 2020 auftauchen, als Geheimtipp ist er aber zu empfehlen.
Facebook Comments