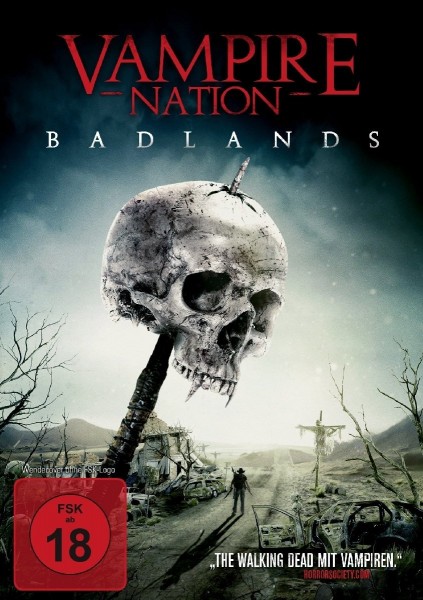 Wenn an einer Fortsetzung die gleichen Beteiligten mitwirken, die bereits das gelungene Original veredelten, ist das in der Regel ein gutes Zeichen.
Im Fall von VAMPIRE NATION: BADLANDS sind nicht nur die beiden Hauptdarsteller Conor Paolo und Nick Damici wieder dabei, Damici schrieb auch wieder das Buch und Jim Mickle, Regisseur von VAMPIRE NATION, ist zumindest noch als Produzent an Bord.


Jahre nach den bekannten Ereignissen ist Martin auf sich gestellt. Vampire töteten seine Familie und er sucht seinen ehemaligen Weggefährten Mister. Vor allem will er aber Rache.
Aber in den verwilderten Weiten des zerstörten Amerikas sind Vampire nicht die einzigen Gefahren.
Nick Damici hatte offenbar THE WALKING DEAD im Hintergrund laufen, als er das Skript zum Film verfasste. Zwar sind es nach wie vor Holzpfähle und Tageslicht und nicht gezielte Kopfschüsse, die den untoten Gegner stoppen, die Geschichte hantiert aber mit einer Vielzahl lebender und toter Feinde, so dass man immer wachsam bleiben muss, um nicht den Überblick zu verlieren.
Dieses "viel hilft viel" kann aber nicht darüber hinwegtäuschen, dass ansonsten wenig geschieht.
Ja, wir haben eine junge Frau, die alleine in der Wildnis aufwuchs, wir haben Möchtegern-Vergewaltiger, denen die Eier weggeschossen werden, wir haben zwei Helden, die in einer Kampfarena gegeneinander kämpfen müssen… aber entweder ist das wenig zwingend dargestellt oder man kennt das bereits aus anderen Filmen.


Die Details sind da, wie zum Beispiel die simple Bezeichnung der Figuren. War es im Original Sister (und natürlich Mister), lernen wir nun Mother und Lady kennen. Lady ist übrigens die wilde Frau, die gerne so wäre wie Pollyanna McIntosh in THE WOMAN, dabei zwar etwas verloren wirkt.
Immerhin, ein Bemühen ist zu erkennen. Das kann aber über den ganzen Film gesagt werden, der nie lächerlich wirkt, aber auch nur selten überzeugt.
VAMPIRE NATION: BADLANDS ist nicht das schlimmste Sequel, es gibt unzählige üblere Beispiele, wirklich notwendig ist der Film aber nur für diejenigen, die unbedingt wissen wollen, wie es den Helden aus Teil 1 in der Zukunft ergeht.
Die Action, die Gewalt, die Story, die Schauspieler, alles ist OK, aber eben selten mehr. Alleine die endzeitliche Stimmung ist in hübschen Bildern eingefangen, aber das ist etwas wenig fürs große Glück.
Dass ausgerechnet das Grande Finale, auf das alles hinsteuert, überhastet wirkt, ist auch nicht von Vorteil. Ein paar offene Fragen, die man vielleicht in einem dritten Teil klären möchte, bleiben trotzdem, allerdings wäre eine weitere Fortsetzung nun wirklich überflüssig.
Facebook Comments