Mit V/H/S VIRAL geht die beliebte Horror-Anthologie bereits in die dritte Runde. Auffällig ist, dass seit dem erfolgreichen ersten Teil die Anzahl der Segmente etwas geschrumpft ist und zwar von sechs auf vier, plus ein Bonus Segment. Ebenfalls auffällig ist, dass V/H/S VIRAL von der FSK schon ab 16 freigegeben wurde, während V/H/S und V/H/S/2 keine Jugendfreigabe erhielten, somit erst ab 18 sind. Nun, dies alles muss nicht zwangsläufig auch eine geringere Qualität nach sich ziehen, lässt aber auch keine Euphorie aufkommen.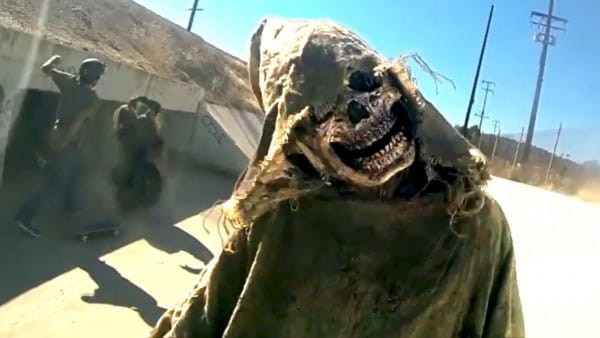 In V/H/S sowie in V/H/S/2 sahen wir Personen dabei zu, wie sie in einem Haus einen Haufen Videokassetten finden, die dann die einzelnen Segmente beinhalteten. Diese Rahmenhandlung fehlt in V/H/S VIRAL völlig und es geht sofort mit den Kurzfilmen los. Jedoch ganz ungewohnt nicht nacheinander, sondern wild durcheinander. Nicht nur dieser Fakt allein lässt einen Spannungsaufbau in den einzelnen kleinen Geschichten schwer bis unmöglich werden. Allgemein haben wir es hier eher mit einer reinen Effektschlacht zutun. Das kann dem Zuschauer zwar auch sehr viel Spaß machen, kann in diesem Fall aber auch schnell langweilig werden, besonders weil sich viel davon wiederholt und sie im Vergleich zu den ersten beiden Sammlungen weniger brutal und blutig sind.
Man muss leider sagen, dass die Reihe mit V/H/S VIRAL stark abgenommen hat.
Hier noch ein Statement zu den einzelnen Segmenten:
"Bonestorm"
Justin Benson (SPRING), Aaron Moorhead (SPRING)
Eine Gruppe Skater mit Helmkameras ist unterwegs um ein paar coole Stunts zu dokumentieren. Dabei kommen sie zu einem stillgelegten Kanal, wo okkulte Zeichen auf sie warten und sie nicht lange allein bleiben. Ein wüstes Gemetzel beginnt, bei dem es so wirkt, als würden die Jungs ihre Skateboards nicht zum ersten mal als Waffe benutzen. Alles in Allem eine ganz witzige Idee, jedoch etwas zu langgezogen.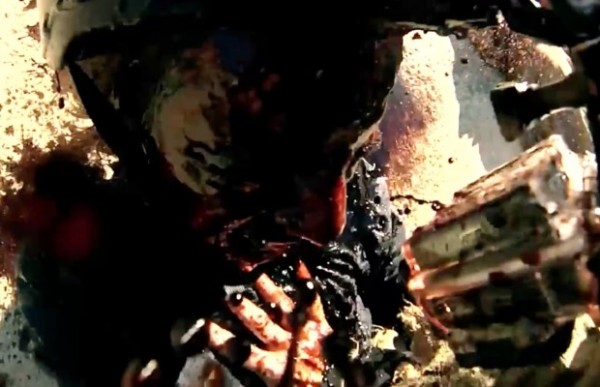 "Dante The Great"
Gregg Bishop (DANCE WITH THE DEAD)
Ein exzentrischer Show Magier, der einen Pakt mit einem Zauberumhang eingeht. Ja, mit einem Umhang. Hier erleben wir die oben genannten, sich immer wiederholenden Spezialeffekte. Dieser Kurzfilm reißt uns (anders als im Trailer gezeigt) nicht vom Hocker.
"'Vicious Circles'"
Marcel Sarmiento (DEADGIRL)
Ein verliebtes Pärchen, eine Kamera und eine wilde Verfolgungsjagd direkt vor der eigenen Haustür. Als das Paar vor die Tür geht, um den spektakulären Polizeieinsatz mit der eigenen Kamera mitzufilmen, rast der gesuchte Eiswagen direkt an ihnen vorbei. Der selbsternannte Kameramann kann es noch kaum glauben, als er bemerkt, dass seine Freundin ganz plötzlich mit dem Wagen verschwunden ist. Also macht er sich wie die Polizei auf um den irren Fahrer einzuholen.
Eins der intelligenteren Segmente, auch wenn die über die ganze Spielzeit hinweg, immer wieder eingeblendeten Aufnahmen einer hübschen jungen Frau recht überflüssig erscheinen.
"'Parallel Monsters'"
Nacho Vigalondo (OPEN WINDOWS)
Bis zur Auflösung eins der besseren Segmente. Hier sind wir tatsächlich an der Story interessiert und sind gespannt, was uns in der Parallelwelt des Protagonisten erwartet. Dieser hat in seinem Keller nämlich ein Tor zu einem anderen Paralleluniversum gebaut und tauscht jetzt mit seinem eigenen Ich für 15 Minuten die Seiten. Im ersten Moment scheint alles wie gewohnt und nur spiegelverkehrt zu sein, aber natürlich gibt es da noch etwas… Gut, seit diesem Kurzfilm wissen wir jetzt endgültig, dass es keine gute Idee ist im eigenen Keller irgendwelche Tore zu anderen Welten zu bauen. Danke, Herr Vigalondo!
Bonus: "Gorgeous Vortex"
Todd Lincoln (APPARITION)
Ein bisher ungesehenes Segment, bei welchem in den Medien oft fehlerhaft angenommen wurde, dass es nachträglich gelöscht wurde. Die DVD und BD wird Todd Lincoln's GORGEOUS VORTEX als Zusatz beinhalten und wenn man der allgemeinen Meinung glauben kann, ist er das Glanzstück von V/H/S VIRAL.
Hier der Teaser:
Facebook Comments