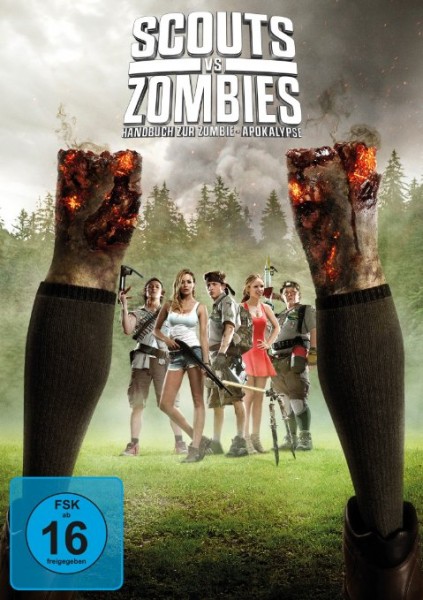 In Deutschland sind rund 250.000 Menschen bei den Pfadfindern aktiv, in den USA sogar über 5 Millionen bei den Boy Scouts / Girl Scouts. So richtig hip wirken diese Vereinigungen auf Heranwachsende ab einem gewissen Alter aber nur selten. Das geht auch den drei jungen Herren in SCOUTS VS. ZOMBIES so, die eigentlich nur im Wald campen wollten, sich dann aber für Sex, Bier und Party entscheiden. Dumm nur, dass in der Nacht der Nächte auch ein Zombieausbruch stattfindet.
Inhalt:
Ben und Carter haben genug vom Zelten, Latrinen ausheben und Knoten binden. Keiner nimmt die Teenage-Pfadfinder ernst, vor allem keine gleichaltrigen Mädchen. Nur weil sie Kumpel Auggie, der immer noch mit Herz und Seele bei den Scouts ist, nicht die Wahrheit sagen können, wahren die beiden den Schein. Als sie sich aber eines Nachts davonstehlen und zur eigenen Überraschung in einem Stripclub landen, bekommen sie mehr zu sehen als ihnen recht ist.
Hier trifft AMERICAN PIE auf THE WALKING DEAD. Im Klartext heißt das, selbst in den abwegigsten Situationen und größter Gefahr haben unsere Helden noch Zeit über das erste Mal nachzudenken.
Während THE WALKING DEAD von uns will, dass wir endlose Diskussionen im Kreise von Zombies ernst nehmen, hat SCOUTS VS. ZOMBIES diese Anspruch nicht. Der Film ist primär für Menschen im Alter von Ben, Carter und Auggie, also unterhalb der Volljährigkeit und soll nicht mehr als untote Action mit Teeniethemen verbinden.
Ist man jenseits der 25 mag man Zombiebrüste, Zombiepenisse und Zombie-Oralsex weniger amüsant finden, ich kann aber versichern, dass ich mit dem zweiten Bier erheblichen Spaß am Film fand. Der strotzt zwar einerseits vor Klischees (ihr wisst schon, Loser werden zu Helden, die coolen Kids werden gefressen) und das Pfadfinderthema ist nicht wirklich schlachtentscheidend, hat aber doch immer wieder frische Ideen parat, gibt sich hinsichtlich Brutalität nicht zimperlich und lässt wenig Zeit zum Nachdenken.
Dass "Zombies" im Film als solche bezeichnet werden, ist selten genug. Da scheint es fast widersprüchlich, dass man den Zombies einige Freiheiten lässt. So sind diese mal langsam, mal schnell, behalten eine Restintelligenz (was sich etwa in einer ungeschickten Schusswaffennutzung äußert) und auch vor Tieren macht die Übertragung nicht halt.
Zwar sind die Effekte eine durchwachsene Sache und während eine untote Katze etwas steif wirkt und in anderen Momenten mäßige Computereffekte auftauchen, ist der Gesamteindruck ordentlich.
Schauspielerisch muss man sicher nicht zu viel erwarten, warum auch? Besondere Erwähnung verdient aber David Koechner (CHEAP THRILLS, PIRANHA 2), der wie immer Mut zur Hässlichkeit mitbringt und als Scout Leader mit Toupet und Dolly Parton – Vorliebe einen der interessantesten Charakter gibt.
Fazit: Einfach, aber spaßig.
Facebook Comments