Ihr werdet in diesem Artikel Dinge erfahren, die ihr nicht erwartet habt.
Ja, wer so vollmundige Versprechen verteilt, muss auch liefern, aber in diesem Fall können wir ehrlich behaupten, dass wir bei der Recherche einige wundersame Ergebnisse vorfanden.
Wer einfach nur Konsument ist, will sich damit vielleicht gar nicht beschäftigen, Filmfans können aber zumindest ihr Nerdwissen aufwerten.
Wir wollen die Welt des Horrorfilms heute mal als Ganzes betrachten und uns einige Rekorde und Entwicklungen ansehen.
Dabei helfen uns einige Zahlen und Statistiken. Aber keine Sorge, dieser Artikel hat nichts mit dem verhassten Matheunterricht eurer Kindheit zu tun.
Als Quelle diente uns primär die Internationale Filmdatenbank imdb.com. Details siehe ganz unten
Beginnen wir am Anfang
Als erster Horrorfilm gilt der 1896 entstandene UNE NUIT TERRIBLE von Georges Méliès, der allerdings nur etwa eine Minute dauert. Den Film kann man sich auf Youtube ansehen und wird feststellen, dass man heute doch ein etwas anderes Bild vor Augen hat, wenn man an französische Horrorfilme denkt.
Der erste Langfilm war dann der 1910 entstandene japanische HIDAKA IRIAI ZAKURA.
Wie viele Horrorfilme gibt es?
In den letzten 110 Jahren hat sich einiges getan und Stand heute, sind bei IMDB 140.161 Horrorfilme und Serien (inkl. Kurzfilme gelistet).
Betrachtet man nur die Langfilme (inkl. TV- und Video), bleibt eine noch immer stattliche Zahl von 37.225 Filmen übrig. Das ist ein Anteil von ca. 5% aller Filme aller Genres.
Oder anders ausgedrückt: man könnte über 2300 Tage (=mehr als 6 Jahre) am Stück Horrorfilme sehen, also ohne zwischendurch mal aufs Klo zu gehen, zu duschen oder zu schlafen….das ist doch mal eine Herausforderung.
Und diese Zahl sollte man dringend jedem unter die Nase reiben, der behauptet schon alles gesehen zu haben.
Wie haben sich Horrorfilme über die Jahre entwickelt?
Jahrzehntelang war das Kino die einzige Möglichkeit Filme zu sehen. In Deutschland kam in den 1950er Jahren zunächst die ARD als erster Fernsehsender hinzu. Während weitere Sender folgten, entstanden ab Mitte der 70er Jahre erste Videotheken.
Es war also ein größerer Bedarf für Programm da und das galt auch für Horror.
Inzwischen kennen wir alle das Überangebot, das durch Free-TV, Pay-TV, Streamingdienste und das eigene DVD-Regal herrschen.
Die nach Jahrzehnten unterteilte Entwicklung spiegelt genau das wieder.
Oder anders ausgedrückt: im Jahr 2016 alleine wurden mehr Horrorfilme produziert, als in den 70 Jahren zwischen 1900 und 1969 zusammen (!).
Wer dreht Horrorfilme?
An der Spitze gibt es keine Überraschung und wer getippt hat, dass die USA die meisten Horrorfilme weltweit produziert hat, liegt richtig.
Spannender wird die Frage, wer auf den Plätzen folgt und hier seht ihr eine Übersicht ausgewählter Länder.
Die Qualität des deutschen Horrorfilms wird ja immer wieder angezweifelt, die Quantität ist mit 892 aber beachtlich. Allerdings sollte man (je nach Sichtweise) ein paar Abstriche machen.
Gezählt werden nämlich jeweils die Filme an denen das jeweilige Land beteiligt war und mitunter kaum mehr beitrug, als einen Koffer voller Geld vor die Tür zu stellen, was zwar für die Realisierung wichtig ist, aber kaum Einfluss auf künstlerische Aspekte hat.
Oder anders ausgedrückt: ORPHAN, ANTICHRIST, SLEEPY HOLLOW, THE DEVIL'S REJECTS, RESIDENT EVIL oder WRONG TURN sind deutsche Koproduktionen, aber kaum einer käme auf die Idee bei diesen Streifen von einem "deutschen Film" zu sprechen, denn Cast & Crew stammt größtenteils aus anderen Ländern.
Legt man einen anderen Maßstab an und schaut, wie viele der deutschen Produktionen auch deutschsprachig sind, bleiben 526 Filme übrig.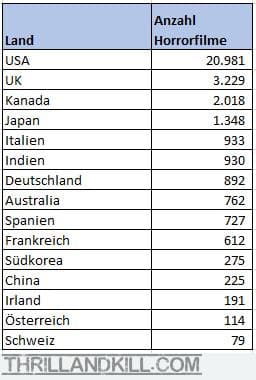 Wie erfolgreich sind Horrorfilme?
Kommerzieller Erfolg lässt sich noch relativ leicht beziffern, wobei man dort sicher auch zwischen dem amerikanischen und dem internationalen Einspielergebnis unterscheiden muss und auch die anschließende Weiterverwertung für den Heimkinomarkt nicht ignorieren darf.
Filme wie EVENT HORIZON oder DAS DING AUS EINER ANDEREN WELT (1982) waren keine Kracher an der Kinokasse, genießen heute aber natürlich Kultstatus und dürften damit noch immer gutes Geld einnehmen.
Unbestritten bleibt aber wohl der massive Kassenerfolg einiger Werke. ES (2017) und dessen Fortsetzung rangieren bei den amerikanischen Zahlen auf Platz 1 und 3. DER EXORZIST belegt Platz 2 und auf den Plätzen 4 und 5 folgen WORLD WAR Z und A QUIET PLACE.
ES hat übrigens inzwischen weltweit ca. 700 Millionen Dollar eingenommen.
Geld ist die eine Sache, aber jeder Filmfan weiß, dass Kassenerfolg alleine keinen guten Film ausmacht. Wir haben uns daher mal angesehen, welche Horrorfilme einen Oscar gewinnen konnten.
Egal in welcher Kategorie….die Zahl ist ernüchternd:
Gerade einmal 17 Filme wurden mit dem Academy Award ausgezeichnet und dass WALLACE & GROMIT als Horrorfilm klassifiziert wurde, ist natürlich ein Thema für sich.
Davon abgesehen, kann man darüber streiten, ob Horrorfilme einfach nur oft von der Jury übersehen werden oder in der Regel so stümperhaft ausfallen, dass sie wirklich keinen Preis verdienen….das ist aber ein anderes Kapitel.
Horrorfilme, die einen Oscar gewannen
(gem. imdb.com)
ALIEN
GET OUT
DER EXORZIST
BRAM STOKER'S DRACULA
ROSEMARY'S BABY
DIE FLIEGE
SLEEPY HOLLOW
SWEENEY TODD
AMERICAN WEREWOLF
DER TOD STEHT IHR GUT
DAS OMEN
WOLFMAN (2010)
WAS GESCHAH WIRKLICH MIT BABY JANE?
WALLACE & GROMIT – AUF DER JAGD NACH DEM RIESENKANINCHEN
DAS BILDNIS DES DORIAN GRAY (1945)
DR. JEKYLL UND MR. HYDE (1911)
PHANTOM DER OPER
Und was ist nun der beste Horrorfilm?
Keiner wird euch befehlen, die Filme zu mögen, die von Abertausenden mit Höchstnoten bewertet wurden, aber es spricht nicht gerade für euren Geschmack und euer Genrekenntnis, wenn ihr dieses IMDB-Ranking, das von Filmfans weltweit über Jahre hinweg entstand, mit "Rotz", "Müll", "Dreck"-Phrasen belegt.
Über eine Rangordnung kann man diskutieren, auch darüber, dass ein paar andere Filme an die Spitze gehören, aber jeder einzelne der Top 20 hat es verdient gesehen zu werden.
Höchstes Userrating aller Horrorfilme




Quelle: imdb; min. 25.000 Votes

durchschnittliche Wertung

PSYCHO
8,5
SHINING
8,4
ALIEN
8,4
DAS DING AUS EINER ANDEREN WELT
8,1
WAS GESCHAH WIRKLICH MIT BABY JANE?
8,1
DAS CABINET DES DR. CALIGARI (1920)
8,1
PERFECT BLUE
8,0
DER EXORZIST
8,0
ROSEMARIES BABY
8,0
DIE TEUFLISCHEN
8,0
SO FINSTER DIE NACHT
7,9
SHAUN OF THE DEAD
7,9
ZOMBIE
7,9
DIE NACHT DER LEBENDEN TOTEN
7,9
KING KONG UND DIE WEISSE FRAU
7,9
FREAKS (1932)
7,9
NOSFERATU (1922)
7,9
I SAW THE DEVIL
7,8
TANZ DER TEUFEL 2
7,8
HALLOWEEN (1978)
7,8
Allgemeines zur Vorgehensweise:
Die Infos sind für jedermann zugänglich, wir haben uns nur die Mühe gemacht sie zusammenzusuchen und teilweise grafisch auszuwerten.
Dabei wurde lediglich nach Horrorfilmen gesucht. Da imdb viele Filme z.B. gleichzeitig als Horror und Thriller listet, aber nicht jeden Thriller als Horrorfilm, fehlen in der Aufstellung diverse Filme, wie z.B. PARASITE, der sowohl Oscars gewann, als auch hohe Rankings einfuhr.
Logischerweise sind wir auch nicht verantwortlich für die Genrezuordnung, sondern haben diese 1:1 übernommen, was eben mitunter skurrilen Auswüchsen wie WALLACE & GROMIT führt.
Klar ist auch, dass es einige kleine Filme gibt, die gar nicht auf imdb auftauchen und demzufolge in dieser Statistik fehlen.

Facebook Comments