Gibt es noch Tabus im Horrorfilm? Wenige, sehr wenige.
Aber es gibt noch immer ein paar Themen, die den Zuschauer mehr mitnehmen als andere.
Geschlachtete Erwachsene? Kein Problem.
Ermordete College-Studenten? Aber gerne.
Tote Kinder? Dünnes Eis…!
Tatsächlich ist es für viele Filme immer noch ein ungeschriebenes Gesetz Kinder unter einem gewissen Alter am Leben zu lassen. Wir schauen uns heute aber die Werke an, die darauf pfeifen, ohne Altersbeschränkung zur Sache gehen und damit manchen Betracher aus der Comfort Zone locken.
(Fast unnötig zu erwähnen, dass hier Spoiler enthalten sein könnten)
Im Vergleich zu den anderen Gewalttaten, die in HIGH TENSION gezeigt werden, überlässt Regisseur Alexandre Aja den Mord an dem kleinen Jungen im Maisfeld ein Stück weit unserer Fantasie. Trotzdem unterstreicht er damit (noch mal), dass mit seinem Bösewicht nicht zu spaßen ist und HIGH TENSION anders ist als der US-Mainstream seiner Zeit.

EDEN LAKE
EDEN LAKE gehört zu den Filmen, die Mitte/Ende der 00er Jahre entstanden und mit einer realistischen und unangenehmen Härte hervorstechen.
Auffällige Jugendliche sind im Brit-Kino ohnehin seit CLOCKWORK ORANGE verankert und in EDEN LAKE machen die Einheimischen Teens nicht nur einem Touristen-Paar das Leben zur Hölle, sondern setzen sich auch gegenseitig in Brand.
Auch wenn wir weder seinen Namen kennen, noch je sein Gesicht sehen, auf der Liste der Filmbösewichte steht der Psychopath/Sadist/Serienmörder in THE POUGHKEEPSIE TAPES weit oben.
Dafür sorgen verschiedene Szenen, aber zu den eindringlichsten zählen die, in der der Killer ein Kind entführt (und tötet) und dann nochmal zum Tatort zurückkehrt, um der Kindsmutter die Tat unter die Nase zu reiben.

FRANKENSTEIN
Nicht nur in besonders extremen Filmen der Neuzeit kommen Kinder ums Leben, sondern auch in diesem Klassiker. Dabei war es gar nicht die Absicht des schwerfälligen Monsters das Mädchen zu töten, das ihm vorurteilsfrei entgegentritt….was seinen Tod umso tragischer macht.

Die (alte) Verfilmung von ES sparte zwar zahlreiche Kindesmorde, bzw. erwähnte diese nur, wohingegen Stephen Kings Roman deutlicher zur Sache ging. Trotzdem beginnt die Miniserie mit einem Paukenschlag, als dem kleinen Georgie Denbrough von Pennywise der Arm abgerissen wird.

THE CHILDREN
Der Kampf von Kindern, die sich gegen Erwachsene oder wie hier sogar gegen die eigenen Eltern stellen, findet sich auch in anderen Filmen (wie COOTIES, EIN KIND ZU TÖTEN, KINDER DES ZORNS) und auch dort werden Kinder getötet. Selten wird allerdings der Konflikt der Eltern besser hervorgehoben, die verständlicherweise nicht von einer Sekunde zur nächsten dazu übergehen die eigenen Sprösslinge zu töten, sondern mit ihrem Gewissen hadern, obwohl die lieben kleinen zu brutalen Bestien werden.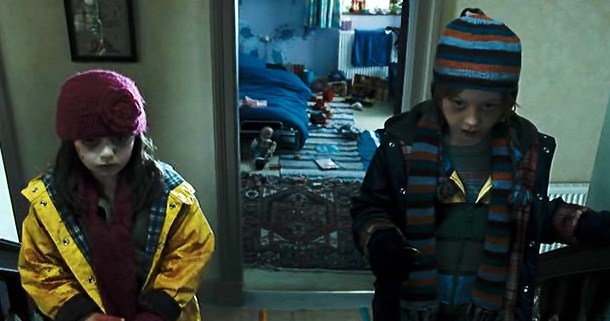 A SERBIAN FILM
Der meistdiskutierte Film des Jahrhunderts.
Der Grund sind die Vergewaltigungen und Ermordungen von Kindern, darunter der Missbrauch eines Neugeborenen. A SERBIAN FILM fordert seinen Zuschauern einiges ab. Auch wenn man gerade Menschen, die sich bisher nicht trauten den Film zu sehen, immer darauf hinweisen sollte, dass die umstrittenen Szenen keine expliziten Taten zeigen, ist andererseits klar, dass das Gezeigte manche cineastische Grenze auslotet.
FRIEDHOF DER KUSCHELTIERE
Stephen King ist ein notorischer Kindermörder, was auch mit CUJO (zumindest im Buch) und ES beweist.
Der kleine Cage Creed stirbt im Film nicht nur einmal. Während es für den Zuschauer wohl unproblematisch ist, dass sein Vater ihm den verdienten Frieden gibt, nachdem er aus dem Grab zurück kam, ist die Szene, in der sich der Kleine während eines Picknicks davonstiehlt und vor einen LKW läuft, nicht nur ein echter Nägelbeißer, sondern auch besonders bitter.
In der Neuadaption kommt Cage zwar länger mit dem Leben davon, als alle anderen, dafür erwischt es diesmal seine Schwester.

Zwar sind die Kinder der Familie, die Lucy auf ihrem Weg zur Vergeltung ermordet, älter als die meisten Opfer dieser Liste, trotzdem wird auch in diesem Film zeitig klargestellt, dass niemand sicher sein kann….aber das weiß der Zuschauer eigentlich bereits nach Lucys eigener Tortur zu Beginn, die sie gerade so überlebt.

Hier gibt es keinen brutalen Killer oder Monsterclown.
Dem Jungen in DAS WAISENHAUS kommt ein besonders tragisches Schicksal zu, das zu einem gewaltigen Twist führt.
Da das in bestes spanisches Storytelling verpackt und das Leid der Mutter glaubwürdig dargestellt ist, geht es auch dem Zuschauer an die Nieren.
DER WEISSE HAI
Auch wenn der Junge, der von dem Hai gefressen wird nicht weiter vorgestellt wird, die Szene dazu haben wir doch alle im Gedächtnis.
Die Kinder schwimmen beim Haialarm an den rettenden Strand, wo sie von ihren Eltern empfangen werden. Nur eine Mutter bleibt am Ufer zurück und sucht nach ihrem Kind, das nicht mehr zurückkehren wird.
FUNNY GAMES
FUNNY GAMES ist aus verschiedenen Gründen ein harter Brocken. Es scheint der Familie selbst in den Momenten, in denen sie scheinbar die Oberhand über die beiden jungen Eindringlinge erlangt, unmöglich aus ihrer Situation zu entkommen.
Das unterstreicht Regisseur Haneke nicht nur durch eine Szene, in der die Übeltäter ihre eigene Tat per Fernbedienung zurückspulen (!), sondern auch schon durch den Tod des Hundes und des kleinen Sohnes.
Haustiere und Kinder gelten in vielen Filmen als unantastbar. Dass sie hier getötet werden, bedeutet natürlich nichts Gutes für das Schicksal der Eltern.
Ich weiß nicht, ob es einen Unterschied gemacht hätte, wenn Megan 10 Jahre älter gewesen wäre, dass Kinder/Jugendliche eine Gleichaltrige zu Tode quälen ist aber besonders makaber und das Label "Beruhend auf einer wahren Begebenheit" ist in diesem Fall leider kein Marketing-Gag.

Vollständig ist die Liste damit natürlich nicht, auch Filme wie HALLOWEEN 3, TRICK R TREAT, DIE NACHT DER LEBENDEN TOTEN und viele mehr hatten die Eier diese imaginäre Grenze zu überschreiten.
Facebook Comments