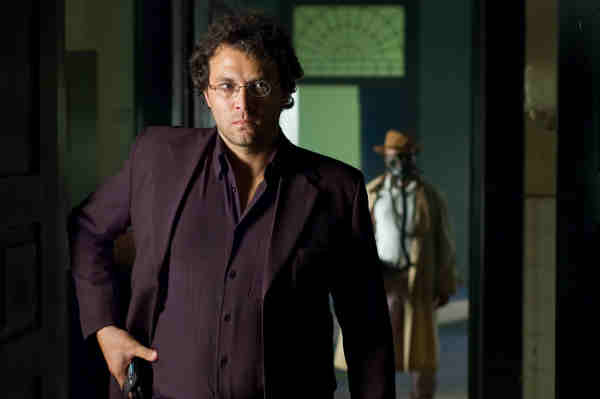 BEYOND THE GRAVE ist das Spielfilmdebüt des Brasilianers Davi de Oliveira Pinheiro. Nun hat Brasilien ein paar Gemeinsamkeiten mit Deutschland: hochwertiger Fußball, billige Horrorfilme.
Auch BEYOND THE GRAVE ist ein wahrer Undergrounder, dem deutlich anzusehen ist, dass das Budget knapp war.
Obwohl der Film in einer Zeit spielt, in der die Toten umherwandeln, wird er also nicht mit den aufwändigen Zombies von THE WALKING DEAD verwechselt werden,
andererseits muss man sagen, dass BEYOND THE GRAVE (im Original: PORTO DOS MORTOS) auch nie versucht wie viele andere Horrorfilme zu sein, sondern Genres durcheinanderwirft und daraus etwas eigenes kreiert.
Der Film beschreibt sich selbst als "ungewöhnlicher Art-House-Horror, der Einflüsse des Spagetti-Westerns und des Experimental-Kinos der 70er entleiht". Das kann man so stehen lassen, wobei die Western-Anleihen weniger dem Raum und der Zeit zugeordnet werden können, als eher den typischen Shootouts und langen Mänteln.
Raum und Zeit sind in BEYOND THE GRAVE ohnehin mit Vorsicht zu genießen. Was als recht gewöhnlicher Post-Apokalypse-Streifen mit Untoten beginnt, verbiegt nämlich zunehmend die Grenzen der Realität und der Serienmörder, der von dem namenlosen Polizisten gejagt wird, verfügt über einige ungewöhnliche Eigenschaften.
In jedem Fall werden sich an BEYOND THE GRAVE die Geister scheiden. Freunde "echter" Zombiekost werden an den teilweise doch sehr laienhaften Masken wenig Gefallen finden und die Erzählstruktur als zu behäbig und abgefahren empfinden. Genau das werden andere zu schätzen wissen, die sich vielleicht auch mal das Gehirn verknoten lassen wollen.
Einen Film für die breite Masse haben wir also nicht vorliegen.
So oder so ist BEYOND THE GRAVE derzeit noch nicht in Deutschland zu haben, wurde aber weltweit schon auf zahlreichen Festivals gezeigt. Bei uns lief er zuletzt auf dem Germany After Dark Horror Festival und wird im März bei den Movie Days/The Dark Zone zu Gast sein.
Facebook Comments