Schaut man sich heutzutage in den Kinosälen oder auf Genre-spezifischen Veranstaltung um, sieht man immer mehr weibliche Horrorliebhaberinnen, die ihrer Leidenschaft nachgehen. Dass auch Frauen gerne Horrorfilme schauen, ist längst nichts Neues mehr, doch auch hinter den Kulissen werkeln kreative Ladys an den Filmen von morgen oder schreiben über genau diese.
Hannah Neurotica (unser Interview mit Hannah könnt ihr HIER lesen), die selbst ein feministisches Horrormagazin herausbringt, hatte vor einigen Jahren genug davon, dass Frauen in der Szene sehr oft einfach nur belächelt, als halbnackte Scream Queens dargestellt werden und nicht die Aufmerksamkeit bekommen, die sie verdienen. So entstand der offizielle Women In Horror Recognition Month, der nun jedes Jahr im Februar zelebriert wird.
Und mittlerweile gibt es ein ganzes Netzwerk und mehrere Events, die regelmäßig stattfinden. Natürlich wollen wir von Thrill & Kill auch etwas zum diesjährigen Women In Horror Month beisteuern (momentan sind wir vier Frauen im Team) und deswegen haben wir uns ein paar der talentierten Damen herausgepickt und stellen euch diese in unserem Artikel kurz vor.
Rebekah McKendry
Jeder Horrorfan wird bei dem Namen "Fangoria" sicher sofort hellhörig. Die Genrezeitschrift gibt es nun mittlerweile schon über 30 Jahre und ein Ende scheint nicht in Sicht zu sein. Rebekah McKendry hat wohl einen der coolsten Jobs, sie ist nämlich als Marketingleiterin beschäftigt. Zusätzlich wirkt sie auch bei KILLER POV, einem wöchentlichen Podcast, mit und ist regelmäßig bei der Sendung "Inside Horror" vor der Kamera zu sehen. Zudem hat Rebekah mittlerweile drei Kurzfilme gemacht und arbeitet unter anderem als Produzentin bei der von Scott Ian (Anthrax) moderierten Sendung BLOOD AND GUTS.


Jennifer Lynch
Schon längst hat Jennifer Lynch bewiesen, dass sie das Talent ihres Vaters, Regisseur David Lynch, mit in die Wiege gelegt bekommen hat. Ihre Filme BOXING HELENA, oder auch CHAINED, haben eine ganze eigene Note und heben sich, wie auch die Werke ihres Vaters, vom Mainstream ab. Mit TWIN PEAKS: DAS GEHEIME TAGEBUCH DER LAURA PALMER konnte sie in den 90ern auch einen Erfolg als Buchautorin verbuchen und auch in Zukunft werden wir sicher noch einiges von ihr sehen, denn Jennifer ist Teil der geplanten Horroranthologie XX, bei der ausschließlich Frauen an Bord sind. In der Vorproduktion befindet sich momentan auch ihr eigens neues Werk mit dem Namen A FALL FROM GRACE.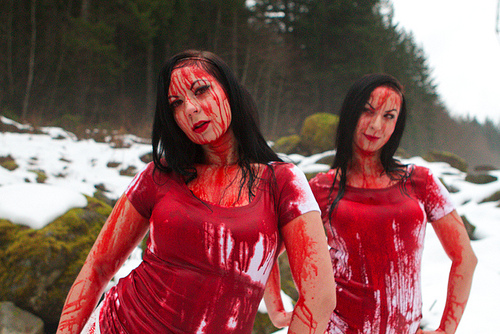 Jen & Sylvia Soska
Die Soska Twins dürfen natürlich nicht in unserer Aufzählung fehlen. Kein anderes weibliches Duo steht momentan mehr im Spotlight, als die beiden Zwillinge. Ihr erster Featurefilm DEAD HOOKER IN A TRUNK hatte zwar ein kleines Budget, aber erzielte trotzdem eine große Wirkung. Mit AMERICAN MARY konnten die Soskas viele Leute begeistern und von ihrem Talent überzeugen. Im Moment arbeiten die beiden mit Hochdruck an SEE NO EVIL 2 und auch bei der Horroranthologie THE ABCS OF DEATH 2 sind sie mit dabei. Jen und Sylvia unterstützen auch den Woman in Horror Month und versuchen mit dem Massive Blood Drive zum Blutspenden zu animieren.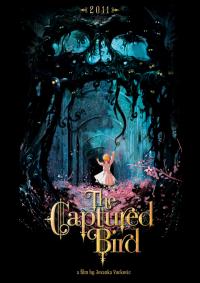 Jovanka Vuckovic
Sie hat nicht nur über sechs Jahre für das Genremagazin Rue Morgue gearbeitet, sondern ist auch Visual Effects Artist und hat damit auch schon Preise gewonnen. Darüber hinaus führt sie selbst Regie und produziert Filme. Ihr letzter Kurzfilm THE CAPTURED BIRD ist nicht nur visuell schön anzusehen, auch Regisseur Guillermo del Toro war überzeugt von dem Konzept und stieg als einer der Produzenten mit ein. Jovanka gehört, wie auch Jennifer Lynch und die Soska Twins, bei der geplanten Horroranthologie XX zur Regie-Crew.
Jennifer Cooper
Die quirlige Jennifer aus Schottland hat vor ein paar Jahren ihren Blog "Musings of a Morleysaurus" ins Leben gerufen und zelebriert in diesem ihre Leidenschaft für Horrorfilme, AKTE X, SONS OF ANARCHY und anderen Dingen, die sie gerne mag. 2011 hat die zudem ein eigenes Women in Horror Event mit dem Namen "Jennifer's Bodies" auf die Beine gestellt, bei dem weibliche Filmemacher ihre Werke zeigen können. Jennifer ist auf jeden Fall sehr enthusiastisch bei der Sache und supportet die Frauen in der Szene mit vollem Herzblut. Daumen Hoch!
BJ Colangelo
"A blog for the feminine side of fear", so wird BJs Website "Day of the Woman" von ihr selbst beschrieben und mit ihren clever und unterhaltsam geschriebenen Beiträgen hat sie mittlerweile eine große Anzahl an Lesern erreicht. Mittlerweile schreibt BJ außerdem für die Seite "Icons of Fright" und möchte zudem nun auch vor die Kamera. Wir sind gespannt, was wir noch von BJ lesen und sehen werden.
Kristy Jett
Viele Horrorliebhaber kaufen auch sehr gerne Merchandise von ihren Lieblingsfilmen. Wer sich für T-Shirts interessiert, dem dürfte das Label "Fright Rags" nicht unbekannt sein. Kristy Jett arbeitet dort als Leiterin des Serviceteams. Doch auch mit Wörtern kann Kristy sehr gut umgehen und das brachte ihr Jobs bei Rue Morgue, Fearnet und HorrorHound und diversen anderen Webseiten ein. Auch ein Buch mit dem Titel "Real Video Naties: The Ultimate Guide to Shockumentaries & Mondo Films hat sie geschrieben, dieses soll später in diesem Jahr erscheinen.
Char Hardin
Mit Hilfe ihres Podcast "Charred Remains" promotet und unterstützt Char Hardin Indiefilmemacher und Horrorfilme allgemein. Immer mal wieder hat sie interessante Gäste in ihrer Show und gibt ihre Meinung zu Filmen, Büchern und Musik ab und führt Interviews mit den Machern.
Staci Layne Wilson
Sie moderiert und produziert die Sendung "Inside Horror", schreibt für diverse Webseiten wie Yahoo Movie und DreadCentral und man kann ihre Artikel unter anderem auch im Fangoria Magazin lesen. Staci Layne Wilson, deren Markenzeichen wohl ihre bunten Strähnen im Haar sind, steht außerdem als Regisseurin hinter der Kamera. Auch für Dread Central steht sie momentan vor der Kamera, die Sendung "Dread Central Live" kann man jeden Montag auf theStream.tv sehen.
Karen Lam
Regisseurin und Produzentin Karen Lam ist seit über zehn Jahren im Geschäft und hat bisher mehrere Kurzfilme gemacht, mit denen sie diverse Preise gewonnen hat. Ihr neuester Spielfilm EVANGELINE, handelt von einer Studentin, die von einer Gang angegriffen wird und danach auf Rache aus ist. Mehr zu ihren Projekten könnt ihr auf www.KarenLamFilms.com lesen.
Heidi Honeycutt
Auch Heidi Honeycutt ist sehr fleißig und ambitioniert. Auf ihrer Website PlanetEtheria.com stellt sie Horror-, Sci-Fi und Fantasyfilme von Frauen vor, sie stellt gemeinsam mit anderen Helfern das Etheria Film Festival auf die Beine und zudem schreibt die Filmjournalistin auch für das Fangoria Magazin.
Maria Olsen
In den letzten Jahren stand Maria Olsen für über hundert Produktionen vor der Kamera. Aber auch als Produzentin ist Maria ständig sehr fleißig bei der Arbeit und hat eine eigene Firma mit dem Namen "Monsterworks66" gegründet, mit der sie Filmemacher unterstützt und natürlich promotet. Bei ihrem aktuellen Projekt handelt es sich um eine Webserie mit dem Namen OUR ZOMBIE MOTHER. Doch Maria hat sicher schon wieder andere, spannende Pläne, von denen wir bald hören werden.
Nadine LEsperance
Unter dem Namen Blue Girl Productions hat Nadine ihre eigene Produktionsfirma für Low Budgetfilme. Bisher hat sie selbst drei Kurzfilme (MAYA'S JOURNAL, MADAME SOLEI'S TEA PARTY und NO PETS ALLOWED) gemacht und sitzt selbst beim Mascara & Popcorn Film Festival in der Jury. Schaut doch mal auf ihrem Blog vorbei.
Rebekah Herzberg
Rebekah ist schon seit Jahren in der Horrorszene unterwegs und schreibt regelmäßig für die Webseiten WickedChannel.com und The Dreamin Demon. Sie ist außerdem Botschafterin für den Woman in Horror Recognition Month und hat vor Kurzem in ihrer Heimat ein Benefit-Event veranstaltet und somit Spenden für Frauen gesammelt, die momentan Hilfe in ihrem Leben benötigen. Frau Herzberg besitzt zudem eine enorme Sammlung an VHS-Tapes und berichtet über alles was sie interessiert auf ihrem Blog yourfriendlyneighborhoodjewishgirl.blogspot.de
Das war natürlich nur eine kleine Auswahl, würden wir jede der tollen Frauen einzeln vorstellen, würde das wahrscheinlich den Rahmen sprengen. Ein paar Namen wollen wir aber dennoch aufzählen: Mary Lambert, Anna Rice, Angela Bettis, Cassandra "Elvira" Peterson, Mary Harron, Marina de Van, Stacie Ponder, Jennifer Blanc Biehn, Emily Booth, Kelsey Zukowski, Dpyx, Danielle Harris, Maude Michaud, Ama Lea, Alyse Wax, Heather Wixson, Kathryn Bigelow,  Amy Lynn Best, Elisabeth Fies, Alexandra West, Jill Killington, Shannon Lark, Debbie Rochon, Léyla Richardson, Lucy Buglass, Katt Shea, Nicole Sixx, Jessica Cameron, Tammi Sutton, Hélène Cattet, Nicole Kruex und MANY MANY more!
Happy Woman in Horror Recognition Month!
Facebook Comments