UPDATE vom 13. September:
Wie Sids Frau Suzie heute über Instagram mitteilt, geht es dem angeschlagenen Schauspieler besser.
Demzufolge hatte Sid bereits Anfang Mitte letzter Woche Beschwerden, weswegen er sich in die Notaufnahme eines Krankenhauses begab, wo man ihn zur Beobachtung behielt.
In der Nacht übergab sich Sid im Schlaf, was dazu führte, dass Teile des Erbrochenen in seine Lunge gelangten.
Glücklicherweise konnten die Ärzte dadurch schnell eingreifen, die Lunge "säubern" und ihn mit Antibiotika versorgen.
Während Sid offenbar schlechter Laune ist, weil er derzeit nicht im normalen Ausmaße essen und trinken darf (ich stelle mir gerade einen hungrigen Cptn. Spaulding vor), befindet er sich ansonsten auf dem Wege zur Besserung.
Suzie betont zudem in ihrem Post, dass sie wohl etwas überreagierte und entschuldigt sich dafür.
Der komplette Original-Post ist hier zum Nachlesen: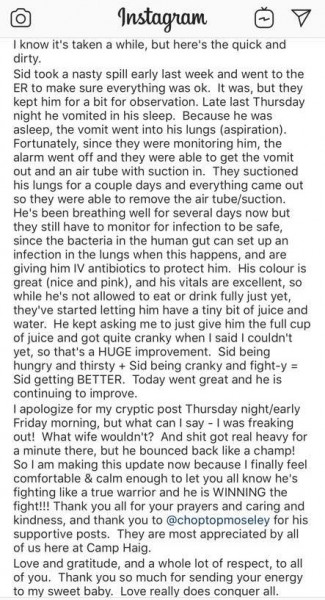 Schlechte Nachrichten von Sid Haig.
Wie seine Frau Suzie auf seinem Instagram-Account postete, hatte der 80jährige Schauspieler einen Unfall und befindet sich derzeit auf der Intensivstation eines Krankenhauses.
"SID HAS HAD AN ACCIDENT AND IS IN THE HOSPITAL IN ICU. EVERYONE PLEASE PRAY FOR HIM!!!!!!!!"
Quelle: Instagram
Sid Haig, der in fast 150 Filmen mitspielte und seit den 1960er Jahren in Filmen spielt, ist dem Horrorpublikum natürlich vor allem als Cptn. Spaulding in den Rob Zombie – Streifen HAUS DER 1000 LEICHEN, THE DEVIL'S REJECTS und dem bald erscheinenden 3 FROM HELL (derzeit auf dem Fantasy Filmfest) bekannt.
Was Sid fehlt ist derzeit noch nicht bekannt, aber offenbar ist die Lage ernst.
Wir drücken alle Daumen.
Get well soon, Sid!
Facebook Comments