Diese Horrorfilme erzählen uns nicht von fremden Orten, sondern treffen uns dort, wo wir uns am sichersten fühlen: Daheim.
Keine Geister, keine Monster, sondern ganz menschliche Eindringlinge sorgen für eine besondere Realitätsnähe in Home Invasion – Filmen. Übernatürliches findet sich hier nur selten, aber womöglich wird der ein oder andere nach Genuss der Filme unserer Zusammenstellung heute Abend noch mal prüfen, ob die Eingangstür wirklich verschlossen ist.
---
THE STRANGERS
Ein Paar kommt spät in der Nacht zu seinem abgelegenen Haus zurück, wo sie von drei Eindringlingen terrorisiert werden, die lange Zeit im Hintergrund bleiben, aber jede Fluchtmöglichkeit zunichtemachen.
Die Story ist einfach (aber das gilt für die meisten Filme dieses Genres), die Spannung groß!
---
SLEEP TIGHT
Ein Grenzgänger, denn er unterscheidet sich schon alleine dadurch von den anderen Home Invasion – Filmen, weil das Opfer bis zuletzt gar nicht weiß, was der Täter angerichtet hat. Trotzdem entsteht auch in Jaume Balagueros Film das unangenehme Gefühl, dass jemand die eigenen vier Wände "erobert", der dort nicht hingehört.

---
INSIDE
INSIDE muss man vermutlich nicht mehr lange vorstellen, denn die Geschichte um die namenlose Frau, die ins Haus einer Schwangeren einbricht, um ihr ungeborenes Kind zu stehlen, hat einen Ruf wie Donnerhall. Das überaus brutale Debüt von Alexandre Bustillo und Julien Maury ist in Deutschland beschlagnahmt.
Das Home Invasion – Genre ist in Frankreich offenbar ein großes Thema, denn neben den in dieser Liste ebenfalls enthaltenen HOME INVASION und ILS/THEM, kann man sicher argumentieren, dass auch MARTYRS und HIGH TENSION entsprechende Anteile enthalten.
---
WARTE, BIS ES DUNKEL IST
Dieser klassische Thriller aus dem Jahr 1967, in dem drei Eindringlinge die blinde Audrey Hepburn drangsalieren, beruht auf einem Theaterstück, weswegen noch mehr Kammerspiel-Atmosphäre entsteht als es bei Filmen dieser Art ohnehin üblich ist.
Die Spannung ist aber auch nach nahezu 50 Jahren noch geblieben.

---
Der wohl unbekannteste Film dieser Liste, was daran liegen mag, dass die Welle des französischen Horrors bereits wieder am abebben war, als HOME INVASION (lief im TV auch unter seinem internationalen Titel IN THEIR SLEEP) erschien. Trotzdem zählt der Film um eine Frau, die nachts einen jungen Burschen auf der Landstraße aufliest, in dessen Zuhause eingebrochen wurde, zu den besseren Vertretern des Sub-Genres.

---
Der spanische KIDNAPPED erschien kurz nach dem MOTHER'S DAY-Remake hatte aber wohl ein kleineres Werbebudget, weswegen er etwas unterging. Schade, denn statt der aufgesetzten Gewalt in MOTHER'S DAY ging es hier wirklich hart zu. Das sahen deutsche Jugendschützer ähnlich, was eine Indizierung zur Folge hatte.
---
YOU'RE NEXT
Adam Wingart zählt zu den kommenden Regie-Talenten und untermauerte diesen Anspruch mit YOU'RE NEXT. Dass Familienfeierlichkeiten nicht immer einfach zu ertragen sind, weiß wohl jeder, in diesem Fall wird die Zusammenkunft von einer Bande maskierter unterbrochen, die es aufs Leben der Familie Davison abgesehen haben. Brutal, schnell, creepy…da seien ein paar Logiklöcher verziehen.

---
ILS / THEM
Ein weiterer französischer Film, der aber in Rumänien spielt. Während ja gerne mal behauptet wird, dass Horrorfilme auf Tatsachen beruhen, ist man im Falle von THEM geneigt es auch zu glauben (gelogen ist es trotzdem).
Ähnlich wie in THE STRANGERS ist es ein junges Paar, in dessen abgelegenes Haus nahe Bukarest unbekannte Jugendliche eindringen.

---
FUNNY GAMES
Anders als in THEM oder THE STRANGERS liefern sich die Opfer in diesem Film kein Katz- und Maus-Spiel mit den Eindringlingen, sondern verbringen die meiste Zeit zusammen in einem Raum. Allerdings werden aus den freundlichen jungen Männern im Laufe der Story sadistische Psychopathen.
Michael Haneke drehte seinen Film von 1997 nur 10 Jahre später noch einmal für den US-Markt. Die Unterschiede sind marginal.
Das besondere an beiden Filmen ist, dass die Eindringlinge über nicht alltägliche Fähigkeiten verfügen, die zunächst verwirren, aber auch ein Gefühl von absoluter Hoffnungslosigkeit vermitteln.

---
Ein weiterer Klassiker des Home Invasion – Kinos. Man mag behaupten, dass der Film nur zwei gute Szenen besitzt, die haben es dafür aber in sich. Besonders das Finale, in dem der Mörder unsere Heldin an dem Ort auflauert, wo man wohl am wenigsten mit ihm rechnet.
Auch der inzwischen bekannte Kurzfilm BEDFELLOWS dürfte hiervon maßgeblich beeinflusst worden sein.

---
UNCERTAIN GUEST
UNCERTAIN GUEST ist ein weiterer weitestgehend unbekannter Film, der nicht nur wie SLEEP TIGHT aus Spanien stammt, sondern auch ähnliche Elemente enthält und Brutalität weitestgehend außen vor lässt, dafür aber einen interessanten Rollentausch bereithält und immer wieder zwischen  Entdecken und entdeckt werden eines Eindringlings hin- und her wechselt. Hier klaffen zwar Logiklöcher, spannend ist das aber trotzdem.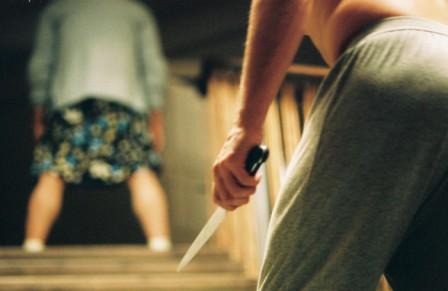 ---
DON'T BREATHE
Normalerweise fiebern wir im Home Invasion – Genre mit den Bewohnern, bei DON'T BREATHE mit den Einrechern. Die führen zwar nichts Gutes im Schilde, planen sogar einen blinden alten Mann zu bestehlen, müssen aber feststellen, dass der mehr entgegenzusetzen hat, als man erwarten konnte. Hochspannung garantiert.

---
Besondere Erwähnung außer Konkurrenz: KEVIN ALLEIN ZU HAUS – OK, nicht ganz ernst gemeint, aber beim genauen Hinschauen ist der Film ganz schön brutal
Facebook Comments