Nachdem wir euch im ersten Teil des Specials schon 8 grausige Damen präsentiert haben, gibt es heute den Nachschlag.
Viel Spaß mit den größten Schreckschrauben des Horrorfilms.
Mary Mason (AMERICAN MARY)
Rache ist ein Gericht, dass man am besten kalt serviert und Mary, eine angehende Chirurgin und Spezialistin für Body Modification, bietet fachmännische Vergeltung. Dabei setzt der Film nicht auf platte Rape & Revenge – Thematik, sondern hebt Marys Figur und ihre Wandlung hervor.
In der Titelrolle sehen wir Katherine Isabelle, die schon als Werwolf in GINGER SNAPS böse sein konnte.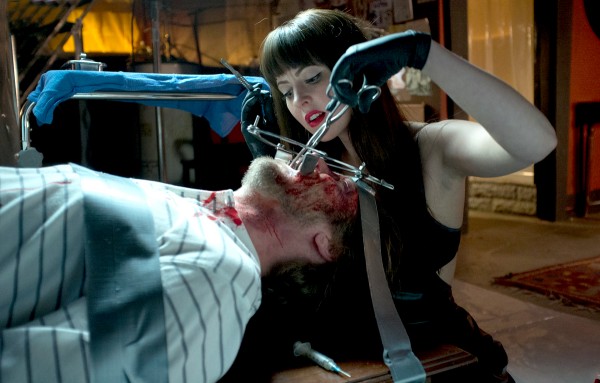 ---
Mallory (NATURAL BORN KILLERS)
Mickey und Mallory lassen Bonny und Clyde wie Amateure aussehen. Das besondere an NATURAL BORN KILLERS ist neben der Bildgewalt, dass Juliette Lewis ihrem Partner (gespielt von Woody Harrelson) in nichts nachsteht .

---
Cheng Lai-Sheung (DREAM HOME)
Splatterfilme müssen nicht immer einen ernsthaften Hintergrund haben und im Falle von DREAM HOME dauert es bis zum Ende, bis wir die Beweggründe von Cheng Lai-Sheung nachvollziehen können. Bis dahin macht die Dame aber keine Gefangenen, sondern verfolgt ihr Ziel auf brutalste Art und Weise.

---
Margret White (CARRIE)
Sicher hätte man auch Margrets Tochter Carrie in diese Liste packen können, aber eigentlich ist Carrie im Grunde ein guter Mensch, die einfach über den Rand des Ertragbaren getrieben wird. Von ihren Klassenkameraden, aber auch von ihrer von Gott besessenen und von Männern enttäuschten Mutter, die daher die eigentliche Wurzel des Übels ist.

---
Marie (HIGH TENSION)
Maries wahre Rolle in HIGH TENSION erfahren wir erst gegen Ende (ein Ende, das nicht jedermanns Sache ist) und halten sie bis dahin für die Gute, die ihre Freundin aus den Fängen des widerlichen Eindringlings retten will. Weit gefehlt…

---
Baby Firefly (HAUS DER 1000 LEICHEN & THE DEVIL'S REJECTS)
Sheri Moon Zombie tauchte bisher in allen Filmen ihres Manns Rob auf und ganz klar im Kopf sind ihre Figuren nur selten. In HAUS DER 1000 LEICHEN & THE DEVIL'S REJECTS gibt sie aber eine lupenreine Psychopathin, um die durchreisende Touristen besser einen großen Bogen gemacht hätten.

---
Lola (THE LOVED ONES)
Teen-Girls verstehen in Bezug auf Abschlußbälle keinen Spaß, doch wo Carrie Whites Amoklauf nach der Blutdusche als Überreaktion durchgeht, handelt es sich bei Lola um eine Vollzeit-Irre, die zusammen mit ihrem Vater den Möchtegern-Lover in die Mangel nimmt und auch sonst noch einige Leichen im Keller hat.
---
Facebook Comments